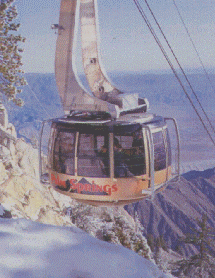 "San Rosa-San Jacinto National Monument--It offers easy access for the visitor"

by Joe Hilbers
This is another in Vittles series on our National Parks and Monuments.
Anyone visiting the Santa Rosa & San Jacinto Mountains National Monument will agree that it is truly a national treasure. The Monument ranges from the sea level Colorado desert to 10,834 foot San Jacinto Peak. Its particular appeal is that its magnificent scenery can be enjoyed by everyone.
On our most recent visit we started by taking the Palm Springs Aerial Tramway. This 10 minute ride takes one from a desert at 2,643 feet to an alpine wonderland at 8,516 feet. On top you are in the San Jacinto State Park which offers year round recreational activities. In a two and one-half mile ride the Tram takes one through five climate and life zones, each with its own unique flora and fauna.
The view from the top station can only be described as spectacular. It was our good fortune to be on top during a mild Santa Ana with clear air for viewing hundreds of miles of surrounding country, the sprawling Coachella Valley directly below, the Salton Sea, and in the far distance Telescope Peak above Death Valley and Mt. Charleston, north of Las Vegas.
At the Mountain Station of the Tram there are two restaurants, one for fine dining the other for more casual fare and snacks.
The Tram is the ideal way to start an exploration of this national monument which includes lands of California state parks, the San Bernardino National Forest, Bureau of Land Management and the Agua Caliente band of Cahuilla Indians.
The next stop in your exploration should be the Monument's Visitor Center located on Highway 74 just a few short miles from Palm Desert. Located in the Sonoran desert zone it offers exhibits and trails that identify the many plants and animals. Here too one can find maps and suggestions of recreational opportunities.
Highway 74 offers excellent auto touring of the rugged Santa Rosa mountains with its unusual rock formations and deep canyons. On this highway one climbs from the desert to the pinons and pines at over 4,000 feet elevation. Be sure to stop at Cahuilla Tewanet which besides outstanding views of the surrounding mountains has signs explaining the different plants which were of use to the original Native Americans.
We continued on Highway 74 and took a long, leisurely break at a Forest Service picnic ground located on Lake Hemet. Besides refreshments we had the amusement of watching a large family of mallard ducks and a whole flock of Coots riding choppy waves
We left Highway 74 for Highway 243 to once again explore Idyllwild and also to look for the trailhead we used a half lifetime before on the two trips we took to climb San Jacinto Peak. We never did identify the trailhead but it really didn't seem to matter.
Admittedly on this junket we had a very long day since we made a complete 360 degree circle of the Monument. On our next trip we will include some short hikes in Long Valley so easily accessible from the top of the Tram. As a separate excursion we will take one of the guided tours which is offered at the Monument Visitor Center and conducted by volunteer docents.
The Palm Springs Aerial Tramway is open every day with first car up at 10 a.m. Monday through Friday and 8 a.m. on Saturday, Sunday and holidays. Access is from Highway 111 leading into Palm Springs. For more information call 888 515-Tram or on the web at www.pstramway.com.. It is the ideal gateway to start an exploration of the Monument which was created by Congress in 2000.
The Santa Rosa and San Jacinto Mountain Visitor Center is located at 51-500 Highway 74 in Palm Desert and is open every day except Christmas and New Year's from 9 a.m. to 4 p.m. For more information call 760 862-9984 or on the web at www.ca.blm.gov/palmspings.
Back to Table of Contents..
Last Update:12/10/05
&copy 2005 Joe Hilbers All Rights Reserved.
Graphic Design by Impact Graphics