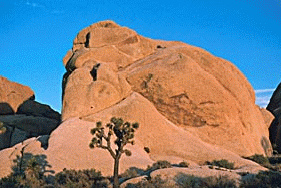 "Desert Recreation abounds at Joshua Tree National Park"
.
From November through April Joshua Tree National Park provides a wonderful refuge from the stresses of urban life in Southern California. It provides of look of the Mojave desert as it was before much of it succumbed to urban sprawl.
Previously a National Monument, Joshua Tree received National Park status in 1996 and has been enlarged to include 800,000 acres of Colorado and Mojave desert. The difference in the two is elevation, 3,000 feet or lower for the Colorado and most of the Mojave above that.
This Writer's delight with Joshua Tree covers some decades. The elevation to National Park status has created many new facilities for visitors including Oasis Visitor Center near Twentynine Palms on the western approach and Cottonwood Visitor Center from the south.
There are nine campgrounds to accommodate visitors, all of them open all year, but unless you really enjoy hot weather, plan your visit from late autumn to spring.
Cottonwood Spring, in addition to the Visitor Center, has a nicely equipped campground with water and flush toilets. And it a fine starting point for many excellent hikes on well maintained trails.
We have taken several of these hikes and have them well documented in our Journal.
After settling in at the Campground we decided to take the three-mile loop trail to Mastodon Peak. On the first day of winter we enjoyed a clear day with a pleasantly warm sun as we explored an old mine and then from the Peak views of the Salton Sea, desert and snows of San Gorgorino."
Another day we took the more ambitious hike, eight miles round trip, to Lost Palms Oasis, which has the largest stand of fan palms in the Park.
Our Journal reports:
Off to Lost Palms on a delightful trail with wonderful desert scenery. Other hikers on the trail but generally we had the feeling of desert and space all to ourselves. The Palms were well worth the walk on a day when the sun still offered real warmth. We welcomed their shade to lunch on our steak sandwiches. The four miles took us about two and one half hours with the trail crossing dry stream beds and ridges between. On the return shade was most welcome when we found it."
One day we let our pickup do the work and motored through the Pinto Basin, then Pleasant Valley and finally to the trailhead for Ryan Mountain where again we had great views of the surrounding country.
In recent years the Park has become a mecca for mountain bikers and rock climbers. In fact the Park now has an international reputation among the climbing faithful. For bikers there are many secondary roads which make for an exciting desert experience without other road traffic.
Many of the campgrounds are gateways to close nearby interesting hikes and explorations. One trip we wanted to see 49 Palm Canyon, again with water and the fan palms. So we stayed at the Indian Cove Campground. This was not entirely successful since the Journal states that "we started late in the day for the three mile hike to the palms and, with short winter days, had to settle for a distant look of the trees to avoid returning in the dark."
Jumbo Rocks Campground at 4,400 feet elevation is one of the popular places for rock climbers. On our visit we had a dramatic view of the distant San Bernardino Mountains and watched with fascination as a winter storm enveloped them while sitting in warm sunlight. It also offers some interesting self guided nature trails.
As with all National Parks the place to start is one of the Visitors Centers which can provide you with all the information you need to really enjoy your stay. Eighteen million people live within a three hour drive of Joshua Tree National Park making it a wonderful getaway from freeway traffic jams. From the west the approach is on Interstate 10 and then Hwy 62 to Twentynine Palms. The south entrance to Cottonwood Spring is 25 miles east of Indio via Interstate 10.
For information on the web at www.nps.gov/jotr. Or call 760 367-5500.
Back to Table of Contents

Last Update:3/21/03
&copy 2003 Joe Hilbers All Rights Reserved.
Graphic Design by Impact Graphics