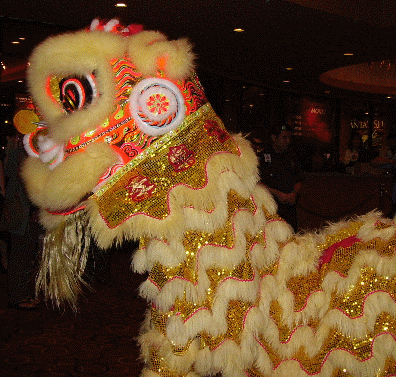 Indio--Joy Restaurant at Fantasy Springs Resort shows exciting Asian cuisine"
By The Editor
Fantasy Springs Resort and Casino was all new for us. Somehow we had missed this Las Vegas styled resort in Indio on our most recent visits to the Coachella Valley.
Specifically we were at Fantasy Springs to review its new Asian cuisine restaurant named Joy. The grand opening proved an exciting affair with Lion dancers, drums and gongs, fireworks and a host of celebrities including Chef Martin Yan of Yan Can Cook.
Then Fantasy Executive Chef Freddy Reiger and Joy Chefs Martin Yan and Dayu Zhang showed what Joy's cuisine was all about. The menu is comprehensive and exciting with both classic favorites as well as house specialties. We decided it would take several visits to properly explore this menu. A classic dim sum offering also caught our attention.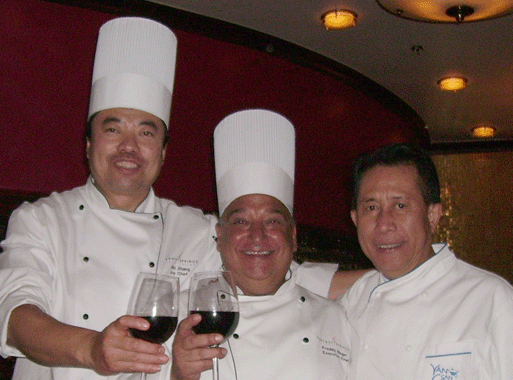 As a sampling of Joy's cuisine we opened with a Cantonese seafood chowder, then moved on to spare ribs and spring rolls for appetizers. Entrees, all served family style included a heavenly lobster, shrimp and scallops in the house's special sauce, black pepper sauced filet mignon, Zang Zhou styled fried rice and from a clay pot green curry chicken. This latter definitely Szechuan, spicy hot for the daring and fearless. Joy is well named with a soft Asian ambiance, a full bar and exceptional wine list. Our cocktail was a Pina Colada and we tasted two excellent Napa Valley merlots with dinner.
Our stay at Fantasy Springs was short but meaningful. Our room offered a picture window view where we watched the sun rise once again on the contorted hills, ridges and canyons of the mountains that rim Coachella Valley. The rising late autumn sun softened the scene promising another perfect desert day. Fantasy Springs offers much for the visitor, world class gaming, celebrity entertainment and championship golf.
Our return visit will be to once again experience Joy's cuisine as prepared by Chef Dayu Zhang who is from Jilin, China. For lunch we must try the Dum Sum with tasties like Shrimp Hargow, Pork Siu Mai and Pork Bao. Also the Vietnamese Banh-Mi sandwich with marinated and seared chicken. For dinner specialties like stewed shrimp, scallops and squid from a clay pot or Cantonese roast duck. Also Congee a rice porridge in five different varieties
Fantasy Springs Resort and Joy Restaurant are located at 84-245 Indio Springs Parkway in Indio, telephone 800 827-2946, on the web at www.fantasyspringsresort.com
Back to Table of Contents..
Last Update:11/15/10
&copy 2010 Joe Hilbers All Rights Reserved.
Graphic Design by Impact Graphics