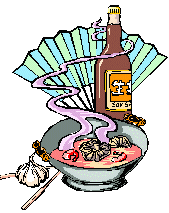 "West Los Angeles--West Side gets dim sum thanks to Joyce Cafe..
..By Joe Hilbers, Editor.
<

We make no secret of our affection for Chinese Dim Sum. And whether in Monterey Park, or downtown China Town if we hear of a restaurant featuring these delicately flavored dumplings and appetizers we are sure to investigate.

However we were not prepared for Dim Sum on Los Angeles' west side until we heard glowing reviews of a small restaurant on Robertson Blvd., called Joyce Cafe, that featured a Hong Kong style menu and exciting dim sum.

Family owned and operated by the Woo family Joyce Cafe offers a casual unpretentious atmosphere and decor. At this restaurant the focus and attention is to what comes out of the kitchen.

Our recent evening started with a tasting of dim sum even though as a general rule they are served as a luncheon item. Included were Har Gow, the steamed shrimp dumplings that our one of our favorite; also Shui Mai, ours as a shrimp and mushroom dumpling and another favorite, the Shanghai BBQ pork Bao. Knowing a lot more food was coming we had to pass on the Northern dumplings, the so-called pot stickers. All told there are 19 dim sum items on the menu and combo plates are available for a tasty sampling of several varieties.

Next to arrive was a house specialty--barbecued pork noodle soup including wonderfully flavored pork slices and mixed veggies in a most savory broth. Our entrees included two other house specialties--the ginger salmon and a spiced lemon chicken. The ginger salmon came with a light ginger-soy sauce and covered with thinly sliced veggies. The white meat chicken was stir fried with a pleasantly tangy sauce.

With these entrees we had the pineapple-shrimp curry rice. This left my dining partner and I pleasantly stuffed and ready to relax over our tea.

For a relatively small restaurant Joyce Cafe offers a large, most interesting menu that goes far beyond noddles and dim sum. It would take a good many sittings to try even a portion of the menu items listed. As pleasing as the food are the prices, most definitely in the modest range. Joyce Cafe is our kind of Chinese restaurant. A week earlier we had been to P.F. Changs and we could not help comparing the two. Piped in music at high volume and a noise level that made conversation all but impossible were what we remembered most on the former visit.

At Joyce Cafe we had the opportunity to relax over tea and carry on conversations that covered every thing from some currently read books to personal doings. As good as the food was the whole dining experience.

Unlike many restaurants featuring dim sum at Joyce Cafe they are also available for take out. Joyce Cafe is located at 1128 S. Robertson Blvd., between Pico and Olympic Blvds., serving lunch Monday thru Friday and dinner Monday thru Saturday, closed Sundays.
Back to Table of Contents..

Last Update:6/10/02
&copy 2002 Joe Hilbers All Rights Reserved.
Graphic Design by Impact Graphics