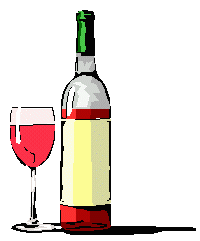 center>
"Bulgaria wines--Vintages from faraway places offer interest and variety"
by The Editor's Vineyard
In the world of wine Bulgaria does not show prominently at least in the U.S. Yet is has been producing wines since prehistoric times and was a major importing source in the Roman Empire. In recent times large amounts of Bulgarian wine was imported to western Europe at low prices. However now modern winemaking methods has significantly raised the quality of both vineyards and production.
Recently we had the opportunity of tasting three wines now sold in the U.S. The brand is Vini, owned and distributed by Bulgarian Master Vintners of Sonoma.
We tasted three Vini wines, all from Thracian Valley located in the southern region of Bulgaria. Thracian sauvignon blanc has established a reputation for superior vintages and we had to agree with the 2008 Vini Sauvignon Blanc we tasted. This has always been one of our favorite white varietals and Vini offered pleasant straw color, fresh aromas and broad flavors. The package is pleasing in screw cap and 12.5 per cent alcohol.
The Vini 2008 Cabernet Sauvignon offered bold flavors but a smooth finish and is 100 per cent of the varietal. The Vini 2008 Merlot at 12.8 per cent alcohol shows the mellow favors and aroma of this varietal ready to compliment almost any food. All three wines are easy on the pocketbook at $8.
We cannot resist wines from other countries and places. So when our eyes lighted on two wines labeled Golden Kaan from South Africa we just had to try them. Often we have found that, at least to our palate, they resemble French vintages. However the Golden Kaan 2007 Chenin Blanc and 2007 Sauvignon Blanc we tasted had qualities all their own. Both are from the Western Cape of South Africa considered its premiere wine region. We opened them for a summer time barbecue hosted by Vittles Restaurant Writer Raymonde Lorgeou. With her French palate she thought the Chenin Blanc had a hint of sweetness and preferred the Sauvignon Blanc but Audrey, her daughter, and friend zipped through the bottle with abandon.
Both wines went well with the BBQed salmon but neither wine was remarkable. However we did find the Golden Kaan website, thanks to Google, and it looks like an exciting place to visit. The wines were so reasonable in price we are too embarrassed to mention it.
Back to Table of Contents..
Last Update:912/9/09
&copy 2009 Joe Hilbers All Rights Reserved.
Graphic Design by Impact Graphics