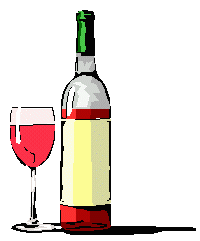 "Sonoma County--California vintners offering more single vineyard wines"

by The Editor's Vineyard
More California wineries are moving to the trend of citing one or two designated vineyards as the source for their wines. This of course has been done in Europe for generations.
Huntington Wine Cellars uses grapes largely from the North Coast appellations and for their vineyard designated vintages more specifically the Alexander Valley in Sonoma County. Huntington Wine Cellars, located at Healdsburg, is owned by Hahn Family Wines. Winemaker Kerry Damskey used the Costello Vineyard in the Alexander Valley for the Huntington 2006 Costello Chardonnay. We thought this a superior bottling of this varietal with good aroma of fruit and a remarkably smooth texture on the palate and a great cocktail wine. For his Huntington 2005 Reserve Syrah he used the Hidden Hill Vineyard in the Alexander Valley but added five percent of the same varietal from the Stagecoach Vineyard in Napa Valley.
This is a big wine with potential to get even better with cellar bottle aging. Shows off the rich flavors and structure of this varietal very well indeed. Priced at $32 and ready for that special occasio
What's in a Name
Catchy names for wine labels is a trend which will continue to get ever bigger as more and more of a younger generation moves toward wine as a favored beverage. Which explains Fat Cat plunking a jazz piano on the label.
However friendly and trendy the Fat Cat label may be Winemaker John Allbaugh shows serious talent in producing wines that with quality to go with $10 pricing. The Fat Cat 2007 Pinot Grigio was very honest with light aromas of fruit and a pleasing palate. At 12.6 per cent alcohol the wine is ready for the casual outing, tail gate party or as a regular companion at the dinner table. The Fat Cat 2005 Cabernet Sauvignon shows this varietal very well with enough texture and tannins to make it a good choice at hearty meals. Thanks to just 13.1 per cent alcohol the wine offers surprising smoothness on the palate.
Napa Appellation
Napa Ridge Winery shows value with the 2007 Napa Valley Chardonnay and 2005 Napa Valley Cabernet Sauvignon.
Winemaker Robert Stashak offers his Chardonnay with crisp flavors of fruit and enough acidity for freshness on the palate. It is a wine equally good either for cocktails or with dinner. We liked the Napa Ridge Cabernet Sauvignon for its honest flavors of the varietal, showing both in its aromas as well as roundness of texture and mellowing of the tannins. Both wines priced at $12.
Back to Table of Contents..
Last Update:3/10/09
&copy 2009 Joe Hilbers All Rights Reserved.
Graphic Design by Impact Graphics