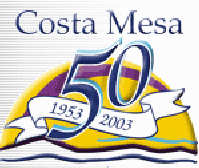 Costa Mesa--'Kicking back' became a busy time indeed
.. By Joe Hilbers
In the Summer issue of Vittles we expounded on the role Costa Mesa has played in offering the 'Good Life' with Performing Arts, Shopping and Dining.
This Writer promised himself a return visit to experience all this decadence first hand and be 'spoiled and pampered' for a few days. With this end in mind we checked into the newly redecorated Hilton Costa Mesa as headquarters for our 'good life' experience.
It all fell into place quickly with a bright refurbished room on the seventh executive floor with all the amenities one could wish for. In the afternoon we wandered through South Coast Plaza taking time to view mini exhibits from the Orange County Museum of Art. This so wetted our interest we vowed to visit the main Museum located in nearby Newport Beach the following day.
The Plaza also offered a small exhibit of Laguna Beach's Festival of Arts which was a welcome attraction since shopping is not among our favorite activities.
Back at the Hilton we discovered the hotel's Bristol Party Hour which offers down home prices each evening from 5 to 7 p.m. in the chic all new Bristol Palms Bistro and Bar. A Beefeater martini later it was time to move to the dining room.
For its cuisine Bristol Palms has drawn on talent from two continents--Europe and Asia. Executive Chef Jan Pfeiffer trained in Germany and has been with Hilton nine years moving most recently to Costa Mesa from the Anaheim Hilton, long famed for its outstanding, award winning restaurants. Chef De Cuisine Danh Kom hails from Vietnam. The result is a cuisine that Chef Pfeiffer calls 'California Rim'.
The menu shows items like broiled Hibashi salmon on a Maui onion-cucumber medley with daikon sprouts and a Ponzu sauce. There are also Chef's Signature entrees including orange-soy glazed halibut with a lemon marinated fennel salad, scallion oil and yukon-garlic mashed potatoes.
Our dining experience at Bristol Palms opened with a classic Caesar salad with freshly grated Parmegiano-Reggiano cheese. Our server thoughtfully warned that this comes in two sizes. We ordered the small and still was presented with a huge bowl. From the list of Chef's Signature dishes we chose the pan-roasted Angus filet mignon. This came with a cabernet-port demi glace and served on a bed of spinach with truffle essence and wild mushroom ravioli. It arrived on a huge platter regretfully we could not finish it all.
All entrees at this restaurant come with a suggested wine which the Chef believes matches and compliments the food. Suggested wine with our entree was Villa Mt. Eden Coastal Cabernet Sauvignon. With the halibut the wine was Jekel Winemakers Riesling. The wine list is predominately California and with many labels moderately priced. There are also French and Italian imports on the list as well.
We met with Jan Pfeiffer after dinner and he kindly gave us a personal tour of the Hotel's banquet facilities as well as describing the changes made during renovation that created the Bristol Palms concept.
The next day we were off to visit the Orange County Museum of Art about a 15 minute drive from our Hotel. The timing of our visit was not the best. We just missed, by a few days, a showing of California artist Nathan Oliveria and were too early for the upcoming exhibit entitled "Girls' Night Out', featuring photo based work by an international group of women artists.
However we thoroughly enjoyed the wonderful canvases of William Wendt, a California artist from the first decades of the last century. For us his canvasas created nostalgia with lovely landscapes of the Owens Valley and Eastern Sierra mountains, an area where this Writer has enjoyed so many outdoor experiences.
The Orange County Museum of Art is located at 850 San Clemente Drive, open Tuesday through Sunday from 11 a.m to 5 p.m. Admission is $5 , free on Tuesdays. The Museum is adjacent to Newport's' famed Fashion Island off Santa Barbara Drive. On the web at www.ocma.net.
The Bowers Museum of Cultural Art is Orange County's largest and has a remarkable history. First opened in 1936 by the City of Santa Ana it was then devoted to a history of Orange County. In the 1980s it was closed to be reinvented as one of the only museums in the U.S. devoted to promoting human understanding through art, reopening six times larger, in 1992.
The permanent collections include pre-Columbian Mesoamerica artifacts, some dating to 1500 B.C.. Also native American art and artifacts and an exhibit entitled 'California-The Golden Years'.
This encompasses paintings by California artists from the late 1800s and early 20th century. It is a wondrous collection showing the State in simpler eras. Works by William McClosky, Frank Colburn, William Wendt, Gardner Stone and Guy Rose are shown in this exhibit.
Currently Bowers has a stunning exhibit on the 'Art and Nature of Precious Stones'. Soon to arrive is an exhibit called 'Tibet! Treasures from the Roof of the World'. It will be the first ever seen in the western world and will be at the Bowers from October 12, 2003 to May 2004.
The Bowers Museum is located at 2002 N. Main Street in Santa Ana with easy access from Interstate 5. It is open Tuesday through Sunday 10 a.m. to 4 p.m. Telephone 714 567-3600, on the web at www.bowers.org.
Restaurateur Antonio Cagnolo has made a large impact on Orange County dining through the years. His showplace Antonello Ristorante at South Coast Plaza Village has received 'The Golden Scepter Award' of the Southern California Restaurant Writers year after year.
He also operates two dining establishments in South Coast Plaza. Since we had never had dinner in the Mall we chose his Quattro Caffe and mostly certainly were not disappointed.
Quattro is quiet and serene but just steps away from the traffic of surrounding stores. We opened our dinner with Calamari Fritti. We love this dish and was well satisfied with the tender rings and tangy tomato sauce that accompanied for dipping. Using restraint we left much of it remembering our upcoming entree. This was Vilello ai Funghi--seasoned veal escalope, sauteed with mushrooms in a white wine sauce. The veal was tender, the sauce tasty but again it arrived as a huge portion which was beyond our humble efforts to finish.
We chatted with Dennis Silva, general manager, and complemented him on his well trained staff as well as the kitchen. There is a representative wine list well mixed between California and Italian vintages. The full service bar offers a good selection of single malt scotches and premium Kentucky bourbons.
Quattro Caffe maintains the same hours as the Mall, 11 a.m. to 9 p.m. Monday through Friday; 11 to 8 on Saturday and 11 to 6:30 p.m. on Sunday.
Did we enjoy our 'good life' experience. Well yes, but let's just call it a working vacation.
Back to Table of Contents..

Last Update:9/15/03
&copy 2003 Joe Hilbers All Rights Reserved.
Graphic Design by Impact Graphics