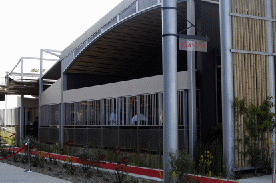 Irvine--Dreams come through at Kimera Restaurant
.. By Joe Hilbers
Sometimes it appears that successful restaurateurs are born not made. Certainly this is so with John Ghoukassian who has established a remarkable reputation in Southern California for operating successful restaurants like Bayside and Bistango.
But the new restaurant, Kimera Restaurant Lounge, that opened earlier this year to instant acclaim in Irvine, can be pointed to as a family affair since Mrs. Diana Ghoukassian chose the name and son, Marc, and daughter, Karyn have been active in overseeing the creation and operation of the newest family venture. Kimera means a vision or dreamlike desire and this theme is certainly been created in the contemporary art, decor and ambiance of this new restaurant. On its exterior Kimera displays a unique wall of bamboo and inside this bamboo is again present in the ceilings. New from the ground up this restaurant offers an architecture by a famous Italian designer named Michael Carapetian of Venice, Italy.
But as important as the artistic contemporary design and ambiance what still counts most in any restaurant is the cuisine and service. And here again Kimera stands out for excellence with Chris Grodach as Executive Chef. He is a graduate of the Culinary Institute of America and with a background that includes experience in Napa's French Laundry and Melisse.
Chef Grodach terms his cuisine as global with influences of the Pacific Rim as well as the Mediterranean and USA. Here one finds quality along with imagination in entrees and appetizers that are the Chef's very own. And with a presentation just as creative and china of different dimensions to match perfectly what is being served. Our introduction to Kimera proved to be interesting in many ways. We had the opportunity to meet and talk with a most talented management team that included Karyn Ghoukassian, charming with her gracious Continental manners, as well as General Manager Ottavio Orro, certainly no stranger to fine restaurants in Orange County, as well as Manager Katie Nguyen. In this restaurant there is a service staff that displays excellent training and attentive care, a requirement necessary to make any dining experience memorable.
After looking over the menu our first regret was that we were of such light appetite. Here were starters like mussels with Spanish chorizo, basil, and saffron cream or sweet chili prawns with cashew, cilantro and coconut foam or a braised cipollini onion soup with gruyere crouton. Wistfully both my dining partner and I had to pass on these as appealing as they sounded.
The entrees brought still more decisions. Was it to be the pine nut crusted lamb with Israeli couscous, golden raisin, roasted eggplant and yellow curry or perhaps the smoked paprika dusted prime hangar steak with sweet corn, roasted pepper, baby onion, and manchego fondue. While deciding my dining partner enjoyed a glass of Hess Chardonnay, so much so that a second glass was ordered. Like everything else here the wine list has been carefully selected with many well known labels available by the glass.
Our most important decision of the day reached we ordered the red wine-braised short ribs which arrived atop crispy polenta and rainbow chard. The red wine reduction sauce was dipping material. My partner had the black cod which arrived with a prawn salad, wonton and plum sauce in a rectangular dish offering an exciting presentation. Katie Nguyen said we had to save room for dessert and try her personal favorite, tropical cheesecake with pineapple, mango, papaya, kiwi and macaroon. Recognizing good advice when given we did just that and between us left a very clean plate.
The Ghoukassian family call their restaurants the Dining Art Collection and the visitor to Kimera will immediately have this impression with the unique use of the bamboo as well as the wall art and arrangement of the restaurant and lounge.
Kimera is a large restaurant but nicely divided into smaller areas and this holds true both in the full service cocktail lounge as well as the several dining rooms. Patios can be either closed or open, depending on the season, exist both for dining and lounge customers. One outside lounge is the recommended site for the several martinis featured.
Kimera Restaurant Lounge is located at 19530 Jamboree Road in Irvine with off street valet parking. The restaurant is open for lunch from 11:30 to 3 p.m. Monday thru Friday and dinner from 5 to 10 p.m. Monday through Friday. Dinner only Saturday from 5 p.m. to 11 p.m. and on Sunday from 5 to 9 p.m. The bar is open all day with tasty appetizers available as well. Reservations almost a must on weekends by calling 949 261-1222.
Back to Table of Contents..

Last Update:9/1/07
&copy 2007 Joe Hilbers All Rights Reserved.
Graphic Design by Impact Graphics