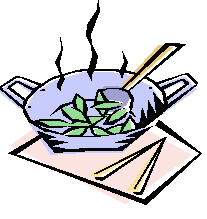 Los Angeles--Kyoto offers fine Japanese dining at the Wilshire Grand Hotel..
.. By Joe Hilbers
The only place we can think of that serves four different classic cuisines under one roof is the Wilshire Grand Hotel in downtown Los Angeles. Your choices include Korean, Italian, American and Japanese. Our recent dining experience was at Kyoto, the Japanese restaurant in the Hotel.
Guide for our dinner was Nung Dulyaratana, Kyoto's very attractive and enthusiastic manager. With the Wilshire Grand for three years she recently took over as manager of the restaurant which offers a full service cocktail lounge, Sushi bar and a serene, charming dining room.
At Nung's suggestion we ordered the filet mignon with tempura and were delighted with the selection. First to arrive was a miso soup and salad of bay shrimp and baby sliced cucumbers.
In view of a long drive on crowded Los Angeles freeways we regretfully had to pass on any of the selections from the well selected wine list.
Also the bar offers a wide range of Sakes including hot, chilled, flavored or samplers
Next came two tuna rolls and then the filet mignon, broiled slices in a mild teriyaki sauce with fresh carrots and broccoli accompanied with a bowl of steamed rice. Our selection of tempura included shrimp, carrot, zucchini, sweet potato and eggplant.
Our dessert was a handsome dish of mango ice cream.
About this time Ms. Dulyaratana came by to introduce Chef Norio Kasuya. Chef Kasuya has been with Kyoto four years and much of the restaurant's acclaim is due to his talents. Besides its culinary excellence we were impressed with the service and feelings of hospitality by the staff.
There were many tempting items on the menu which we would have liked to try including two appetizers, asparagus wrapped in beef and chicken skewers. The dinner menu also offers some prix fixe dinner options including a Sushi set with 12 pieces of assorted sushi, tempura, sonomono, miso soup and ice cream or a Sashimi set with the same sides.
At the Sushi bar the menu includes 43 items including cut rolls and hand rolls.
Located in the midst of the downtown business district Kyoto is particularly popular for luncheon. This menu shows noodle and bowl varieties and some lunch boxes, called Bento boxes, that include grilled fish, assorted tempura, sashimi and a variety of appetizers.
Last year we reviewed the Hotel's Cardini Ristorante and on this night stopped by to say hello to Luigi Volpicelli, the restaurant's general manager as well as the talented chef, Franco De Dominicis, and offer congratulations on recently earning two awards for excellence.
The Wilshire Grand Hotel is located at 930 Wilshire Blvd. and offers free valet parking with dinner at its restaurants.
Back to Table of Contents..

Last Update:6/15/03
&copy 2003 Joe Hilbers All Rights Reserved.
Graphic Design by Impact Graphics