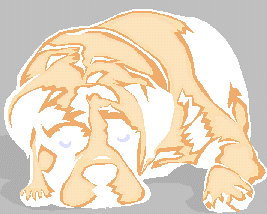 "Huntington Beach--The cuisine is contemporary at the new Lazy Dog Cafe"
.
Chalk up another winner for the Simms Family. With the instant success of The Lazy Dog Cafe in Huntington Beach the Simms have added to the success they first achieved with Mimi's Cafe chain which celebrated a 25th anniversary this year.
Chris Simms, third generation member of the restaurant family, is the prime mover in the innovative 260 seat Lazy Dog. With a rather rustic American decor the Lazy Dog operation includes the most innovative cuisine of Chef/Partner Gabriel Caliendo. Chef Caliendo carved out a great reputation in Orange County most recently as sous chef at the Ritz Carlton in Dana Point.
This restaurant opened in August to instant popularity with all age groups. Our recent dining experience at the Lazy Dog demonstrated the versatility of Chef Caliendo's work which shows influence of both Latin American and the Orient.
After cocktails from the full service bar our table opened with grilled garlic flatbread, one of 19 starters on the menu. Entrees included Hawaiian Sticky Ribs, slow cooked pork ribs tossed in a sweet BBQ glaze with Asian Sesame Slaw and seasoned fries. A dining partner ordered from the Wok Platter portion of the menu, Tofu Teriyaki, tossed with mushrooms, bean sprouts and broccoli.
Our Ribs came either as a full or half order. We ordered the half and still reluctantly had to leave one rib untouched on our plate. It was a tough decision to select the Ribs or the roasted garlic lamb shank which is also one of our favorites, especially when we know the talents of the Chef.
Our dessert proved to be a whopper--homemade apple crisp, served hot and with a heaping scoop of ice cream on top. It was enough for two people and more.
Lazy Dog has a very full menu but does not take itself too seriously. There are burgers, eleven pizzas from the brick fired oven as well as pastas and ten salads. We arrived at about 6 p.m. and while still on our entrees the restaurant was full of happy diners, and this on a Tuesday evening.
The Lazy Dog's appeal appears to reach all age groups. There is a comfortable bar and large screen plasma TVs which will make sports fans happy. The wine list is selective with most vintages being featured by the glass.
For the cuisine, ambiance and top service this restaurant offers prices that are very modest. The most expensive entree on the menu is a Blue Cheese Ribeye steak at $15.95. This restaurant represents value for the customer.
The Lazy Dog Cafe is open for lunch and dinner seven days a week and offers lots of free off street parking in the Target/Pavilions Shopping Center. The address is 16310 Beach Blvd., just south of the 405 Freeway.
Back to Table of Contents

Last Update:12/15/03
&copy 2003 Joe Hilbers All Rights Reserved.
Graphic Design by Impact Graphics