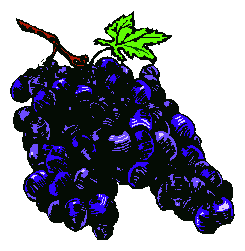 "Chardonnay still leads as Americans favorite wine"
by The Editor's Vineyard
What is your favorite varietal? According to the Wine Institute the favorites in order are chardonnay, merlot, white zinfandel, cabernet sauvignon, pinot grigio, syrah and sauvignon blanc. White wines are still slightly in front of reds with the American consumer but by less than one per centage point and blush wines still have 20 per cent of the overall market.
How big is the California wine industry? The state is now the fourth largest wine producer in the world following France, Italy and Spain. Just as remarkable is the fact that in the last four years (not the best for either the state or national economy) the California wine industry grew by forty percent in economic growth.
We have commented before on the freedom California winemakers enjoy in selecting the grapes for their vintages. As an example Trinchero Winery owns 197 acres of vineyards in Napa Valley, 525 acres in Santa Barbara County and 200 acres in Lake County. Which explains how the Trinchero Family Selection Sauvignon Blanc 2003 was made with both Calistoga and Santa Barbara grapes. We believe this varietal is best when produced in stainless steel. And so it is with this wine which offers fresh flavors and a crisp finish.
Also just released is the Trinchero Family selection 2003 Pinot Noir. This wine enjoys the Napa Valley appellation and rather remarkably a $10 price tag. Made with grapes from bay influenced vineyards it is a very good bottling of this varietal. Full flavors roll on the palate and it is perfect with hearty meals.
The Trinchero 2002 Merlot is from maritime influenced vineyards in the Central Coast including Monterey, San Luis Obispo and Santa Barbara counties. The bottling is 100 per cent of the varietal and had nine months of oak aging. Smooth, soft, mellow describe it best.
We look forward to each release of Geyser Peak's Reserve series of wine and the 2000 Geyser Peak Reserve Cabernet Sauvignon definitely lives up to expectations. From Sonoma's Alexander Valley this vintage, deep and dark in color, offers rich aromas and the flavors are intense on the palate. These flavors carry over to a long finish. The wine had 18 months in American oak making it a classic example of a superior California made cabernet sauvignon.
A meritage wine has become a tradition at Geyser Peak going back to 1983. The 2000 Reserve Alexandre Meritage lives up to that tradition. A classic Bordeaux style blend it has five red varietals, all from the Alexander Valley.
Fifteen months in French oak were used to marry this blend of 45 % cabernet sauvignon, 39% merlot, 10% malbec, 3% petit verdot and 3% cabernet franc. Then another 15 months of bottle aging. With this wine some decisions have to be made. Enjoy it now or think of its further enjoyment some years from now. Rich fruits, complex flavors, soft tannins. This vintage has it all at $45.
Bronco Wine Company has a 30th anniversary this year and has released some showcase, single appellation wines to mark the event. Winemaker Michael Donich offers the 2002 ForestVille Sonoma Reserve chardonnay from the Russian River AVA. This is a rich bottling of this varietal to be enjoyed either as a cocktail wine or with dinner. Serve it with friends and don't mention the $12 price tag.
The 2000 Laurier Vineyards Merlot is from the Dry Creek Valley appellation in Sonoma County. Smooth, mellow, lots of aroma, and a soft oak finish describe this vintage. Laurier is one of Bronco's premium brands and this wine fits that category very well. Priced at $20.
Bronco Wine Company was established by three third-generation members of the Franzia Family. Grandfather Giuseppe Franzia started growing grapes and producing wine in the first years of the last century. When the original Franzia Winery was sold in 1963, Fred T. Franzia, Joseph S. Franzia and John Franzia, Jr., formed Bronco Wine Company and a distributorship called Classic Wine Company and have never looked back becoming producers of several best selling national brands, all in the modest price range.
In the last issue of Vittles we wrote about SummerWood Winery and the talents of Winemaker Scott Hawley. Fame has arrived fast for the Winery and Scott. SummerWood Sentio lll 2001, a Central Coast Bordeaux blend was selected out of 1,299 wines as the singular "Wine of the Year" winning the first ever "Critics Challenge Grand Award" The Winery's Rhone blend, Diosa 2001 and Diosa 2002, both from the Paso Robles appellation, won a Critics Gold and a Critics Award respectively. The competition, first annual Critics Challenge International Wine competition, was held in San Diego.
What wines go with hot spicy foods? Trinchero family Estates Culinary Director and Executive Chef Jeffrey Starr has an answer which makes sense to us and also explains why sangrias are popular in Spain and Latin America. The answer is that sweeter, low alcohol and lower tannin wines match very well with foods that include chilies, chipotles, peppers, salsas, etc., while drier wines do not. To this end Trinchero has introduced Rio Dulce, a slightly sweet wine which is available both as a red and a white.
Rio Dulce means sweet river in Spanish and the wines have been blended in a style similar to classic sangrias. The wines have smart new packaging, a twist off cap and are priced at $3.99 in most markets and at 9 per cent alcohol should keep folks from harms way.. Also available are some recipes created by Chef Starr for outdoor parties where the fare tends toward the hot and spicy.
We found the Rio Dulce wines very pleasant as an aperitif but had to take Chef Starr's word for it as to matching with spicy foods. This Writer has learned to keep his distance from hot and spicy foods.
Back to Table of Contents..
Last Update:9/15/04
&copy 2004 Joe Hilbers All Rights Reserved.
Graphic Design by Impact Graphics