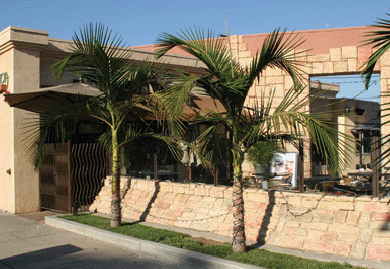 Glendale--Phoenicia delights with a wonderful Lebanese cuisine and ambiance
Without question Ara Kalfayan has made Phoenicia one of the best ethnic restaurants in Southern California. Here can be found authentic Eastern Mediterranean and Lebanese cui­sine which has always been Ara's hallmark. Decorations include artifact reminders of the ancient seafaring Phoenicians mixing with colorful peach colored linen and napkins. And trust Ara Kalfayan to find some exciting Lebanese wines.
The restaurant also features two large outdoor patios and this is where we ate along with a throng of other happy diners.
We opened with appetizers that included Hommos; Labm, Lebanese cream cheese served with garlic; Warak Enab, grape l~aves stuffed with rice, oil and vegetables, cooked in lemon juice and olive oil, and Tabbouleh, chopped parsley, crushed wheat, tomatoes and onions.
Some hot appetizers we tasted included Kibbeh Makli, beef dumpling stuffed with ground beef; Bourghoul , onions and pine nuts as well as San Bousek, freshly prepared dough with ground beef and pine nuts and Rekakat, a selection of Lebanese cheese baked in a pastry dough.
Our samplers of grill selections included Beef Kafla, ground beef, onions, parsley and spices, grilled on skewers. This is one of our favorites and arrived with lamb chops mari­nated with spices and grified. Also chicken breast kabob, per­fectly prepared rice and the best french fries we have had in a long time.
The wine list at Phoenicia is one of a kind featuring wines from all over the world and some from Lebanon that are exclusive to this restaurant. Chateau Kefraya is produced in the Bakaa Valley just 18 miles from Cana where the Bible tells us Jesus turned water into wine.
Chateau Ksara makes French styled blends and the winery dates back to 1857. Chateau Fakra offers red wines from the Kfardebvian Valley north of Berut.
This is a restaurant where everything is done well and most professionally. For us it was a memorable dining experi­ence.
Phoenicia is located at 343 North Central Avenue in Glendale with off street parking. It is open daily from 11 a.m. to 11 p.m. except on weekends there is live entertainment with a 2 a.m. dosing time. For more information or reserva­tionscall 818 956-7800. By the Editor
Back to Table of Contents..
Last Update:6/15/09
&copy 2009 Joe Hilbers All Rights Reserved.
Graphic Design by Impact Graphics