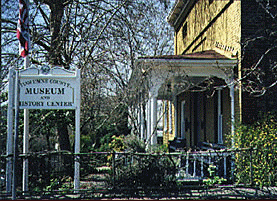 "Sonora--The Mother Lode populated California"
.
The Mother Lode country enjoys a very special place in California's early beginnings. Probably no place today better maintains that feeling of those early days than Sonora. Now as then it is the hub of Tuolumne County. Many of its buildings that first made it a bustling community in the 1850s and 60s still are in place carefully preserved.
Today its winding and hilly streets bustle with the traffic of present day California. But with a little imagination one can view Sonora in an earlier time when the streets teemed with miners, teamsters, ranch hands, trappers, hunters, Chinese in pigtails all mingled with the better dressed early developers of the town.
One place to recapture its history is the Tuolumne County Museum and History Center. It is located on a quiet side street in one of the first substantial buildings in Sonora, the local jail which was built in 1857. A dedicated group of local citizens did a restoration of the building and started the museum in 1977. The cells are still to be seen as they were then. Otherwise it is filled with photographs and artifacts displaying how life was really like in Sierra's Gold Country.
There are exhibits on "Sonora--Crossroads of Tuolumne County", "Jamestown and the West", "Gold Deep Down", and "Overland Trails to Tuolumne County". The museum has a fine collection of firearms from pioneer days. Another exhibit shows early maps of California and the major routes and passes used by the first pioneers and gold seekers.
Our headquarters on this visit to the Mother Lode was the Gunn House Hotel. It was built in 1850 and was the first two story building in Sonora. Originally it was the home of Dr. Gunn and his family. Later it housed the County Recorder office and then a long stint as the county hospital. At one time it was the offices and printing plant for the first newspaper in Tuolumne county, the Sonora Herald with Dr. Gunn as publisher.
Today it is an historic hotel lovingly cared for by Mike and Shirley Sarno as owners and innkeepers. Located at 286 S. Washington Street, Sonora's main thoroughfare, one can walk to almost any place in town including the art galleries, boutique shops and restaurants that line the street.
Staying at Gunn House is like living a bit of Mother Lode history. Hotel historian is Lois Eliott, hostess for the Continental breakfast served daily in the hotel's parlor. Over breakfast ask her to show you her book which relates in story and photographs its early history. Here you will find stories like how Elizabeth Gunn left Boston on a sailing ship with four young children to join her husband in Sonora. And the harrowing six months at sea confined to her cabin for weeks on end as the ship battled raging seas and frigid weather as it rounded Cape Horn.
For more information or reservations call 209 532-3421, on the web at www.Gunnhousehotel.com.
Thanks to a new hobby of this Writer, oil painting, we have developed a special interest in art galleries and so spent a good deal of time at The Vault, Gallery of Fine Art located at 42 So. Washington Street. Upstairs there is a fine collection of watercolors by local artists. Downstairs oil paintings of Sierra scenes that made this amateur very envious. Here too we enjoyed a lengthy conversation with Connie Wright who acts as hostess at the gallery.
Sonora now has its first wine tasting room operated by Muir-Hanna Vineyards of Napa. Sonora as location for the winery's first tasting room is most appropriate since its Owner Bill Hanna is a direct descendant of John Muir, a legend in California for his early explorations of the Sierra Nevada, Yosemite and his writing which brought these wonders to the attention of the whole world.
Most recently the State of California honored John Muir's life work by placing his image on the reverse of the newly minted state quarter. At the new tasting room , which opened Memorial Day of this year, we enjoyed a long conversation with Nichole Darracq, who manages the room. Nicole has spent many years in the California wine industry, much of it in sales and marketing. We found we had a lot to talk about.
Tasting is complimentary at Muir-Hanna, located at 36 S. Washington Street. Vineyard owners for some generations, Muir-Hanna began marketing their first vintages in 2000. Available at the Sonora tasting room are four vintages--2001 Napa Valley Chardonnay, 2002 Napa Pinot Noir and 2002 Napa Cabernet Sauvignon. Also a limited edition wine--a 2002 Muir Legacy Bordeaux Blend. More about Muir-Hanna Vineyard and the family's history can be found at www.muir-hanna.com. Another day we visited Jim Costello, owner, vineyard manager and winemaker for Mt. Brow Winery located in the scenic foothill country a few miles from Sonora. Like the Writer, Jim's roots are from Italian immigrants so we had a lot to talk about. He spent most of his business career in the lumber industry but, as he puts it, winemaking is in his blood.
Jim Costello prides himself on producing Mr. Brow wines from his own vineyards. His Sangiovese vineyard he speaks of with special pride.. Indeed the terror and terrain of this vineyard has much in common with the grape's original home in Tuscany. First he sold his grapes to other vintners but the vagrancies of the marketplace convinced him that the way to go was to make and market his own wines.
In this he has been most successful and Mt. Brow wines enjoys distribution in almost all the off-sale markets in Tuolumne county and many of its restaurants as well.
His vintages include 2002 Sangiovese, 2003 Merlot, 2002 Zinfandel, 2003 Cabernet Sauvignon, 2003 Syrah and Tartaglia, a premium red table wine where Jim uses a blend of Cabernet Franc, Merlot and Syrah. Also a white table wine called Caruso which is made primarily with chardonnay. Jim and Pam Costello operate their tasting room at the winery on Saturday and Sundays from 1 to 5 p.m. Adjoining the winery are tables under massive oaks so visitors can picnic there as well.
Their son, Dennis Costello, is vineyard and operations manager. For more information call 209 532-8491, on the web at www.mtbrowwinery.com. Location is 10850 Mt. Brow Road, Sonora.
We can't resist railroads so before leaving the Mother Lode country we had to take the Steam Train ride at Railtown. This train has been featured in some 200 films, TV shows and commercials.
It operates on weekends during the summer so on a Saturday morning it was "all aboard". Over 100 volunteers man the railroad and they are in every capacity, from conductor to brakeman to switchman,all appropriately and traditionally attired.
As enjoyable as the ride itself was to watch the faces of children showing joy and wonder at the experience.
Railtown 1897 State Historic Park is located at Fifth Avenue and Reservoir Road in Jamestown. For information call 916 445-6645 or www.railtown1897.org.
Back to Table of Contents..
Last Update:9/15/05
&copy 2005 Joe Hilbers All Rights Reserved.
Graphic Design by Impact Graphics