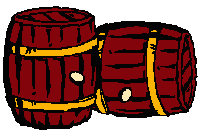 ---
"Lodi--The Wine and Visitor Center is a great way to learn about grapes and vintages' By The Editor's Vineyard
When thinking about wine touring in California add Lodi to the agenda. With 58 wineries in the Lodi appellation, almost all family owned, there is much to see and do.
Any visit to Lodi, if you are interested in wine or even if you are not, should start at the Discover Lodi Wine and Visitor Center. The Center offers exhibits on every phase of winemaking from the soils that made the Lodi Appellation special to the large number of varietals grown. The Tasting Room stocks some 150 wines, all made with 85 per cent Lodi appellation grown grapes.
Lodi is famous for its Zinfandels and they are all to be found here. Remember to pick up a Lodi Wine Trail Map to guide you through the region. Adjacent to the Center is a miniature vineyard showing different varietals and how they are trellised to obtain the best fruit. Called "A Walk in the Vineyard" it shows vines of cabernet sauvignon, chardonnay, sauvignon blanc, merlot and syrah.
How the vines are trained for the best growing technique of each varietal is also demonstrated. Inside exhibits show "A Year at the Winery", and Integrated Farming Practices, a program of vineyard management where Lodi has been a leader. Other exhibits display wine and food pairings and a Video Virtual Tour. Hostess and manager at the Center is Kelli Mettler whose family have been growers and vintners for generations.
The Wine and Visitor Center is located at 2545 West Turner Road in Lodi. It is open daily from 10 a.m. to 5 p.m. Call 209 365-0621 or on the web at www.lodiwine.com.
On our recent visit we toured the Chocoholics Factory and Store located on Highway 88 just a few miles east of Lodi. Ernie Schenone Jr., president of the company gave us a personal tour of the plant which allows visitors to see the processes that make people's favorite desserts.
The Factory Store has a history of its own. Originally the Lodge of the Odd Fellows it was built in1917 and much of the building, soon to be an historical site, has retained its original look and decor.
From the plant in Clements Chocoholics products are shipped all over the U.S. The Factory Store offers free tours as well as candy making classes. Goodies to consume on premise include gourmet coffee, ice cream and of course lots of chocolates.
Chocoholics is located at 18819 East Highway 88 at Clements. On the web at www.gourmetchocolate.com.
A wonderful collection of antiques is to be found at the newly opened Visitors Center at Berghold Vineyards. Here the visitor will be treated to viewing antiques collected by the family over many decades. The back bar in the tasting room dates back to 1800s Pennsylvania. It is the perfect place to taste the Berghold vintages. Some of the varietals under the Berghold label include syrah, a caberent sauvignon-syrah blend, voignier and cabernet sauvignon.
A family business you will probably be greeted by Kay Berghold who with her husband, Joseph are proprietors. Miles, their son, is winemaker.
Berghold Vineyards is located by the Mokelumne River at 17343 N. Cherry Road in Lodi. The tasting room is open Thursday thru Sunday from 11 a.m. to 5 p.m. For more information call 209 333-9291. On the web at www.bergholdvineyards.com.
A visit to Oak Ridge Winery is of special interest since the tasting room is located in an original giant redwood wine cask. Also Oak Ridge stages any number of special events. Everything from car shows, art exhibits, summer beach parties, a murder mystery dinner staged in another giant wine vat, Farmers markets and more.
Oak Ridge markets a large variety of wines both dry and dessert under several different labels. Here one can taste a Whitetail White Zinfandel, an Oak Ridge Classic Champagne, a Silk Oak Sauvignon Blanc or Gnarled Oak Cabernet Sauvignon.
Dessert wines include Cabernet Sauvignon and Zinfandel Ports as well as Conti Sherry and Marsala. Oak Ridge Winery is located at 6100 E. Highway 12 in Lodi. The tasting room is open daily from 10 a.m. to 5 p.m. On the web at www.oakridgewinery.com.
We also visited the Woodbridge Winery made famous by Robert Mondavi. This is a huge facility making many varietals. Eight winemakers are on the team at Woodbridge. Sue Easure gave us a personal tour which was made on a golf cart since the winery is so big. The tasting room is open daily and free tours are conducted in the morning and afternoon.
For the hours of free tours call 209 365-2839 or at www.woodbridgewines.com. Woodbridge is located at 5950 E. Woodbridge in Acampo.
New Choices
Several recent stories in newspaper business sections tell of the moves consumers are making from beer to spirits and wine. This trend is remarkable since the consumers with new choices are those in the age group that have traditionally enbraced beer as their favored beverage. To us this move appears to be a very good opportunity for wines below the $10 range. Somehow we do not see the beer drinker who has been paying $6 for a six pack to quickly move to a $25 bottle of wine.
There seems to be an opportunity here for brands like Crane Lake with varietals priced in the $5. range. We tasted two of these recently -- 2004 Crane Lake Sauvignon Blanc and 2004 Crane Lake Merlot. No pretention here but we liked Winemaker Larry Rocha's Sauvignon Blanc, light, dry and refreshing. The merlot is an inexpensive way to have a bottle of wine on the dinner table every day.
Two other merlots in this price range also meant for the dinner table. Winemaker Ed Moody says the 2003 Montpellier Merlot is no 'cabernet wannabe' but a smooth dinner wine with balanced fruit and flavors, at $7. Winemaker Scott Dahlstrom's 2003 ForestVille Merlot at $5.99 is also priced for everyday use. At this price use liberally in cooking and at dinner..

Back to Table of Contents..
Last Update:12/10/05
&copy 2005 Joe Hilbers All Rights Reserved.
Graphic Design by Impact Graphics