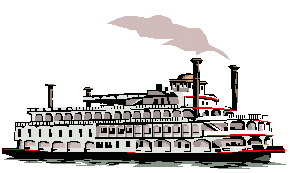 New Orleans--A City like no other in the U.S.A.
.. By Joe Hilbers
New Orleans, a City where the good times never stop. It is a well earned reputation that has lasted for over 150 years. Whether its famed cuisines or its music, jazz and blues or the French Quarter that never sleeps, the legend and tradition is alive and well.
We learned a good deal about the City and its history on our walking tour of the French Quarter, thanks to our extremely knowledgeable guide, Mary Lebon.
Louisiana was named by Rene Robert La Salle who first stepped foot on what is now New Orleans on April 9, 1682. He named it for his sovereign, King Louis IVX for France.
While standing in Andrew Jackson Square Mary explained that it was originally called the Plaza de Armas when Louisiana was a Spanish province and New Orleans its Capitol. This was between 1762 and 1803. Over New Orleans have flown the flags of Royal France, Spain, Napoleon France, the Stars and Stripes, then the Stars and Bars of the Confederacy and once again the Stars and Stripes.
On this tour we passed the dwelling where Tennessee Williams wrote "A Streetcar Called Desire" and learned that there is actually a street in New Orleans called Desire and that a Trolley ran there.
We were somewhat disappointed to learn that Bourbon Street was named for France's Royal Family, which provided heads of state for several European nations for three centuries, and not for that famous whiskey from Kentucky.
Good restaurants in New Orleans enjoy longevity becoming legends in their own right. And we had the good fortune to visit some of the most famous while in New Orleans.
One evening we dined at Arnaud's, established in 1918 by "Count" Arnaud Cazenave. Today the restaurant is owned by Archie and Jane Casbarian who have added to the ambiance and charm of what is considered the 'Grande Dame" of New Orleans dining establishments.
First stop at Arnaud's was in the lounge where we had the opportunity to admire a grand back bar while sipping a cocktail.
Dinner, to the accompaniment of live New Orleans jazz, included Oysters Rockefeller, one of six oyster selections on the appetizer menu. Our entree was Veal Tournedos Chantal, sauteed and served in a delicate wild mushroom sauce.
Our party was then treated to a colorful demonstration of dessert flambeaus but the dessert we will remember was the pecan pie with whipped cream splashed on top. Our wine this evening was a 1997 Mirassou Pinot Noir.
We also enjoyed an interesting conversation with wine buff William Wohl, who heads a New Orleans PR firm. It turned out we had some wine acquaintances in common. He also had answers to some questions I asked him about New Orleans.
One classic answer I must include here. I asked him if there was a closing time for the bars. He said no and if I was still standing at a bar at 5 a.m. they would just mop around me. However I must add here that even in New Orleans I do not frequent bars at 5 a.m.
We have more dining experiences to relate but we also found time for some interesting field trips. One we will long remember was our visit to Memorial Hall, which is the oldest operating museum in Louisiana, founded in 1891 and devoted to exhibiting Confederate war memorabilia.
As a Civil War buff we were enthralled with the exhibits that included not only weapons of the period but also personal items and photographs of individual soldiers. All too often the photo is accompanied by a footnote stating that the soldier was killed at Sharpsberg, or Gettysberg or Shiloh or in some skirmish almost forgotten today.
There are also painting portraits of Confederate Generals like B.G.T. Beauregard, Robert E. Lee, and Braxton Bragg. There is also a large collection of Jefferson Davis items donated to the Museum by his wife, Varina Howell Davis.
The Confederate Museum is located at 929 Camp Street and is open from 10 a.m. to 4 p.m. daily except Sunday.
Just a few blocks away is the new National D-Day Museum which has its official opening on June 6, 2000. The new Museum is the creation of bestselling author Stephen E., Ambrose. The Museum now nearing completion is at 923 Magazine Street.
One of our luncheons took place at Tujague's which opened its doors at 823 Decatur Street in 1856 by a French immigrant named Guillaume Tujague. Tujague's has traditionally maintained a pre-fix menu and our luncheon started with a classic shrimp remoulade, then a freshly made eggplant soup and then the house speciality--brisket of beef with a house Creole sauce. We were tempted to stay for dinner as well since that evening the special was going to be a braised lamb shank, one of our favorite dishes.
We were bound and determined we would not leave New Orleans without visiting one of Louisiana's swamps and bayous. So we wisely turned to New Orleans Tours which offers a variety of tours of New Orleans and riverboat junkets as well.

Called the Jean Lafitte Tour, after the famed buccaneer, pirate and smuggler, it takes visitors through swamps and bayous with moss-draped Cypress trees and a variety of wild animal, bird and reptile life that makes it their home.
Jason Beasley was our pilot and guide as we glided through the swamps in a comfortable flat bottomed boat. On our trip we saw two deer swimming across a bayou, turtles basking in the sun on tree limbs and five live alligators varying in size. Jason pointed out that we were fortunate to see so many since they hibernate in the winter months. We also saw comorants, blue herons and egrets.
In his soft Cajun accent Jason described both the wildlife and the plant life that teems in the area. Back at the Landing there is a small zoo with a live Nutria and snapping turtles that weigh 50 and 60 pounds.
Swamp tours depart daily at 10 a.m. and 2 p.m. with pickup available from most New Orleans hotels. The driver that took us out to the Swamp Tour, Duane Bertucci, had all kinds of information about the City as well as places to dine and things to do. For more information call 504 592-0560. It is a fun and educational experience for both adults and children.
Does anyone visiting New Orleans neglect to visit Brennan's? Breakfast at Brennan's has been a catchword for some 40 years whenever New Orleans is mentioned.
However to be different we had dinner at the famed restaurant. And it was a happy choice. Our appetizer here was Buster Crab Pecan, a Brennan original. This dish includes a delicately cooked soft shelled crab with heaped crab meat on top and then covered with a pecan sauce.
Our entree was another original of the House, Tournedos Chanteclair. Our choice arrived as three tournedos of beef, each topped with a different sauce. The sauces included Bearnaise, Marchand de vin and choron, which has tomato paste and red wine added to Bearnaise.
Naturally everyone in our party had to have Bananas Foster for our dessert. Again this was originally created by Brennan Chef Paul Blange and has since become an international favorite. Of note is the fact that 35,000 pounds of bananas are flamed each year at Brennan's for this dessert.
Brennan's is located at 417 Royal Street in the heart of the French Quarter and is open for breakfast, lunch and dinner every day of the year.
The restaurant also has a wine list with some 2000 labels and a cellar that ranks it as one of the best in the nation.
All the tempting eating in New Orleans requires a good amount of exercise as well and this is a City made for walking. For one thing it is all table top level, no hills here. Also it is a remarkable compact city.
We did a lot of walking, wandering through the French Quarter and then to Riverwalk adjacent to the Mississippi River or Big Muddy as it is called here.
We never miss visiting an Aquarium and New Orleans has a very special one. Called Aquarium of the Americas it is conveniently located next to Riverwalk and has an IMAX Theatre as part of its complex.
Some of the attractions include creatures that inhabit waters of the Mississippi River, the Gulf of Mexico, a Caribbean Reef as well as the Pacific Ocean with six marine habitats from California to the waters of Alaska. A pair of California Sea Otters are a constant crowd pleaser.
Located on two levels the Aquarium also has a Food Court and the Audubon Shop which has a large selection of educational materials.
In the list of famous New Orleans restaurants it is impossible to overlook The Court of Two Sisters, in the French Quarter at 613 Rue Royale.
Brunch is a wonder at the Two Sisters. The number of items available on a buffet that encompasses two long tables defies counting.
Normally not of big appetite in the morning hours we succumbed to sausage, bacon, croissants, and a mushroom omelet, all this washed down with tea while some of my associates preferred Mimosas. Oh yes and we could not resist a sampling of the bread pudding. The Brunch is available at Court of Two Sisters every day of the year from 10 a.m. to 2 p.m.
The dinner menu shows both a Table D'Hotel as well as a huge a la carte selection.
We stayed at International House in New Orleans business district but only two blocks from the French Quarter. It also put us in easy walking district of Riverfront, the Aquarium and Harrah's, the newly opened grand casino, adjacent to Riverwalk. International House is a true boutique hotel with 116 rooms offering a quiet, serene atmosphere.
The Hotel enjoys a most distinctive lobby and adjacent is the Loa Bar. "Loa" has a meaning of deities and divine spirits in Voodoo and this bar has candle lighting. However the only spirits we noted were in a cocktail glass but certainly soothing enough.
Lemon Grass is the Hotel's restaurant serving a contemporary French Vietnamese style cuisine.
Certainly the Hotel proved to be just the quiet retreat we needed after the active days and nights we had in the City.
One evening we embarked on the Creole Queen Paddlewheeler for a dinner jazz cruise on Big Muddy. In the evening once on the River we had a wonderful view of New Orleans' brilliantly lighted skyline.
After dinner it was a delight on deck watching the constant flow of traffic, dark shadows of ships moving past in the night with the even darker flowing water.
There was no way we were going to leave New Orleans without having a Po-Boy sandwich. Here our instincts and luck guided us to Johnny's Po-Boys located at 511 St. Louis Street near the French Market.
Actually we only had to follow the crowd which storms into the place every day about noon for some 37 varieties of Po-Boys. We thought seriously about an oyster Po-Boy, but after Oysters Rockefeller the evening before decided on Italian sausage instead.
This gave us the strength to continue our afternoon wanderings in this completely unique American city.
Thanks to the Internet a lot can be learned about New Orleans on several web sites. For Brennan's Restaurant click in at www.brennansneworleans.com. The website for the New Orleans Metropolitan Convention and Visitors Bureau is at www.neworleansscvb.com. More information about The Court of Two Sisters can be found at http://www.courtoftwosisters.com. For Arnaud's click on www.arnauds.com.
Back to Table of Contents..

Last Update:1/1/00
&copy 2000 Joe Hilbers All Rights Reserved.
Graphic Design by Impact Graphics