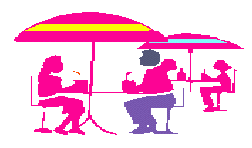 "Louisville--It offers plenty of dining choices"
.
Our dining experiences in Louisville proved once again that when it comes to fine cuisine "gold is where you find it."
The City is fortunate to have a college with a Culinary Arts Department that has produced some fine local chefs.
One of the best restaurants in Louisville, and one that has been acclaimed throughout the southeast is the Oak Room at the Seelbach Hilton where we stayed. Chef Jim Gerhardt, at one time at nationally known Turtle Creek Resort in Texas, has an exciting menu with both Continental and regional entrees.
And the only way to describe the Oak Room is to say that it has the same early 1900s grandeur that the Seelbach Hotel enjoys.
Upscale in both decor and cuisine is Lilly's where we dined one evening. Owner chef is Kathy Cary and she is ably assisted by dinner chef Josh Lococo and sous chef Krey Keeney.
Innovative items on the menu include appetizers like Hudson Valley Foie Gras and Grit Cake or a Mozzarella Roulade and Kentucky Bibb salad rolled with prosciutto and basil.
At our table entrees included Angus beef tournedos with a smoked tomato bearnaise sauce, caramelized onion pudding and fried green tomato. Also herb encrusted seared sea scallops with a spinach basil risotto and shiitake mushrooms.
Extremely popular with both locals and visitors Lilly's rates with the best in Louisville. We noted all the fine hand crafted bourbons featured at the bar, rightly so in Kentucky, but also being with a national trend. A trend back to American bourbon that extends to foreign countries like Japan and Germany as well.
Also we are happy to report how well excellent California premium vintages are now represented on wine lists wherever we travel and this was certainly true in Louisville.
With Louisville as world headquarters for Brown Forman its Fetzer, Barrel Select, Bonterra and Jekel wines were much in evidence. Our wines at Lilly's included a 1996 Bonterra chardonnay and a 1995 Jekel Merlot which proved how rapidly the vintages of this Monterey winery have improved. Lilly's is located at 1147 Bardstown Road, for reservations call 502 451-0447.
Don't even think of going to Louisville without visiting Lynn's Paradise Cafe. Certainly it is one of the most popular places in the City. Owner Lynn Winter has combined excellent food and moderate prices with a great deal of showmanship.
Breakfast at Paradise extends the whole morning--our group arrived at 9 a.m. and didn't leave till ll:30. What with a seemingly endless number of delights like innovative omelettes, grits, schones with raisins and nuts, virgin Mary's, coffee Lattes plus a nonstop verbal presentation by the proprietor, it was a very busy morning.
The Paradise is open for breakfast and lunch Tuesday through Sunday and for dinner Thursday through Saturday. Waiting for a table is common especially for dinner. Promotions like Pajama wear for employes and customers alike on Easter and photos of Mom with the children on Mother's Day keeps things exciting.
One night a week there is an international night with a special ethnic menu from some country prepared by Chef Lindsay Roberts. Some dinner items include harvest apple pecan pork loin or a bourbon teriyaki salmon. Lynn's Paradise Cafe is located at 984 Barret Avenue in Louisville, telephone 502 583-eggs.
Another evening we dined at Brasserie Deitrich which made a very successful conversion from a 1929 movie theatre to a fine dining house while keeping the decor and atmosphere very casual.
Here you will find a very contemporary menu with appetizers like spiced duck won tons Vietnamese, Hong Kong pot stickers or a house specialty Onion Soup.
Our entree was a roasted lamb shank with rosemary red wine sauce while others at our table opted for dishes like New Orleans crab cakes with Tabasco tartar sauce or garlic crusted port tenderloin with melted spinach.
Again we found a fine wine list and our wines included a 1996 Deloach chardonnay and a Rutherford Hill 1995 Merlot. Brasserie Deitrich is located at 2862 Frankfort Avenue, telephone 502 897-6076.
We can sum it all up by saying simply we dined well in Louisville. P> Back to Table of Contents

Last Update:10/1/98
&copy 1998 Joe Hilbers All Rights Reserved.
Graphic Design by Impact Graphics