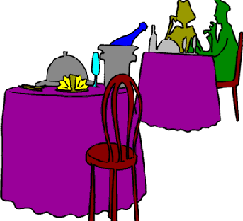 "Los Angeles--Fine Italian cuisine continues the fame of Cardini at the Wilshire Grand Hotel"
.
We can't remember a restaurant that relies on the talents of one man more than ever popular Cardini does on Luigi Volpicelli.
In earlier years, after being identified with such standout restaurants as The Tower and the Brown Derby, he launched Cardini Restaurant in downtown Los Angeles to instant fame and success in the 1980s.
He returned to Cardini as general manager three years ago and promptly brought the restaurant back to its former glory as one of the best restaurants in the Central City. Cardini is located in the Wilshire Grand Hotel and Centre at 930 Wilshire Blvd.
Our perfect dining experience started with cocktails in the lounge and then, moving into one of several intimate dining rooms that this restaurant offers, sat down to classic Italian dining.
My dining partner, also a restaurant writer, and I shared two appetizers--beef carpaccio served with arugula salad, oven roasted tomato and shaved parmesan cheese and fried calamari served with a light spicy tomato coulis. The calamari tender and rich in flavor and the carpaccio, sliced incredibly thin and artful in its presentation. This evening we passed on the pastas which number ten in number on the menu.
My entree was Nodino Di Vitello Alla Vecchia Romagna--a perfect veal chop marinated in brandy with morel mushrooms and rosemary, served with scalloped potatoes and asparagus. The mushrooms were so tasty I had to share them with my partner. My partner had Basso Di Mare Cileano Arrositito--pan roasted Chilean sea bass served over cannellani bean ragu. Other interesting items on the menu included the roasted rack of lamb marinated in Chianti wine, herbs and juniper berries, served over spinach sauteed in garlic and olive oil or the grilled swordfish served over sauteed spinach and caponata.
Luigi has a talent for selecting unusual wines which he features on a weekly basis. At the time of our visit it was Rancho Zabaco from California with both the Dancing Bull Zinfandel and Syrah featured as attractive prices both by the glass and bottle. We both agreed that the Dancing Bull Zinfandel was excellent, soft, mellow but with full flavors of the grape.
The regular wine list has a fine selection of Italian vintages and there is a large list of well known California wines included. Luigi, always innovative, explained that soon there would be a new menu which would feature Italian specialties by region and that this would also apply to the wines of that area matching the cuisine.
Topping off this feast were the Souffle, one chocolate and one Grand Marnier, so we shared both. Coffee and a latte convinced us that it had been a memorable evening.
Cardini, located in the Wilshire Grand Hotel, 930 Wilshire Blvd., is open for both luncheon and dinner. Reservations at 213 612-3973. Parking in the Hotel garage is validated.
Back to Table of Contents

Last Update:3/15/05
&copy 2005 Joe Hilbers All Rights Reserved.
Graphic Design by Impact Graphics