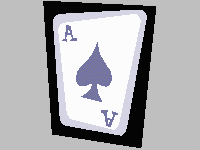 "Hollywood--The Magic Castle continues to delight and excite the visitor"
By Joe Hilbers
Our most recent visit to The Magic Castle was indeed 'magical'. The Magic Castle, in its 42nd year of renown, is located at 7001 Franklin Avenue, in the Hollywood of world wide fame.
We were there for the grand opening of 'The Hat and Hare Pub', an intimate bar and lounge located in the heart of the winding maze of rooms that is one of the Castle's charms. Seated in the lounge with a group of writers we were soon introduced to David Minkin, one of the magician members on hand for the occasion.
David Minkin joined us at our table and then performed some magic which still has this Writer pondering how it was done. David Minkin is a professional magician and calls his business Award Winning Entertainment.
The Magic Castle has, throughout its history, been home to both professional and amateur magicians from around the world . The Hat and Hare proved to be the ideal place to meet some of them on a friendly, first name basis. The adjacent lounge features continuous large size screenings of vintage magic performances from the Academy of Magical Arts archives. We also had the opportunity to chat with Milt Larsen, the man who started it all in 1963 when he took over a faded, earlier era mansion atop Franklin Avenue. Through devoted efforts of family and friends the Magic Castle came into being.
The Hat and Hare bar features rare single malt Scotch, unusual aged rums, single barrel bourbons as well as rare cognacs and liqueurs. Behind the bar is Jim Patton who is also known to perform a few 'sleight of hands' for newcomers.
The Pub is just the newest of the Castle's attractions which include the hotel, four dining rooms decorated in an earlier era decor, the Palace of Mystery, the main Victorian styled theater and The Inner Circle filled with movie memorabilia.
The Hat and Hare Pub is open Wednesday, Friday and Saturday with a dress code that requires coats and ties for men and dresses or pants suits for women. For more information about the Magic Castle and its attractions visit the website at www.magiccastle.com.
Back to Table of Contents..
Last Update:12/15/05
&copy 2005 Joe Hilbers All Rights Reserved.
Graphic Design by Impact Graphics