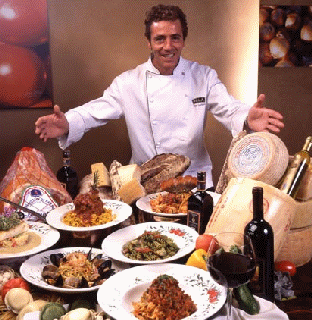 Pala Casino shows fine dining indeed at Mama's Cucina Italiana..
.. By Joe Hilbers
Sometimes a chef fills a role much larger than just being in the kitchen. Certainly this is true of Luciano Cibelli who came from Milano, Italy five years ago to create Mama's Cucina Italiana for the Pala Casino Spa Resort. From helping in the design of the new restaurant which was to feature classic Italian cuisine Chef Luciano developed a special room for making pasta on site, an exhibition kitchen to show the smooth working staff and of course the cuisine itself.
Situated, glass enclosed, at one end of the Casino, Mama's is large, comfortable and casual, all designed for a superior dining experience. There is much to like at Mama's. White linen, sparkling China and silverware and an efficient, smartly clad wait staff all come together here.
We met with Chef Luciano who then sent two suggested appetizers, both presented in unique square dishes, one with built-in dipping trays. They were his Calamari presented with strips of fried zucchini and his own recipe for a on premise made Buffalo Mozzarella atop sliced red and yellow tomatoes. The Mozzarella accompanied with an olive bread, baked on premise, was memorable.
Chef Luciano explained that he learned much about produce and producing cheese and olive oil when working on an Uncle's farm each summer as a boy. It also developed his current philosophy at Mama's to serve only the freshest produce from sources he knows and to buy strictly organic foods whenever possible.
Mama's offers a menu with many selections making our decision for entrees somewhat lengthy. This Writer thought long about the Branzino (wild striped bass) oven baked, also the Ossobuco but finally decided on the Scaloppine which comes in two versions here, one Piccata the other al Marsala which we chose, medallions of veal topped with wild mushrooms in a Marsala wine reduction.
My dining partner, also a victim of multiple menu choices did settle on the Ossobuco which arrived standing up in a huge bowl atop saffron risotto. Large portions here so for both of us a carry out with half or our entrees was necessary. It takes quite a few trips to Mama's, (a delightful thought), to work through this menu.
We would have loved to try some of the home made semolina pastas and Chef Luciano makes a different ravioli each day as a specialty. Items like Tagliolini ai Frutti di Mare, saffron flavored linguine with shrimp, scallops, clams, calamari and mussels simmers with tomato sauce and fresh basil or Rigatoni e Salciccia, rigatoni with Italian sausage, sun dried tomatoes and pine nuts in a basil pesto sauce make a return trip to Pala Casino's Mama's imperative
Then there are oven baked pizzas like Ai Gamberi, fresh pesto, shrimp and mozzarella cheese or Sausage e Funghi, sausage, mushrooms, caramelized onions and Fontina cheese.
Little touches make a big difference in dining experiences. At Mama's Chef Luciano personally goes from table to table speaking to guests. Often he carves, tableside, samples of a huge round of imported Parmesan cheese which is aged for years not months. The delectable piece of Parmesan we tasted was dated from a round made in 2006 and Chef Luciano described how it is made.
We noted the friendly atmosphere created by the staff. Our waitress, Jennifer Lee, was a joy and has been with Mama's two years and obviously enjoys her work.
The wine list is extensive and divided as New World wines from California and Old World wines from Italy. Classic Italian vintages are to be found here like a Lacryma Christi bianco or reds like Barolos, Montaicinos, and Montepulcianos.
From California familiar names like Cakebread, Ferrari Carano and Far Niente. A selection of wines by the glass are listed.
Mama's Cucina Italiana, located in Pala Casino Spa Resort, is open for dinner nightly from 5 p.m. to 10 p.m. to 11 p.m. on weekends. Pala Casino Resort is located at 11154 Highway 76. Call 1 877 946-7252 or www.palacasino.com.
Back to Table of Contents..

Last Update:9/10/08
&copy 2008 Joe Hilbers All Rights Reserved.
Graphic Design by Impact Graphics