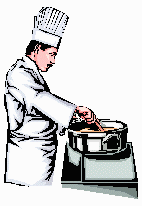 "Marina Del Rey--Marguerite is a bit of France's Province"

"By the Editor"
Andre Ginekis has created a little bit of his native Cote D'Azur in his Marguerite French Bistro in Marina Del Rey. The nearby water is the Pacific Ocean not the Mediterranean. However a visit to Marguerite offers the diner a bit of the flavor of Provence, one of this writer's favorite places on earth, both in decor and cuisine.
Owner and chef Andre Ginekis brings a life time of culinary expertise to his restaurant working in clubs, hotels and as executive chef with Carnival Cruise Lines before opening Marguerite.
Marguerite opened in 1998 for breakfast and lunch only, but more recently for dinner as well with a menu that includes authentic French baguettes and pastries made on the premises as well as quiches, salads, crepes, and sandwiches. The dinner menu features classic French fare like Canard a la Orange, roasted rack of lamb with a south of France sauce, as well as fish items like Provincial Coquille St. Jacques or grilled salmon filet with a champagne sauce.
We regretfully had to pass on the appetizer list which included Escargots a la Marseillaise, a grilled French Baguette toasted with fresh tomato, garlic and basil or the assortment of authentic French pates served with baby pickles.
Instead we opened our dinner experience with a very tasty apple-turkey soup du jour since it was a rather blustery evening with a chilly wind sweeping in from the Pacific Ocean a block away. Entrees at our table included Osso Bucco and the Sole Meuniere served with mashed potatoes, asparagus and tomatoes.
The Osso Bucco came very much in the Italian style reminder of the fact that many dishes of Andre's native Nice reflect its historic Italian ties. Besides the regular listed menu items there are also nightly specials.
As we mentioned breads and pastries are prepared on premise and from the dessert list we chose Crepe au Nutella, sweet crepe filled with European chocolate and whipped cream and a delectable eclair topped with chocolate and filled with vanilla cream.
Marguerite's popularity for lunch is unquestioned, not surprising with its list of classic French dishes like Coq au Vin, Beef Burguignon, selected Quiches, and a seafood Brochette. This in addition to a long list of crepes, salads and sandwiches.
At Marguerite one can enjoy the 'beach scene' dining either inside or on the patio 'al fresco' The restaurant is open every day of the year from 6 a.m. to 10 p.m. at 123 Washington Blvd., Marina Del Rey, one short block from the Broadwalk. For reservations call 310 822-5379.
Back to Table of Contents..
Last Update:6/1/02
&copy 2002 Joe Hilbers All Rights Reserved.
Graphic Design by Impact Graphics