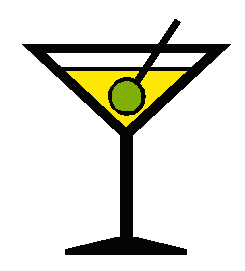 "Los Angeles--"The views, martinis and suerb cuisine of Chef Andrade made our visit to Windows in the Central City a perfect dining experience"

by Joe Hilbers
Windows located atop Transamerica Center in downtown Los Angeles is a special event restaurant that can easily become a habit. Located on the 32nd floor the restaurant offers striking views of the City in every direction.
Add to the remarkable view a casual, well appointed cocktail lounge which takes particular pride in its martinis, and a dining room featuring the remarkable American Continental cuisine of talented Chef Carlos Andrade.
Our recent visit to Windows proved to be a perfect dining experience. We arrived while the City below was still in sunlight, bright and clear after a spring rain storm a few days before. At the bar we ordered one of the restaurant's famed martinis, traditional with gin, very dry, straight up in a chilled inverted V glass with a lemon twist on the side.
Sipping this while waiting for the arrival of our dining companion we casually watched the freeways at their rush hour busyness far below with total detachment. And did some people watching in the busy lounge as well.
Once seated in the dining room our view was east toward the San Gabriel Mountains glistening in freshly fallen snow. Then dusk as lights began to glow across the immense Metropolitan area below.
Meanwhile Gilbert, our most attentive waiter, was taking our orders for what became a most memorable dining experience. My dining partner started with the Lobster Bisque while this Writer ordered the seafood trio with Blue Crab Cake, sliced Norwegian smoked salmon and Jumbo Prawn. My appetizer came beautifully presented and tasty indeed. My Partner pronounced the Lobster Bisque one of the best she had ever tasted. I sneaked a sip and agreed noting the added sherry and fennel flavoring.
Our entrees included the roasted Colorado rack of lamb presented on a bed of bean ragout and an inch thick veal chop perfectly flavored with a red wine reduction sauce. My partner had a glass of St. Francis Napa Pinot Noir with her lamb. Savoring the memory of that martini I passed on wine with dinner.
Meanwhile the viewing became even more dramatic as a full moon rose majestically from behind the Anaheim Hills, at first in dusky hues of red and orange just above the horizon and slowly becoming ever more bright and white as it climbed in the sky.
Windows early on carved a reputation for martinis and steaks and these are still on the menu with items like filet mignon and foie gras or a grilled flat iron steak with shrimp or prime New York or grilled rib-eye steaks. But also on Chef Andrade's menu are sauteed day boat sea scallops with lobster and wild mushroom risotto or charred big eye tuna with red cabbage, bean sprouts and potato tower. This is a chef who shows an obvious talent for his sauces and distinctive flavors.
To go with the superior cuisine General Manager Richard Bonhama heads a caring experienced service staff.
Situated on the 32nd floor of the Transamerica Building at 1150 South Olive Street in downtown Los Angeles Windows is close to all the Central City's attractions, and in walking distance of Staples Center and the Convention Center.
Windows offers an upscale dining experience for luncheon or dinner. Luncheon Monday through Friday, 11:30 a.m. to 2 p.m. and dinner Tuesday through Saturday, 5 p.m to 10 p.m.. Valet parking available. Reservations at 213 746-1554.
Back to Table of Contents..
Last Update:6/15/03
&copy 2003 Joe Hilbers All Rights Reserved.
Graphic Design by Impact Graphics