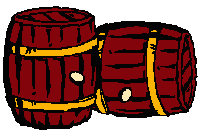 ---
"Meritage wines taking their rightful place in U.S. market' By The Editor's Vineyard
It is surprising, at least to this Writer, that Meritage wines don't receive the amount of publicity or ink that they deserve. The name came about in 1988, by a small group of California vintners, to describe American produced wines in the Bordeaux style, that is wines blended and bottled with more than one grape varietal.
In France almost all the great chateaux wines are blends generally of cabernet sauvignon, merlot, cabernet franc and Petit Verdot. The idea has taken hold in this country and almost all the major wineries, in California and elsewhere in the nation, now produce at least one meritage wine. And meritage wines are not limited to just the reds. Wines blended with several white Bordeaux varietals are also available.
There is a Meritage Association and they have an excellent website chuck full of information on the winery members, where they are located, how meritage wines are made and where to buy the vintages. The website is www.meritagewine.org.
Large Choices
Like their California counterparts, Washington State winemakers have the advantage of using grapes from several appellations or regions in making the product. Winemaker Frederique Spencer, of Sagelands Vineyards, used grapes from four areas of the Columbia Valley in making the Sagelands 2002 Merlot. Washington merlots seem to have a special softness and intense fruit and this is certainly so with this Sagelands vintage. The wine has small amounts of cabernet sauvignon and syrah added plus the 12 months in French and American oak all combine for a superior bottle of wine. And at $12 a real bargain.
Edna Valley Vineyard was one of the first wineries to open several decades ago in that valley which is east of San Luis Obispo. Early on it proved to be a fine region for growing chardonnay. Winemaker Harry Hansen made his 2003 Chardonnay from 30 year old vines that have flourished in the volcanic soils of this appellation. Crisp, flavorful and with a lasting finish this vintage hints at its eight months in French oak.
It is an excellent food wine but we served it to some drop-in guests as a cocktail wine and they loved it. We also liked the $14 price tag.
In California the Syrah grape does best in warmer regions like the Clarksburg area of the Sacramento delta. Two other Rhone varietals do well here, Viognier and Grenache. In France most Rhone wines use all three grapes in the blend. Tom Westberg, winemaker at Echelon Vineyards, did the same with this 2002 Syrah. Good syrahs should be hearty but not overbearing. This vintage fits that description very well with fruit aromas and a round finish. The $10 price tag adds to its enjoyment.
Chris Leamy has the enviable job of making zinfandel in Almador County as Montevina winemaker. We say enviable because if you enjoy zin, like this writer, then Chris must be pleased with his 2002 releases. These include the Terra d'Oro Home Zin, 2002 Terra d'Oro Deaver Zin and the 2002 Terra d'Oro Zin.
Make no mistake these are hearty vintages. The Deaver is from an historic vineyard with 100 year old vines. Good Zins like American oak and this wine has 16 months in the barrel. Powerful aromas here that follow to the palate and the finish as well. True Zin lovers won't want to miss this vintage.
The Amador County Terra D'Oro Zinfandel is a fine vintage at a reasonable price and true to its Amador heritage. It has all the bold qualities of this varietal yet with soft tannins. Priced at $18.
Everyone takes notice when wines that sell for $7 win gold medals. Winemaker Robert Stashak's Coastal Ridge 2002 Merlot garnered gold medals in four separate wine competitions including Best of Class in one of them. We had to agree with the judges. The wine has rich aromas and soft tannins that allow the fruit to come forward. Best of all it is available nationally.
Bob's 2001 Coastal Ridge Cabernet Sauvignon also fared well with the judges. It won Gold in two respected competitions, the S.F. Chronicle and Jerry D. Mead. Aroma, palate and finish all come together in this vintage which has the added plus of being 12.4 per cent alcohol. We sipped this wine as we pretended to be a chef one evening leaving little for our guests.
Fame of Carneros
Early on Carneros proved to be the ideal area of Napa to produce superior chardonnay vintages. Acacia chardonnay bottlings have long achieved respect and the 2003 vintage is no different. We loved the creamy texture of this wine. Pull the cork and instantly the fruit aromas assail. Winemaker Anthony King used grapes from several different Carneros vineyards. There is a hint of its 8 months in oak in the long finish. At $20 certainly fairly priced for a superior bottle of wine.
Like many other California winemakers Tom Westberg of Echelon has the luxury of reaching to many regions of the state for his grapes. Case to point is Echelon's first Zinfandel. The grapes for this 2003 vintage are from some of the oldest zinfandel vines that grow along the Sacramento River in Contra Costa county. Tom used French oak for this wine which shows the spice typical of this varietal as well as its dominate palate. At $13 a zin lover's dream.
This Writer had to study a map to find the Hames Valley appellation which is located in the foothills of the Santa Lucia range. It was here that Tom Westberg found the grapes for the 2002 Echelon cabernet sauvignon.
Tom added 9 per cent merlot and five per cent Alicante to soften the tannins. The wine has one year in mostly French oak barrels and is ready to enjoy now offering full bodied flavors yet with a long soft finish. Priced at $12.

Back to Table of Contents..
Last Update:3/10/05
&copy 2005 Joe Hilbers All Rights Reserved.
Graphic Design by Impact Graphics