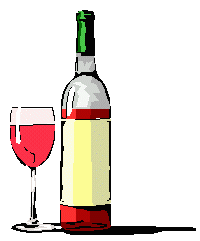 ..The Wines of Provence make their mark with fine Roses and are now finding ever increasing popularity in the U.S. By The Editor's Vineyard
This Writer on his visit to Provence was the outstanding quality of the wines of the region. We already knew about its fame for southern Mediterranean cuisine as well as its casual life-style and legendary beauty. But we knew little about the wines.
All of this was recently brought to mind when we had the privilege of attending a dinner in Santa Monica sponsored by Cotes de Provence Wines. Provence is the oldest grape growing region in France with the first plantings by Phoenicians over 2600 years ago. But the Cotes de Provence appellation wasn't established until 1953 and with this decree the best vineyards were granted Classified Growth status.
Since then Provence's vintners have never looked back and each year shows dramatic increases in both production and sales of the region's wines. Fame largely rests with Provence's Roses, generally regarded as the best in the world. In fact 75 per cent of the region's production is in Rose wines with 20 per cent in reds and five per cent in white wines.
The Cotes de Provence Wine Council dinner in Santa Monica was held at Michael's, a perennial award winning restaurant. Here we tasted some of the outstanding vintages that are boosting the region's fame.
The quality of Provence wines rests with the artistry of the blender since the region has a large array of varietals, some almost unknown in the U.S. As an example we tasted Chateau de Saint Martin Rose, 2001 which was a blend of 30 per cent Grenache, 25 per cent Cinsault, 25 per cent Tibouren, 10 per cent Mourvedre and 10 per cent Syrah.
You can forget about the sweetness that Americans associate with Roses. Provence Roses owe their fame to full aromas, dry fruity flavors and a spicy quality producing a lasting finish. Which explains why Cotes de Provence A.O.C. wines have enjoyed exceptional growth in less than one decade and now make the U.S. the leading export market for these vintages
This Writer had the opportunity of sitting next to Paul Denis, president of the Cotes de Provence Council. This made for an interesting evening since Monsieur Denis spoke no English and this Writer no French.
However an Interpreter came to our rescue. I was particularly interested in Tibouren, a grape varietal unknown to me. Paul Denis explained that it is one of the oldest varietals in Provence and indeed grown nowhere else in France. It produces a pink grape with much fruitiness and is used by most vintners in a Rose blend.
Our menu that evening was a touch of Provence as well. With a salad of Heirloom Tomato and Burrata with aged balsamic vinegar and olive oil we tasted Chateau Sainte Roseline and Saint Julien d'Aille, both 2001 Roses. Next came Seared Squab with roasted plum and fig glaze. The wines included Cuvee du Golf de St. Tropez and Chateau Marouine, again 2001 vintage Roses.
With the roasted Lamb chops with rosemary lamb jus the wine was Domaine la Coste, Rouge 2000 and a vintage we thought outstanding proving that the superior quality of the wines extends to the Reds as well. With a dessert of Valrhona chocolate fudge cake and seasonal sorbet the wine was Ste. Roseline cuvee Prieure, Rouge 2000.
White wines make up only five per cent of Provence's annual 100 million bottles and are blends from varietals all but unknown in the U.S. We tasted the 2001 Chateau de Saint Martin which is a blend of 40 per cent Clairette, 40 per cent Rolle and 20 per cent Ugni-Blanc. Unfortunately time ran out before I could question Monsieur Denis on these (obscure to me) varietals.
All the wines served that evening are available in the U.S. The Cotes de Provence event was also presented in New York and Miami as part of a promotional campaign to boost awareness in the diversity and quality of Provence A.O.C. wines.
Forest Glen recently released its 10th vintage of Merlot. Merlot was the first release when the brand was created 10 years ago. Now Forest Glen includes seven varietals. Both the 2001 Oak Barrel Selection Merlot and the 2001 Oak Barrel Fermented Chardonnay are in the $10 bracket which recent surveys show to be the hottest and most competitive sales category at present. The chardonnay offers fruit flavors and the hint of oak is present in both aroma and taste. At 13.8 per cent alcohol serves nicely for cocktails. The Merlot is soft on the palate and true to this varietal.
Mourvedre is a grape originally from the Rhone Valley. It is one of 13 varieties of grapes used to make famed Chateauneuf du Pape in France. Jade Mountain has just released a 2001 Mourvedre made from 100 year old vines in Contra Costa County. Two other lesser known varietals, Carignane and Alicante Bouchet, were added to the 88 per cent Mourvedre. Winemaker Alison Doran gave the wine 12 months in predominately French Oak and has produced a most satisfying vintage. Full bodied with a complex palate it is a wine that will satisfy with hearty foods.
We last tasted a Mourvedre vintage in Provence where it is still grown and produced as a distinct varietal. This was in the cellars of Chateau De Salle at Taradeau with Winemaker Florent Gillard as our host.
Remarkable are the strides that have been made in the last decade with Pinot Noir in California. And the Central Coast is certainly producing some excellent bottling from this difficult varietal. Winemaker Harry Hansen of Edna Valley Vineyard certainly has a fine bottling with the 2001 Pinot Noir made from vines on the rolling hillsides of the Valley. Aged in French Oak the wine is ready to enjoy with its rich flavors and long finish.
Winemaker Hansen has also released a 2001 Syrah made primarily from grapes grown in the Paragon vineyard in Edna Valley. This is a rich vintage aged primarily in French Oak with exciting aromas and full flavor. Both the Pinot Noir and Syrah are priced in the mid teens and represent good value.
Here in California no region or appellation has anything like an exclusive when it comes to producing fine wines. We recently tasted three remarkable vintages from Amador County which has always produced fine zinfandels, one of our favorite varietals. Winemaker Jeffrey Meyers of Montevina recently released two vintages of this grape. Terra d'Oro 2000 Zinfandel is from an old vine vineyard which consistently produces superior wines. Add this vintage which offers all the concentrated flavors of the grape.
The second Terra D'Oro 2000 Zinfandel was made from grapes in the Shenandoah Valley region of Amador County. Rich, almost overwhelming in flavors this is a wine ready to drink after 16 months in American oak aging and shows the very best of the varietal. Both these Zins priced at $24.
Sauvignon Blanc is such a versatile wine. We use it a lot in the kitchen as well as for outdoor picnics and such. The 2002 Geyser Peak Sauvignon Blanc is styled the way we enjoy this varietal best, produced in stainless steel and with clean crisp flavors. We used a bottle with a tailgate lunch while admiring a wondrous display of poppies at the Antelope Valley Poppy Preserve which has the best showing of California's state flower in a decade.
Restaurants almost always serve white wines too cold. This is especially true with chardonnay which loses most of its buttery flavors when served on the frigid side.
When we experience this at a restaurant we often think, and pity, the winemaker who put so much time and effort into his vintage and then have all the flavors hidden by refrigeration. Often in a restaurant this writer can be seen clutching his glass with both hands to warm up the wine to enjoy the aroma and flavors.
Geyser Peak has released a 2001 Russian River Valley Chardonnay. A cool growing area the Russian River region seems ideal for the chardonnay grape. This vintage was 100 per cent barrel fermented and offers that creamy palate better chardonnays possess. Full flavors that make it an excellent choice with dinner. And please don't serve it too cold.
The 2000 Napa Creek Winery Chardonnay earned a double gold medal at the recent San Francisco Chronicle Wine Competition. This is a wine classic to the varietal, with a Napa appellation and priced at $12. Again proving that good vintages do not necessarily carry a heavy price tag.
It has been a few decades since we visited Acacia Winery in the Carneros area. Many changes have taken place since those early beginnings. The Carneros region is right for the Pinot Noir grape and the Acacia 2001 Pinot Noir is an excellent example of the Pinot Noirs than can be produced there. This wine offers generous aromas and smooth flavors with a long finish. The vintage is 100 per cent of the varietal and enjoyed eight months in French oak.
Coastal Ridge Winemaker Bob Stashak has been making wines for some 30 years with the object of always combining quality with price. Something this Writer, who has always been careful with a buck, appreciates. Just released are the 2000 Coastal Ridge Cabernet Sauvignon and the 2001 Coastal Ridge Merlot.
Slightly lower in proof, under 13 per cent, the wines are mellow, show varietal flavors and fit nicely on the nightly dinner table with a price tag well under $10.
Viticulturalists Mike Stutler and Lise Blair roam up and down California seeking the right grapes for Canyon Road wines which sounds like an interesting way to earn a living. All this to maintain Canyon Road's reputation for consistently offering both quality and exceptional value.
Recently released is the 2001 Merlot. We opened the Canyon Road Merlot while preparing Chicken Cacciatori since our family recipe calls for a cup of red wine in the sauce preparation. The remainder of the bottle we drank with dinner finding it light, soft and right for an everyday food wine.
Also released the 2002 Canyon Road Sauvignon Blanc. Produced in stainless steel the wine is lively, crisp and with the fruit flavors of this varietal completely on show. Just right for summer outdoor dining. Both these wines priced at $10 or below.
Trinchero Winery 2001 Family Selection Sauvignon Blanc has been made from predominately cool climate vineyards in the Central Coast counties. While mostly aged in stainless steel some portion of the blend was barrel fermented. A pleasant wine with classic fruit flavors and a vintage dry enough for cocktails as well as light meals.
Trinchero has also released its 1999 Cabernet Sauvignon. Grapes for this vintage came from some of California's best growing regions including Lake, San Luis Obispo, Napa, Santa Barbara and Monterey counties. The same care was given the wine which was aged 22 months in French and American oak. The wine also enjoyed almost a full year of bottle aging.
The result is a superior vintage with all the attributes that make this varietal a favorite. Lush flavors here with soft tannins and a finish that lasts. Good now but a wine that will cellar very well for future pleasure.
What's in a name? Call it Shiraz or Syrah the end result is a varietal that is capturing an increasing large number of drinkers. Give the Australians due credit for introducing this varietal but now California wineries are releasing excellent wines from this Rhone grape. And with price tags easy on the pocketbook.
Three new releases, all under the $10 mark, include 2000 ForestVille Shiraz, 2000 Montpellier Vineyards Syrah, and 2000 Silver Ridge Barrel Select Syrah.
All three of these vintages offer opportunities to enjoy this varietal for everyday use. Lighter than the traditional syrahs of the Rhone Valley they do offer bright flavors and fit the palate, and the pocketbook, of the average American consumer.
Back to Table of Contents..

Last Update:6/10/03
&copy 2003 Joe Hilbers All Rights Reserved.
Graphic Design by Impact Graphics