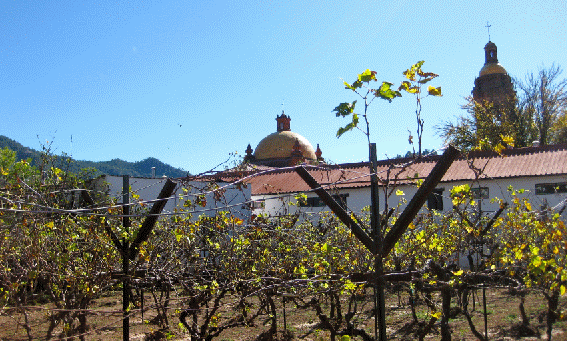 "Sierra Madre--Our Mexican adventure included a visit to Vino Mison de Cerocahui

by The Editor
We are never sure whether we go to wineries or they come to us. Completely unexpected was finding Vino Mison de Cerochuhui in the heart of the Sierra Madre mountains of Mexico. It was yet another surprise on IFW & TWA's Copper Canyon Railroad adventure. Each day we left the train to explore the hinterland. At Bahuichovo we left Chepe, as the Train is named,and were motored to the Mision Hotel (correct spelling) located in Cerocahui. This is another of the Balderrama Hotels which Roberto Balderrama Gomez founded in 1961 to promote the Copper Canyon Train as a major tourist attraction. Each of the hotels is unique to its location. The Mision Inn offered a rustic charm that perfectly matched this forested mountain valley community. Here we had already climbed to a 4100 foot elevation and moved in climate to late Fall with cool days and chilly night time temperatures.
The Mison Hotel is surrounded by a vineyard which produces wines for the adjacent Vino de Cerocahui Winery. It is the only winery in this region of Mexico and was established by the enterprising Roberto Balderrama Gomez with the first vintages produced in 1991. Being first to plant wine grapes in this area really shows the pioneer spirit that Mr. Gomez has shown in developing the Copper Canyon region for tourism. Adjacent to the hotel is a handsome church first established in 1681.
That afternoon while some of us toured the winery others mounted horses to view a 70 foot waterfall on a tributary of Rio Septentrion. Under Winemaker Marino Mendez the winery and vineyards have four varietals growing on the estate. They are cabernet sauvignon, merlot, chardonnary and semillion. In all there are 5,000 vines growing at a 4200 foot elevation. Root stock for the vines was acquired from Valle de Guadalupe in Baja California, one of Mexico's premiere wine regions. Under the Vino de Mison Cerocahui label two wines are currently producted, both blends. The Blanco is 55 per cent chardonnay and 45 per cent semillon and is bottled at 13.5 per cent alcohol.
The Tinto is 60 per cent cabernet sauvignon and 40 per cent merlot and is aged in French oak although we were told that the current vintage also enjoys some American oak as well. Thanks to the 1600 meter elevation harvest arrives generally in early September, unusually early for these varietals. Winemaker Mendez offers his Tinto at a traditional 13.8 per cent alcohol for cabernet sauvignon blends. Since Balderrama has seven hotels there is a distinct marketing advantage for the wines. We enjoyed them at all four of the hotels we visited on our tour. They are also available in twin packs at the hotel gift shops. We found the Chardonnay-Semillon pleasant and most drinkable. This blend is not unique since Australian winemakers often feature chardonnary-semillon bottlings. The Tinto offered good deep hues of color with mellow aromas and flavors and with vanilla from the French oak coming through to the palate. Besides making pleasant wines the vineyards surrounding Hotel Mison added much to the rugged mountain scenery.
The Mison Inn, both the rooms and lodge, offers a rustic decor which fits the surrounding mountain country perfectly. That evening in the lodge we enjoyed cocktails and dinner accompanied by two musical Vaqueros, Manuel and Mario, who played guitar and sang classic Mexican rancheras, traditional cowboy ballads. Our dinner included locally caught Black Bass, sauteed and well matched with Winemaker Mendez's Mison de Cerocahui Blanco. The next morning we motored to Gallegos Urique Lookout which offers sweeping views of the Copper Canyon. From our 7500 foot elevation lookout we could look down on the deepest canyons of the region and far below us the mining town of Urique. Leaving Copper Canyon Park we motored to Creel where we lunched at the Best Western Hotel. We loved the lodge which was decorated with trophies of wild animals of the region. It also has a wonderfully unique Cantina that could provide the set for a Western cinema. Creel sits well into the Tarahumara mountains at an elevation of 7735 feet. After lunch we toured the region by Van admiring the Quaking Aspens with their leaves showing brilliant autumn colors.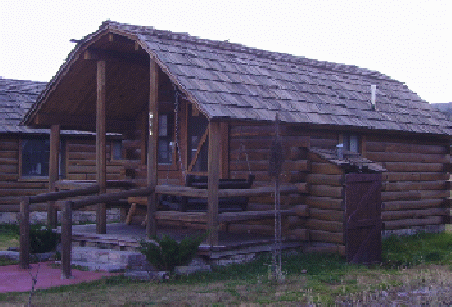 Our lodging here was Villa Mexicana where we all had our very own log cabin for accommodations. We loved our cabin which has two queen sized beds, flat screen TV (which we never used), and a full sized bathroom and most welcome gas heater since we awoke to a hard frost showing on all the adjacent roofs. We joined a host of local children on their way to Escola as we walked to nearby Parador de la Montaza, a very excellent Inn and the oldest in Creel. After our brisk cool early morning walk we warmed ourselves at a cozy fireplace and settled in for a classic Mexican breakfast.
Then used our Van for the four hour drive to Chihuahua City. Gradually we moved out of the mountains into a huge valley, all under cultivation. Chihuahua City was the final destination on our Copper Canyon trip but we still had a lot to see and do. En route we stopped at the museum maintained by the Mennonites, a minority Christian group that was much traveled over centuries. Still another of the faiths that came about after the Reformation the Mennonites were persecuted almost everywhere they went in Europe. Mostly German speaking people they settled in Russia and then looked to the New World settling in Canada as well as northern U.S. States.
In 1922 a large group of Mennonites received permission from the Mexican government to settle in a valley north of Chihuahua. Here they have prospered, mostly as farmers, and their agricultural produce and products have high reputations for quality. The museum gives a accurate account of their history and displays farm tools and equipment from earlier eras. Here we enjoyed a wonderful light lunch of products produced by these hard working people.
Then it was on to Chihuahua City where we checked into the Hotel Siucomoro, a five star hostelry. But we still had a full afternoon to explore the Capitol of the largest State in Mexico. Chihuahua City is a bustling modern metro center of one million people and the second largest in the country. It is at an elevation of 4,600 feet and the center of farming, cattle ranching and mining.
We started at the State Capitol which was built in 1892 and has two stories surrounding a large indoor plaza. Painted murals depicting the history of Mexico from the first meetings of Indians and Spanish explorers to the 1912 Revolution surround the walls of this plaza. They are large, lifelike and done with exquisite care and are the work of one artist, Pina Mora. They also tell the story of Father Miguel Hidalgo Costilla, known as the hero of Mexico for starting the war of independence from Spain in 1812. Later he was captured and executed by the Spanish.
Another legendary figure that figures prominently in Chihuahua history is Pancho Villa. When not fighting, first as a bandit and then as a general in the Revolution of 1912, he made his headquarters in Chihuahua and two of his homes still stand there.
We walked the three block street mall in the central part of the City which is lined with prosperous retail businesses and it was busy indeed with throngs of people. It took us to the City's central square and the Cathedral. This is truly a beautiful structure with elegant twin towers that dominate the square. Inside the church offers classic religious art. We sat here for some time to admire it all and meditate on Mexican culture and history.
Back at Hotel Sicomoro General Manager Felix Rios had a full evening planned for our group of Writers. The hotel has a very smart piano bar and lounge as well as a full service restaurant and dining room. For our cocktails and dinner there was piano entertainment and then a bountiful dinner including a vegetable soup and a boneless rib steak that practically covered a platter. Our wine here was a XA Domecq 2008 Cabernet Sauvignon from the Valle de Calafia in Baja. We had visited this winery in the past and so appreciated the excellent vintages that are being made there and our glasses of the 2008 Cabernet fullfilled those expectations.
Chihuahua will have an event filled 2010 since it is celebrating three anniversaries. A 300th anniversary since it was originally founded. Then a 200th anniversary of independence from Spain and a 100th anniversary of the 1910 Revolution. For a calendar of these 2010 festivities we suggest you contact Rita Meraz Ochoa, Public Relations Director for the Department of Tourism. She can be reached at www.ah-chihuahua.com or e mail rimeraz@chihuhaua.gob.mx. The next morning we boarded our AeroMexico flights back to the U.S., a group of happy travelers indeed.
Our stays at four Balderrama Hotels, Santa Anita in Los Mochis, Hotel Posada Del Hidalgo in El Fuerte, The Mision in Cerocahui and The Mirador at Copper Canyon were highlights in our weeklong adventure. Victor Samaniego, executive chef for all the Balderrama Hotels, actually accompanied us on our tour and prepared dinner for us at each of the hotels. I should add that Balderrama Hotels also arranges tours.
In upcoming issues of Vittles there will be stories and each city we visited as well as our culinary experiences in a wide variety of locations and hotels.
For more information on Mexico Adventures LTD its offices are located in El Paso, Texas, Call 1 800 206-8132, e mail jrood@coppercanyon.com.mx. For information on Balderrama Hotels and Tours check the web at www.vacacionesbarrancasdelcobre.com. The Department of Tourism in Chihuahua is headed by Rita Meraz Ochoa who can be reached on the web at www.ah-chihuahua.com.
Back to Table of Contents..
Last Update:3/10/10
&copy 2010 Joe Hilbers All Rights Reserved.
Graphic Design by Impact Graphics