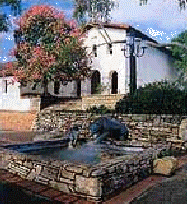 San Luis Obispo--The Place to start when exploring the Scenic Central Coast
by Joe Hilbers
When Father Junipero Serra established Mission San Luis Obispo De Tolosa in 1772 he got it right from the very start. Of course he could not visualize that some day a City would grow and thrive around the Mission or that it is perfectly situated midway between San Francisco and Los Angeles.
He did know that it had an outstanding climate and the surrounding countryside, besides offering breathtaking vistas, could provide a bountiful harvest for animals and people alike.
San Luis Obispo offers the visitor both the past and the present. The past with its historic downtown and residences that show an earlier era as well as the present with museums, specialty stores of every description and cafes, taverns and coffeehouses seemingly without end. Old buildings, some dating to the middle of the 18th century, give downtown an original, and not to be duplicated, atmosphere.
Our recent visit to San Luis Obispo took us to the famed Thursday evening Farmer's Market, on Halloween no less which gave it all the appearance of a west coast Mardi Gras. Also a tour of legendary Hearst Castle. We attended the thirteenth annual Harvest Celebration sponsored by the San Luis Obispo Vintners & Growers Association and enjoyed a personal tour of the Mission and the fascinating museum located there.
We also explored some of the outdoor recreational opportunities in San Luis Obispo County.
Headquarters for our recent visit to San Luis Obispo was the Embassy Suites which offered all the amenities that could be desired including a complimentary cooked-to-order breakfast and in the evenings the Manager's hosted cocktail hour. One evening after a hard traveling day we enjoyed a relaxing cocktail in the Atrium next to a fountain with trickling waters and reflected on what had been a most rewarding day.
Our room certainly offered contrasts. The view from our fourth floor suite was completely pastoral looking out to neat rows of tomato fields backdropped by the classic rolling hills of the Central Coast. Each morning at first light we could watch people picking tomatoes making us believe that journalism wasn't such a bad occupation after all.
On the other side of the hotel is a huge modern complex of department and specialty stores and a large selection of restaurants. The Center is called Madonna Plaza and Promenade.
One evening we had the opportunity to enjoy a wine tasting at Petit Soleil hosted by Hoteliers John and Dianne Conner. Opened earlier this year Petit Soleil brings a little bit of Provence to downtown San Luis Obispo.
Themed to that mythical southern part of France the Bed and Breakfast offered a most serene atmosphere and decor. Each room is individually decorated and with names like Cote du Azul and Touresol.
Located at 1473 Monterey Street Petit Soleil hosts its guest each afternoon to a tasting of local wines. Our wine tasting presented this Writer with the chance to become acquainted with vintages from local wineries, some completely new to us and accompanied by tasty appetizers from the talented staff of Petit Soleil.
Included was a 2002 Baileyana Sauvignon Blanc; two white wines in a dry style from Claiborne & Churchill, dry Reisling and dry Gewurztraminer. Also three wines from nearby Kynsi Winery, 2002 Chardonnay, 2000 Pinot Noir and 2000 syrah. Completing the tasting were two wines from Cerro Caliente, 2002 Zinfandel and 2002 Pinot Gris.
The easiest way to describe Hearst Castle is to say that it is truly one of a kind, unique and not likely to ever be duplicated. Our visit was on the first day of rain in about six months. But the weather did nothing to dampen the enthusiasm of people from as far away as Taiwan and our tour was performed most professionally by our guide, Kathleen Talmadge.
What has been created here is on such a scale that it is hard to grasp. The collection of antiquities, art works, carvings, statues, and tapestries is awe inspiring.
We started our visit at the National Geographic Theater. Here we viewed a spectacular film that traces the history of the family. Entitled "Hearst Castle--Building the Dream" it traces the history of the family from George Hearst's discovery of silver mines, and the early years of son, William. Years that so shaped his vision to bring to America many of the Old World treasures he first saw as a young boy with his mother on a trip to Europe. This film is viewed on a Werks five story tall theater screen.
Our visit was in the off season which is most advisable. The vast majority of the almost one million visitors each year arrive between May and September. Our day at the Castle was unforgettable. The rain storm quickly vanished leaving a freshness in every breath, white cumulus clouds acting as a backdrop to the surrounding peaks and an occasional glint of sunlight on the ocean expanse below.
Five different tours are available at Hearst Castle which is now part of California State Parks. We took tour 1 which is generally recommended for first time visitors. Other tours explore upper floors of Casa Grande, the main house; the other guest houses at the Ranch and an evening tour which recaptures the heyday life of the 1920s and 1930s.
The Hearst Castle is open daily except for three major holidays. For more information call 805 927-2020 or log on at www.hearstcastle.org.
For a historical perspective of San Luis Obispo the place to start is the Mission San Luis Obispo de Tolosa. It was the fifth in the string of Mission stretching up the coast of California. It owned its original founding and location to the huge population of bears that frequented the country and were a readily available source of food. Native inhabitants of the region were the Chumash whose culture and existence depended on gathering rather than agriculture.
We were fortunate to have Docent Janet as our guide when we toured the Mission and she was a library of information on the Mission's history and its role in the first development of the town by the Spanish, Mexicans and then the Americans in that order.
The Mission is still a Catholic Church with an active congregation.. After a tour be sure to visit the adjoining gift shop and museum which besides mission artifacts present a fine history of the early land grant settlers,
One day we spent surveying outdoor recreational activities that have been provided by the County of San Luis Obispo Parks Service. This rates a separate story in Vittles as does our San Luis Obispo dining experiences.
Back to Table of Contents..
Last Update:12/3/03
&copy 12/3/03 Joe Hilbers All Rights Reserved.
Graphic Design by Impact Graphics