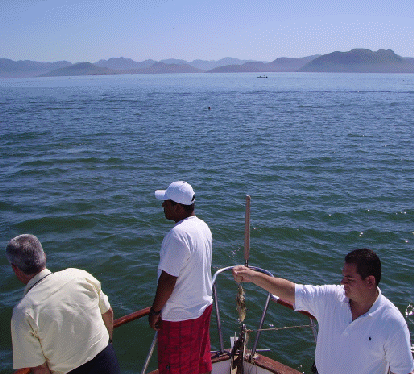 "Los Mochis--Copper Canyon Train trips begin in this Gulf of Cortez port"
By The Editor

We liked Los Mochis, a well designed city, and found that it has a most interesting history. It only came into being at the beginning of the 20th century. And here lies a tale.
It was first colonized by Americans who came seeking a different life-style and community, call it a commune state of mind. Their guru was a man named Owens, also American who was part promoter, part evangelist and part con man. Anyway he talked some 120 families to leave the U.S. for what is now Los Mochis. As with almost all such idealistic communities it failed. Some returned to the U.S., but some did remain, married into the local small population and established a farming community.
Then another American arrived who saw the Los Mochis region as ideal for growing sugar cane. Also since located on the shores of the Gulf of California and with a wonderful natural harbor it offered the means of easy transport of the product. A huge sugar refining plant was built and remains to this very day. Another plan was to bring the railroad from Chihuahua to Los Mochis, a distance of 400 miles. This proved to be a 70 year old dream that did not reach reality until 1961
It took almost as long to develop harbor facilities which now make the railroad a paying proposition. The train has become a world wonder in rail engineering as it traverses the Sierra Madre mountain range adjacent to Copper Canyon, a natural marvel rivaling the Grand canyon in the U.S. Today Los Mochis is a most modern City with wide tree line boulevards, vivant business center and surrounded by one of the best agricultural regions in all of Mexico. The Gulf offers legendary fishing and its huge shrimp harvest with both traditional boats and some of the largest shrimp farms in the country. We tried to see as much of Los Mochis as possible in a single day. We stayed at the Santa Anita Hotel enjoying all its modern amenities as well as a memorable dinner at its restaurant. Our bill of fare was of course the local seafood which included positively the best fish ceviche we have ever enjoyed as well as shrimp in numerous chef creations. Ours was Shrimp a la Francesa which arrived sauteed with locally grown mushrooms, spinach and Yukon potatoes in an eye appealing presentation. Then completing the feast with Santa Anita's own version of Flan.
Our day adventure was a tour of Los Mochis harbor and huge bay surrounded by green hills dotted with chaparral and a wide variety of cactus, some of large stature. Our cruise was on the admirably equipped yacht, Donna Ventura. Also aboard was Victor Samaniego, executive chef of the seven Balderrama hotels, who traveled with us on this visit to Mexico. As we idled away time sipping a Pacifico Cerveza we watched the local shrimp fishermen at work. Then stopped at one such vessel, manned by two men, and acquired a huge pan of fresh caught large size shrimp. These were destined for our lunch about the Ventura, giving a new meaning to the term fresh seafood.
So it was to be from sea to pan in a matter of minutes. Chef Victor did his work well as soon to appear were plates of large scallops served cerviche style, then some of the recently acquired shrimp also served cerviche style. But we were far from finished. The main course was fish tacos, a bowl of fish cerviche and more of those so recently acquired shrimp prepared three ways--breaded, boiled and fried. The day was bright, the air clean and clear, the views of surrounding strange shaped intriguing mountains and the refreshing Pacifico. It does not get much better than this.
Later in the day we boarded our coach for El Fuerte, an inland farming center where we settled into Balderrama's most picturesque Posada del Hidalgo Hotel and Spa. We spent two nights and one day in El Fuerte before boarding the Copper Canyon Train.
El Fuerte is a historic city first settled as a Spanish fort in the late 1500s. As it grew it became the first Capitol of the province that is now the State of Sinaloa. Here we had some exciting adventures including a float trip on the El Fuerte River. Afloat all was serene as we watched for birds and waterfowl or looked on as local fishermen seined for Langostina, crayfish of amazing size, or Tilapia and Black Bass.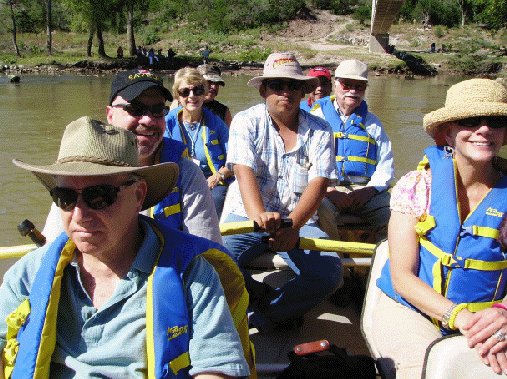 Then moving to shore our guide, Miguel Angel, took us on a trail which led to Petroglyphs believed to be 1200 years old. En route Miguel would stop to explain some local plant which the Indians used for a specific purpose. Sometimes it was for a medical benefit, others for pottery, basket weaving, etc. The Petroglyphs were carved into the rock rather than painted. Researchers believe that the site was used for spiritual purposes and possible sacrifice. Miguel explained how some figures were actually praying to the rain god. We saw a palm and finger print carved into the rock and placed our hand there 1200 years later.
The Posada del Hidalgo is an unique hotel in every way. Originally two private haciendas the Balderrama Family acquired the property in 1963 and opened with ten rooms. These surrounded by patios lush with all kinds of exotic plants and trees. Over the years the hotel has expanded to its present 70 rooms. One hacienda dates back to 1785, the second to 1895. Today's Del Hidalgo is a replica of the originals with many artifacts of that earlier time. The hotel in the largest in El Fuerte offering pool and spa. Bernardo Balderrama Garcia, son of the founder, is general manager of the seven hotels and a talented chef as well.
In the evening we gathered around the pool for cocktails and to be entertained by a talented group of musicians and El Zorro, the legendary Robin Hood of early Mexico. There is a full size statue of him in one of the patios of the hotel. Zorro, suitably attired and complete with mask and sword, led us in song, flirted and danced with the women, all to much merriment. Then to dinner in a beautifully appointed room with the ambiance of an earlier era. There was a chef inspired corn soup, then chicken tenderloins surrounded by locally grown green beans and potatoes and concluding with a chocolate speckled ice cream sundae.
Another evening for dinner we had a plate of those large, locally harvested langostinas, crayfish served over rice and with a tomato soup that could almost be called a bisque. If you believe that on a trip to Mexico you will be faced with Tex-Mex or Taco Bell type food forget it. Nothing could be further from the truth. About the only thing true Mexican cuisine has with what we experience north of the border is the tortilla. We had one more visit to make here before boarding the Copper Canyon train. It was to a village of the Mayo Indians who were the dwellers of the region when the first Europeans arrived. Here we were treated to two native Mayo dances, one predating the arrival of the Spanish, the second with influences of the Spanish padres. All of this was explained by our ever present tour guide Adrian Castellanos. As we watched the dances looking to our left about 100 years distant in time was a baseball field with a large number of teenage boys playing pepper in readiness for an upcoming game proving that cultures do move on.
Back to Table of Contents..
Last Update:6/9/10
&copy 2010 Joe Hilbers All Rights Reserved.
Graphic Design by Impact Graphics