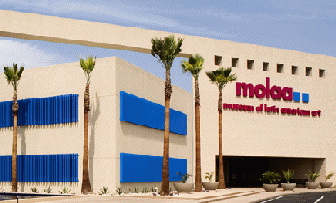 Long Beach--Dramatic Styling greets visitors to Long Beach Museum of Latin Art
.. By Joe Hilbers
The transition that has taken place at the Long Beach Museum of Latin Art can only be described as spectacular. The architecture of the building, located at Alamitos and 6th Avenue in Long Beach, portrays its goal of presenting the art and sculpture of the Americas.
Designed by Mexican Architect Manuel Rosen the building shows bold lines and colors in its contemporary style. The Museum of Latin American Art is unique in its focus on the contemporary Art of all the countries of the Americas. Works by artists, from all the South American and Central America countries,are represented both in paintings and sculpture.
Our first visit to this Museum took place several years ago and when we returned recently we could not believe it was at the same location, everything was changed and in pleasing dramatic ways. The man behind the rebirth of this museum is Dr. Robert Gumbiner, who upon his retirement as chairman of a H.M.O, dedicated his time and financial resources to MOLAA.
On our recent visit we received a personal tour with Susan Golden, director of PR and Marketing as our guide. Besides the galleries there is the elegant Gumbiner Sculpture and Events garden. It combines a serene garden setting with desert greenery and Latin sculptures and is designed as an outdoor theater for events.
Also new is the Film Screening room which is used to present films by top award winning Latin producers and artists.
In the galleries the permanent collection is entitled 'A Bridge to the Americas" Here 80 works, with all the countries of Latin America represented, are to be seen with cultural and heritage themes. The Museum has a shop with products representative of Latin countries and and an adjourning restaurant named VivaMolaa.
Since opening in June of this year the complex already is hosting a comprehensive number of artistic and civic events. A monthly calendar of events includes art classes, live music performed in the galleries, Latin dance parties and much more.
The Museum of Latin American Art is located at 628 Alamitos avenue in Long Beach. It is open Tuesday through Sunday from 11:30 A.M. TO 7 P.M. There is an admission charge. For more information call 562 437-1689, On the web at WWW.MOLAA.ORG. MOLAA is the only museum in the U.S. devoted exclusively to contemporary Latin Art.
Back to Table of Contents..

Last Update:6/1/07
&copy 2007 Joe Hilbers All Rights Reserved.
Graphic Design by Impact Graphics