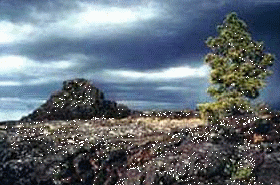 "Idaho--A visit to Craters of the Moon National Monument will take you as close to a lunar landscape as you will ever get" By The Editor
.
The closest most of us will ever get to the moon is a trip to the Craters of the Moon National Monument. Located in Idaho just 100 miles north of Twin Falls on Highway 93 it is a place that resembles a lunar surface. So much so that NASA actually had members of the Apollo 14 crew visit the area and study its geology.
The lava flows that cover the area are recent starting about 15,000 years ago and only stopped some 2,000 years ago.
The National Park Service has done a fine job in making this accessible to the public. There is a Visitor Center which offers a video presentation of how the lava was formed as well as displays of the surprisingly prolific flora and fauna of the region.
Adjacent is a campground that is open from May to October each year. Most visitors will want to use their vehicle to explore the area on a seven mile loop road that covers features of the Great Rift fissure, cinder cones and other features. Generally if you are not doing any walking this loop takes about two hours.
On our trip to the Monument we had our RV and after selecting a very nice campsite, set off on foot to see it all first hand and up close. At the Visitor Center an exhibit explained the types of lava present which include A'a and Pahoehoe. These are Hawaiian names and describe the types of lava. A'a means "hard on the feet" in Hawaiian and is sharp, pointed lava that makes the very best boots necessary for any foot travel.
Pahoehoe means 'ropy' and is much smoother, being more fluid when the lava flowed. We took what is called the North Crater Flow trail which follows one of the most recent eruptions in the Park, only about 2000 years ago. On this trail we experienced both A'a and Pahoehoe types of lava as well as peering into a volcano vent.
We had a lovely summer day for our exploration with just enough breeze to make walking comfortable. The breeze was a real plus since all that black basaltic lava creates a good deal of heat as it reflects the sun's rays.
There is no surface water in the Monument except at the Visitor Center and campground. Our explorations created a big thirst which was as good an excuse as any for a few cocktails before dinner. Our journal reads that the supper menu was Swedish meatballs with noodles and potato salad.
The Visitor Center at Craters of the Moon is open year round except for major holidays. The Campground is open from May to October and the Loop Road is open from mid-April to mid-November. Snow keeps it closed during the winter.
For more information call 208 527-3257 or check the website at www.nps.gov/crmo.
Back to Table of Contents

Last Update:3/1/00
&copy 2000 Joe Hilbers All Rights Reserved.
Graphic Design by Impact Graphics