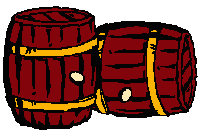 ---
"California continues to add wineries and vineyards' By The Editor's Vineyard
It figures that with some 2880 wineries in California new brands and labels will be in plentiful supply with yet more wineries and marketing companies as well. Which explains why California is now in fourth place in world wine production. So there is now a Panther Rock Wine Company recently formed by fourth generation members of the Franzia Family. Which means that the family has now been a part of the California wine industry for one hundred and ten years.
Motos Liberty Cellars is one of the brands recently launched by Panther Rock depicting a madcap motor cross biker on the label. We tasted both the Motos Liberty 2008 Pinot Grigio as well as the Motos Liberty 2008 Chardonnay. Veteran winemaker John Allbaugh made these wines, both well crafted and priced at $9. The Pinot Grigio offers interesting fruit flavors and a pleasant finish and looks like a good companion at a Tailgate party. The chardonnay shows its heritage well with abundant flavors and at 13.44 per cent alcohol right either with food or as a cocktail wine.
Motos Liberty and two other new labels, Wild Hare and Masked Rider, are being directed to a new younger marketing group that might just be ready to move on from beer to wine. And with pricing that makes these wines very competitive with many of the handcrafted beers and ales now available.
Masked Rider, based in Sonoma, targets the $10 market with two wines from Winemaker Andrea Beltran. Masked Rider 2007 Petite Sirah is typical of this varietal with deep color and fresh flavors. The Masked Rider Gunsmoke Red proved to be a rather interesting blend of Cabernet Sauvignon, Petite Sirah, Merlot and Cabernet Franc. We thought Winemaker Andrea has created a robust wine here with interesting aroma and flavors and offering value. The Masked Rider label leans to red wines also offering a Cabernet Sauvignon, Zinfandel and Pinot Noir.
More Chardonnays
Wild Hare, with a cocky looking lounging rabbit on the label, is again obviously targeted for younger drinkers. We tasted the Wild Hare Cabernet Sauvignon and Wild Hare Chardonnay. These wines omit a vintage date but are very acceptable as everyday wines in their price category of $7. We thought the chardonnay offered some value with lots of fruit flavors and a hint of oak. Other Wild Hare varietals include a Pinot Grigio, Pinot Noir and Petite Sirah.
Still another new chardonnay has arrived on the scene, a wine from southeastern Australia. Called Down Under, for a chardonnay it has a price tag that makes it available to every wine drinker from 2.99 to 4.99 at the retail level. We found Down Under offers light flavors and a crisp finish and to our palate quite distinctive from California chardonnays.

Back to Table of Contents..
Last Update:3/3/10
&copy 2010 Joe Hilbers All Rights Reserved.
Graphic Design by Impact Graphics