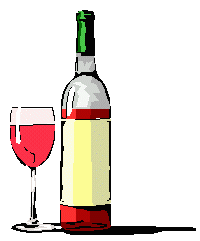 "Solvenia--Movia white wines win favor in Los Angeles"

by The Editor's Vineyard
Interesting wines are where you find them which was the message Vintner and Winemaker Ales Kristancie brought with him on a recent visit to Los Angeles. The winery, Movia, is located in Slovenia and has been in the Kristancie family since 1820.
This was our first exposure to wines from Slovenia which borders Italy and other Slavic countries at the Northern most tip of the Adriatic Sea. At a tasting held at the Campanile Movia showed some interesting vintages which have special appeal for those who love white wines.
Indeed most of the wines tasted were white, some familiar varietals like chardonnay and sauvignon blanc, others from native varietals to the region like Gredic Tokai and Ribolla. All of the Movia wines enjoy at least two years of barrel aging. With the 2003 Movia Sauvignon Blanc this made for a very unusual but very good bottle of wine since this varietal never gets this kind of treatment in California. In a class of its own was the 2003 Ribolla, a native varietal and this vintage from 85 year old vines.
Alex Kristancie has his own style and sometimes goes where few other winemakers venture. Like with his Veliko Bianco 2001 which is a blend of four different white varietals. Most of the Movia wines are priced in the best selling $10 to $20 bracket but there were exceptions. The 2001 Pinot Nero is a delightful pinot noir priced at $24. Movia also has the Vila Marijo label with a 2004 Pinot Grigio and a 2003 Merlot priced under $10.
The Movia 2002 Pinot Grigio rated very high with us with wonderful flavors lolling on the palate very like those of nearby Italian wines of this varietal. Movia wines are imported into the U.S. by Domaineselect Imports of New York.
A benchmark
There is no question that cabernet sauvignon has become the benchmark wine of the Napa Valley appellations. Most California bottlings of this varietal are now judged and compared against those from Napa.
A Napa Valley cabernet sauvignon that does not bend the pocketbook is 2003 Rutherford Vintners. Winemaker Larry Rocha has got it right with this vintage with a modest 13.6 per alcohol, the deep ruby color of the wine and with plenty of flavors on the palate. The most modest thing about this wine is the price of $15.99.
Also from Larry's craftsmanship is the 2003 Rutherford Vintners Merlot, from the Napa Valley. Thanks to a certain film and inroads from imports, merlot is not quite as popular as it once was. However this vintage still appeals with its soft finish and mellow flavors. Priced at $13.95.
Back to Table of Contents..
Last Update:4/10/06
&copy 2006 Joe Hilbers All Rights Reserved.
Graphic Design by Impact Graphics