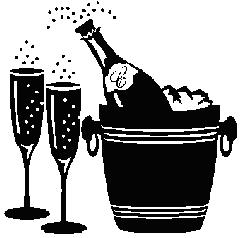 Mumm's Cordon Rouge celebrates 125 years with new package and promotion

by the Editor's Vineyard
When it comes to longivity in business it is hard to beat the French. Take G. H. Mumm, the Champagne firm in Reims. Founded in 1827 the firm launched its flagship Cordon Rouge cuvee in 1875 which is now exported to some 100 countries. Here in the U.S. Mumm is celebrating the 125th anniversary of its introduction into the U.S. with a media and consumer campaign called "Paint the Town Rouge".
We have only the fondest memories of our visit to Mumm champagne cellars in Reims. After a complete tour of the facilities and cellars located under the streets of Reims, we met with some company executives for an interview in a magnificent cherry paneled board room complete with fireplace and chatted while sipping Mumm's famous cuvee. And then on to a fabulous luncheon.. It was one of those days that make wine writing memorable and worthwhile.
In Los Angeles Mumm held a 'Paint the Town Rouge' party at Sony Studios in the Rita Hayworth Dining Room. With the anniversary Mumm has redesigned the package of the red sashed Cordon Rouge cuvee. Originally the label was created in honor of the French Legion of Honor.
Washington Wines
For someone who wants to edge into Washington State wines at a most reasonable price we suggest Salmon Harbor which has released a 2000 Chardonnay and 2000 Merlot. This is a second brand for Hogue Cellars, one of the State's premium wine producers. The Merlot shows quality from grapes in the Yakima Valley with 10 per cent Lemberger and 9 per cent cabernet sauvignon blended into the vintage. This is a soft, young merlot that goes well with many foods and at $8., a bottle worth trying. The Chardonnay is a young wine with lots of fruit flavors that are not masked by oak. Crisp and nice for a picnic and again priced right.
New Favorite
We personally like Syrahs and note that more good vintages of this varietal are appearing all the time from California winemakers. We have always admired the style of Winemaker Dwayne Helmuth of Callaway Coastal and so we tasted the newly released Callaway 1999 Reserve Syrah from San Luis Obispo County with special interest. Helmuth and co-winemaker Darren Procsal have included 20 per cent cabernet sauvignon to this vintage. The Syrah grape produces wine with hearty character and it shows in this vintage.
The 1999 Reserve Merlot offers lots of body with a smooth finish and surprisingly mellow flavors for its 13.7 per cent alcohol. This bottling included 10 per cent cabernet franc. Both this wines sell for under $20.
We are often asked if California chardonnays age well. Our experience has been that few of the 1980s did so, but most did not. However some of the early 1990s vintages we've tasted from our cellar have held up very well. One that should enjoy a long life is the Mayacamas Vineyards 1999 Chardonnay which comes from mountainside vineyards on Mt Veeder. But then Owner and winemaker Bob Travers has a reputation for making chardonnays that last and last and last. We call this a big chardonnay with huge varietal flavors and showing its long rest in American and French oak barrels. A vintage in the very best tradition of this varietal. Wonderful now and with the promise of a long future.
Jeff Stewart, winemaker at La Creama Winery, continues his winning Burgundian style wines with releases of the 2000 Pinot Noir and 2000 Chardonnay. Using grapes from the cooler regions of Sonoma County the 2000 Pinot Noir is an elegant, intense vintage with a long finish. The 2000 Chardonnay is a worthy successor to earlier bottlings of this varietal from La Crema. Some oak present but the true characteristics of the grape linger on the palate. An elegant cocktail wine. For drinkers willing to move up in quality and price La Crema wines are a good bet.
At Forest Glen Winemaker Ed Moody continues to balance good quality with prices in the $10 range. Which is why the Forest Glen Merlots have been so successful in the marketplace. The 2000 vintage of Merlot continues its place as a very good dinner wine, flavorful but mellow. Like the Merlot the 2000 Chardonnay is 100 per cent malolactic fermentation and barrel aged in American oak. Again the varietal flavors come through nicely in this vintage.
Winemaker Chris Munsell of Canyon Road, a label of Peak Wines International, has much to be happy about. In a recent wine competition five vintages received awards. Besides the awards the Canyon Road wines have a new label and package. We recently tasted some of these releases to see if our taste agreed with the competition judges.
Big winner was the 2001 Sauvignon Blanc which was named best of class and a gold medal. Priced at $9 a true bargain. Winemaker Munsell emphasizes true varietal flavors in his wines and that is certainly true with the Sauvignon Blanc. Fermented and stored in stainless steel the vintage is all fruit, crisp to the palate and with a lively finish. Also a winner was the 2000 Merlot. Munsell used grapes from both the North and Central Coast for this wine. Smooth and mellow, a perfect wine for people looking for a red wine with true softness but still flavorful.
The first California Shiraz vintages on the market were somewhat pricey but that has now changed. Like all the Canyon Road wines the 2000 Shiraz is priced in the $9 or $10 range. Like all true vintages from this grape, this Shiraz is hearty, complex with flavors and a great food wine. It won a Silver medal in the San Francisco Chronicle Competition.
Aussies Again
Yangarra Park wines are from Kendall-Jackson Wine Estates Australian venture. The new 2001 releases are the second to reach the American market. Unlike many Australian winemakers who like to blend two or more varietals in their bottlings, Peter Fraser, stays with 100 per cent varietal wines.
We particularly liked the 2001 Shiraz which Fraser aged in French oak. This is a robust, hearty wine much in the Australian style which has made the varietal so popular in recent years. Like the Shiraz the 2001 Cabernet Sauvignon is 100 per cent of the varietal and aged in all French oak. Dark in the glass and certainly full bodied, this vintage surprises in the palate with nice balance and a unexpected smoothness. A true red meat and hearty fare wine.
The name Yangarra means Earth in Australian Aboriginal. To American consumers it means value since all the 2001 wines including chardonnay and merlot are priced at $10.
Summer is the time for picnics, barbecues and outdoor living and white wines are the perfect accompaniment. Relatively uncomplicated, and at their best, fresh and clean without oak or tannins, wines like Gewurtraminer, Johannisberg Riesling and Sauvignon Blanc make wonderful summer companions.
Fetzer Vineyards has just released just such a trio under their Echo Ridge Label. All three are 2001 vintage and were fermented and developed completely in stainless steel. We like Gewurztraminer and this vintage is a good one with 14 per cent Muscat added for aroma and flavors.
Again the 2001 Johannisberg Riesling also has 15 per cent Muscat for added aromas. Both the Gewurztraminer and the Riesling are 12 per cent alcohol, making for added softness on the palate. As good as the wines is the price, under $9.
Prices keep dropping and quality keeps rising in the California Merlots now reaching the marketplace. The Trinchero 1999 Family Selection Merlot is an excellent example. Winemaker Derek Holstein used grapes from an Luis Obispo, Monterey, Napa and Santa Barbara counties for this vintage which then enjoyed 17 months in American and French oak. Nothing stinted with this vintage except the price at $12.
And speaking of excellent Merlots there is the Geyser Peak 1999 Merlot from Sonoma County. Drinkable now but this wine should enjoy a good cellar life as well. Small amounts of Shiraz, cabernet sauvignon and malbec were added making for a full rich aroma and long finish.
Still another Merlot of note Fetzer Barrel Select Sonoma 1999 vintage. Winemaker John White used grapes from several Sonoma appellations for this wine which is 100 per cent of the varietal Much fruit remains in this full bodied Merlot both in its aroma and finish.
When in doubt we reach for a bottle of Zinfandel mostly because it was the grape of choice when my grandfather and father were making their own wine almost three-quarters of a century ago. Anyway we opened and liked Fetzer's 1999 Barrel Select Mendocino Zinfandel. Dark in color, rich in flavors and yes we do like wines aged in American oak as this vintage was. Ready to drink but it could be a good cellar 'keeper' as well.
Still on Zinfandel we tasted Geyser Peak's 2000 vintage from mostly Sonoma county grapes but with some old vine pickings from Rancho Cucamonga. Think color with its dark ruby hue, fruit with its aroma and a big mix of flavors on the palate. A wine that demands hearty fare in accompaniment.
Cabernets Three
Classic Wines has released three 1999 cabernet sauvignons, each under a different label and each priced at or below the $10 mark. The 1999 Silver Ridge Vineyards Cabernet Sauvignon Barrel Select is a nicely balanced dinner wine. It had one year in American oak and shows true varietal flavor in both aroma and flavor. The 1999 Hacienda Wine Cellars Cabernet Sauvignon "Clair de Lune" represents value at its $7 price tag. Thanks to a 12.5 per cent alcohol level, lower that many California cabernets, the wine has unusual softness on the palate. Mellow is the word we would use to describe the vintage.
Least expensive of the three is the 1999 ForestVille Vineyard Cabernet Sauvignon. Again thanks to 12.3 per cent alcohol the wine is mellow both in aroma and flavor and is a good dinner campanion for the budget minded consumer.
Different Style
In recent years Pepi Vineyards has devoted itself to producing outstanding red wines. However Winemaker Chris Johnson has returned full circle to produce a 2001 chardonnay under the Pepi label. Chris selected grapes from three Napa Valley vineyards for this vintage and departed from malolactic fermentation using stainless steel tanks and almost at the end of fermentation into French and American oak barrels.
The result is a wine that fills the palate with classic chardonnary fruit flavors. Fruit aromas attack the nose as well. A wine meant for exciting cuisines.
In Italy the Grey Pinot grape which becomes Pinot Grigio in the glass often has a flintlike, steely finish. However in California this wine is much more friendly to the palate with fruit and spice flavors apparent and appreciated. This is true with the Woodbridge by Robert Mondavi 2001 Pinot Grigio.
We liked this wine for its softness in both aroma and flavor. Winemaker Miguel Martin kept this vintage in stainless steel and added small amounts of chardonnay, sauvignon blanc as well as semillon, muscat and malvasia to the blend. The result is a pleasant, most drinkable wine that we thoughfully took on a beach trip to enjoy with a picnic lunch. As pleasant as the wine so is the price, under $10.
Back to Table of Contents..
Last Update:6/2/02
&copy 2002 Joe Hilbers All Rights Reserved.
Graphic Design by Impact Graphics