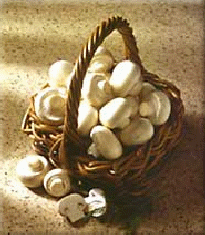 Ventura--Tracking the mushroom from seed to dinner table was an exciting event
.. By Joe Hilbers
The cuisines of many cultures feature mushrooms as a delicacy. Certainly in American cuisines mushrooms are present in everything from pizza to the most sophisticated dishes. With this in mind we set out to trace the mushroom from spoor and seedling right to the dinner table.
A tip of the hat to the Channel Island Chefs Association of Ventura for making this all possible. It began with a visit to the California Mushroom Farm located in Ventura.
Located on 30 acres in Ventura the Farm now produces 65,000 pounds of mushrooms each day and has a staff of 400 people. Annual production is 25 million pounds of five different varieties.
Our guide was Jeff Nichol, director of sales and marketing, and as he took us into huge concrete growing buildings he explained the care taken in planting the seedling in large trays which are carefully nurtured 24 hours a day for correct temperature and humidity. The vast majority of production is of the popular white mushrooms. A special compost is produced on-site where pasteurization and conditioning takes place.
Each tray over a period of weeks will produce three harvests of mushrooms. Then the compost is replaced and the process is started again. Finally the mushrooms are cleaned and readied for packaging and shipping. California Mushroom Farm sells their product in all of California as well as Phoenix and Las Vegas.
After learning all about the growing and processing of mushrooms the Channel Chefs arranged a dinner at the Ventura Marriott Hotel where Executive Chef Kirk Parks designed a menu that included one or more variety of mushroom in every course. We should add that Chef Parks is also current president of the Channel Island Chefs Assn.
The dinner at the Marriott that evening for some 100 people proved to be a memorable event. Hors d' oeuvres included Portabellini sliders, Shitake avocado maki rolls, Tempura portabellas with red pepper aioli and Oyster mushroom empanadas. And this was before dinner. Once seated our appetizer was crab stuffed prawn on a crispy chanterelle and oyster mushroom risotto cake. Then a salad with mixed field greens with hedgehog mushroom flan, oven dried tomatoes and goat cheese crouton. Our wines were all from the Central Coast starting with a Zaca Mesa Viognier followed by a R Collection 2007 Monterey Chardonnay.
Entree was Pom-pom and portabella mushroom-oxtail ragu over gorgonzola polenta with grilled asparagus. Then a cheese course of Crimini-maitake mushroom cheese cake with crostinis accompanied with a Rancho Sisquoc Santa Barbara 2005 Merlot.
Rousing accords were given by those present both to Chef Parks for such a innovative menu and Jeff Nichol of California Mushroom Farm who provided the many varieties served that evening.
Back to Table of Contents..

Last Update:6/1/09
&copy 2009 Joe Hilbers All Rights Reserved.
Graphic Design by Impact Graphics