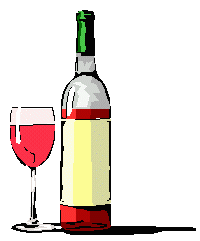 Alternative varietals bring new excitement to California Wine Scene..
..Napa vintners lead with new plantings.
A trend that will gladden the hearts of any true wine lovers is the move by California vintners to new varietals. Almost every wine region in California has new plantings of varietals that vintners gave hardly a thought to a decade ago.
The list of wineries introducing new varietals, at least new to this state, gets longer each day. Fetzer with its Bonterra organically grown wines now has introduced a Syrah, a Sangiovese and Viognier to its previously released Cabernet Sauvignon and Chardonnay.
Geyser Peak was one of the pioneer wineries to continue producing a full line of varietals like Gewurztraminer and Riesling. The newly released 1995 is called a soft Johannisberg Riesling, very much in the low alcohol German style of winemaking. It is a real winner both in quality and pricing.
The Napa Valley Vintners Association recently conducted a series of seminars and tastings in major American cities and one of the seminars was entitled 'Alternative Wines'. Jim Moore, who is winemaker for Mondavi's new La Famiglia di Robert Mondavi line of wines, explained that in replanting phytlloxera infected vineyards, Napa vintners are thinking of many other varietals besides cabernet sauvignon and chardonnay.
The way the American consumer has embraced Merlot shows that there is life besides cabernet sauvignon.
Those attending the recent seminar in Los Angeles had the opportunity to taste some of these alternative wines. They included a Mondavi Pinot Grigio, a Joseph Phelps Viognier; two Sangioveses, one by Staglin and the other by Turnbull, and a Syrah produced by Swanson Vineyards.
The interest in Sangiovese extends from Napa all the way to Temecula and with good reason. Again like Merlot it is a red wine in a lighter style that American wine drinkers seem to enjoy.
In Temecula Peter Poole at Mount Palomar has introduced a Sangiovese and a Syrah as well. And Thorton Winery first started introducing new varietals like Gioveto and Nebbiolo under its Brindiamo label. Now under their Thornton label there is a Carignane as well as a Rosso Vecchio
Joseph Phelps has been one of the first of the Napa wineries to produce excellent Rhone type wines. The Viognier shown at the recent seminar can only be described as outstanding. Phelps also has been producing a Grenache Rose very true to the wine that is so popular in Provence.
All this new activity promises an exciting future for those of us that always believed there was more to the wine world than cabernet sauvignon and chardonnay.
Back to Table of Contents..

Last Update:4/19/96
&copy 1996 Joe Hilbers All Rights Reserved.
Graphic Design by Impact Graphics