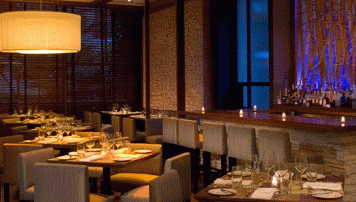 "Los Angeles--NineThirty Restaurant shows elegance both indoors and poolside"
by Joe Hilbers
Found at W Hotel, an outstanding dining experience. Time was when fine dining went together with the best hotels. Sadly this is no longer true.
However it certainly can still be enjoyed at Westwood's W Hotel NineThirty Restaurant. Besides the exquisitely decorated NineThirty Restaurant inside the Hotel there is the Backyard located on the patio adjacent to the pool. To go with the ambiance of both locations is the innovative cuisine of Executive Chef Monica King. Southern California born and raised Monica brings a most distinguished background to NineThirty. Her former association with culinary stars like Susan Feniger and Mary Sue Milliken at City Restaurant and Border Grill had already established her reputation when she joined NineThirty as Executive Chef.
At NineThirty she shows a menu we would call contemporary with a good mix of international touches. There is a Spanish Tapas plate including stewed meatballs, saffron grilled shrimp, queso espanola, grilled Serrano, marconas, olives and bread. And a Moroccan roasted chicken with a classic couscous, sweet and spicy cumin carrots, crushed pistachio harrissa, and pickled apricots.. One of the reasons we were are NineThirty was the new Power Lunch. Here one is guaranteed that the diner will enjoy an outstanding lunch and still be on the way back to the office in exactly one hour.
While an interesting concept and newsworthy it is certainly not for the likes of this Writer. Our power days are over if we ever had any. In an earlier era our lunches generally lasted two or three hours, some of it at the bar. However times do change and we also have moved on but not without some regrets for the 'good old days'.
Our Power Lunch was at The Backyard, the name given to Ninethirty's outdoor patio and dining area. It was a beautiful early Spring day and so the Power lunch was served al fresco. In such a picturesque setting it is sad to think of those rushing back to the office. We much confess while our service, which included a clock placed on the table, was indeed complete in the one hour we were not ready to leave.
The weather, the ambiance, sitting serenely next to the pool with a warm sun at our back we lingered long past our allotted hour. The Power Lunch menu shows starters like a Spicy tuna tartare or roasted kabouche squash and leek bisque. We went directly to the main menu and selected the blackened swordfish with crushed avocado, watercress-jicama-citrus salad. It was presented on mini corn tortillas. Also on the menu pan roasted salmon with sauteed spaghetti squash, wilted spinach, roasted tomato and balsamic glaze. Sounding tempting was the organic arugula and prime rib-eye salad with roasted tomatoes, marinated onions, crumbled blue cheese and red wine-dijon vinaigrette.
We chatted with Ivan Garcia, NineThirty Restaurant Manager, and complemented him on his outstanding service staff which while most efficient were also friendly and smiling. In fact this courtesy and friendly demeanor was present with everyone one we met of the Hotel staff. The NineThirty Restaurant is open for breakfast, lunch and dinner seven days a week. www.ninethirtyw.com.
Back to Table of Contents..
Last Update:3/9/09
&copy 2009 Joe Hilbers All Rights Reserved.
Graphic Design by Impact Graphics