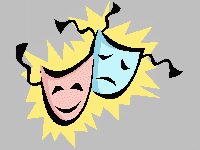 "Los Angeles--The City's Art Center is NoHo and yes, it is located on the left bank of a river"
By Joe Hilbers

Yes, like Paris, that famous European city with its Left Bank, for generations a haven for artists, Los Angeles too has its own Left Bank.
On the left bank of the Los Angeles River in the east Valley it is called the NoHo Arts District or just plain NoHO for short.
Call it what you will, funky, offbeat, eclectic but this one mile square area is now home to 22 live theaters, art galleries, recording studios, restaurants offering many of the world's most famous cuisines, and certainly not least headquarters for the Academy of Television Arts and Sciences and home of the Emmy Awards.
Heading the list of theaters is the historic El Portal which first opened in 1926 with silent films and vaudeville. Now it includes three live theaters with seating from 42 to 350. The theaters in NoHo are always in production with works ranging from old favorites to new forms of the age old form of entertainment.
This Writer has a long relationship with North Hollywood from having an office just off Lankershim Blvd, for many years. However this was long before the NoHo Art District was created in 1992 by the Community Redevelopment Agency of the City of Los Angeles. From that early beginning the district has become a magnet for artists from all across the nation.
We enjoyed a new view of this vivant area recently when we participated in a media event sponsored by L.A. Inc, the convention and visitors bureau.
It started with dinner at The Eclectic Cafe located at 5156 Lankershim Blvd. Restaurateur Brian Sheehan opened this restaurant in 1996 and has never looked back. Casual in decor, decorated with walls of local art works and with an contemporary cuisine the restaurant offers lunch, dinner, and after Theater dining. There is a delightful wine bar and a menu offering fish, steaks, pasta, salads and unique pizzas.
After this bracing beginning our media group strolled a few doors down Lankershim Blvd., to the Lankershim Arts Center, another NoHo landmark dating back to its construction in 1939. Here is located the NoHo Gallery LA which as part of Italian-American Heritage Month was hosting a La Cosa Nostra showing with many of the artists present to discuss their works.
We enjoyed a long chat with Nancy Bianconi who acts as impresario at the Gallery but also is one of NoHO's most dedicated boosters. The Arts Center is also home to the Road Theatre Company with the theater upstairs from the gallery. Following the gallery artists reception we joined eager people to see an new original production entitled "Bunbury", billed as 'a serious play for trivial people'.
The Road Theatre Company, a nonprofit corporation, has enjoyed huge success since its beginnings in 1991 under the Actor's Equity Association 99-seat Plan. Written by Tom Jacobson Bunbury was certainly well received by the audience. The upstairs theater, with its limited seating, is perfect for bonding of the audience with the action on stage.
New growth and development is everywhere in NoHo. Currently over 2,500 new apartments are being built in the district. Also it is the eastern terminal for the new Valley Metro Orange Line Busway. This new Busway, one of the first of a new concept in urban transportation, ends in the West Valley to service Woodland Hills and Canoga Park.
NoHo now has many art galleries as well as boutique retail outlets offering an unusual and often unique shopping experience.
The restaurants, diners, coffee houses of NoHo offer just about any cuisine, either those of Asia or Europe. Many of these restaurants have formed a unique dining club which offers discounts on the NoHo website.
The NoHo website is a must to check out if you are interested in visiting the District. There is the theatre guide with online ticket purchases, pages and pages of entertainment, the restaurant guide with its discount program, as well as listings for boutiques and art galleries. It is all at NoHoartsdistrict.com.
Back to Table of Contents..
Last Update:12/1/05
&copy 2005 Joe Hilbers All Rights Reserved.
Graphic Design by Impact Graphics