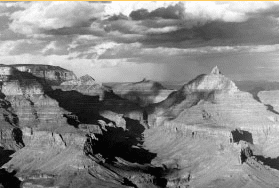 Grand Canyon--There is much to see and doon a visit to the North Rim
.. By Joe Hilbers
If you are planning on visiting the Grand Canyon National Park this summer count on having a lot of company. Last year the Park played host to some five million visitors. Most go to the South Rim of the Canyon since it offers easier access had has more facilities.
However the North Rim of the Park has just as much to offer and is not as popular since it more remote. Although this Writer has visited both the South and North Rims of the Canyon for this story we will concentrate on the North Rim. The South Rim rates a separate story which will appear later in Vittles.
Visitor services, campgrounds and the private lodges are only open at the North Rim, with an elevation of 8.000 feet, from mid-May until mid-October. When we stated that the North Rim is not as popular as the South Rim we did not mean to imply that you will be alone. The Park Service still recommends that if you want to use the North Rim Campground you must make advance reservations.
There are also nearby U.S. Forest Service campgrounds. No reservations necessary but in July and August they are generally filled up by noon. Closest is the DeMotte Campground 16 miles from the North Rim and it opens on June 1. A bit further from the Park is Jacob Lake Campground. On our visit in August we used both these Forest Service Camps.
Our faithful Journal tells the story: "From Fredonia we moved on to the Kaibab Plateau and then to Jacob Lake Campground, arriving at 2:30 p.m. and lucked out with nice campsite. We got caught in the only rain of the day while on nature walk adjacent to Camp. Cooked lamb and steak for supper. Then an evening walk to 'count the house', which was full, and with overflow as well. Cool, overcast afternoon and evening.
"Sunday August 5--Broke camp and on our way to North Rim at 8:30 a.m. Stopped and found pretty high mountain campsite at La Motte Forest Service Campground just outside Park. Looked over busy Lodge area and decided on five mile hike to Uncle Jim's Point.
"Trail went through lovely woodland with aspens, grassy glens and finally impressive overlook of Kaibab Trail winding down into the Canyon. Some sun and some clouds for a 'big sky' look. Trail and countryside were scrubbed bright and clean from rain the night before.
"We did not get back from this hike until 3 p.m. citing 'city legs' for poor hiking performance. However we spent the rest of the day viewing overlooks from Point Imperial and Cape Royal not getting back to camp until 8 p.m. Big camp fire and bigger ham steaks to finish a very full day. Rain shower at bedtime."
" Lovely bright morning but cool hiking. Left camp at 9:40 a.m. Our hike offered great views of canyon as trail followed rim through pretty glades and tall stands of aspen, pine and spruce. We got caught in rainstorm just short of overlook which dampened picture taking and picnic lunch. The sun returned on our return trip and we were back to trailhead by 3:30. It was an easy trail and a very rewarding day. Another big camp fire and ham and eggs for supper. Cold and clear in the evening."
It is only 10 air miles from the North Rim to the South Rim as birds fly but if you want to see both on the same junket then expect and plan for a five hour and 200 mile automobile trip. From Las Vegas it is 263 miles to the North Rim. Generally speaking the North Rim has a delightfully cool summer climate thanks to its 8,000 foot elevation. But 5,000 feet below at the Colorado River the temperature will probably be at least 100 degrees.
We did not take the North Kaibab Trail which descends all the way to the River but the Park Service warns that to try to descend and then return in one day is dangerous and sheer folly and even two or three days may be required for all but the hardiest hikers.
However there are some day hikes on this trail, up to 10 miles, but remember its all uphill on the return.
The Park Service does have a Visitor Center on the North Rim and it is a good place to start when planning any hikes or excursions.
Visiting the North Rim has another advantage. It is possible to drive to the Colorado River at Lees Ferry and then continue on to Page, Arizona and Lake Powell.
And if you have the time a day boat trip to Rainbow Bridge is highly recommended.
In season, from mid May to mid October, the North Rim does have services at the El Tovar Hotel and the Yavapai and Maswik Lodges.
The Grand Canyon Village has the Park Visitor Center as well as a Market and food outlets for casual dining.
For online reservations at the North Rim Campground visit http://reservatons.nps.gov/ or call 800 365-2267. A commercial campground is also available at Jacob Lake. P> Back to Table of Contents..

Last Update:6/15/03
&copy 2003 Joe Hilbers All Rights Reserved.
Graphic Design by Impact Graphics