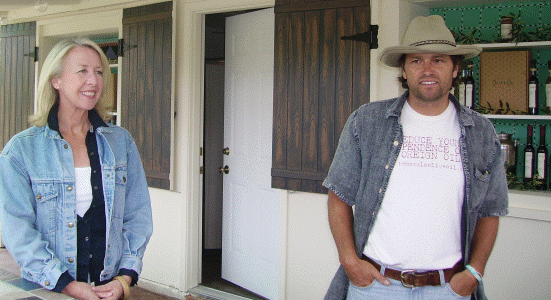 "Aguanga, California--With the Spanish Padres came the first olive trees"
By The Editor.
Aguanga has changed little over many centuries. This valley, inland from the ocean, is surrounded by mountains, mostly covered in chaparral and semi arid resistant trees. The name Aguanga is native American and it was these people who dwelt here with water, rich soil and a salubrious year round climate for many centuries.. Then bearded men sitting on large four legged beasts arrived in the valley followed by other men in long robes. The men in long robes were priests who established the Missions and they brought with them grape stock and olive trees from their naive Spain so that the first California wines and olive oils were made in San Diego county.
Bringing production of California olive oil to the 21st century are Thom and Nancy Curry with partner Catherine Pepe at their Temecula Olive Oil Company.
Located off Highway 79 just a short distance from San Diego County here one finds a 27 acre ranch where olive trees are once again part of the landscape.
On our visit Thom Curry was a fountain of knowledge on tending olive groves and the making of extra virgin olive oil. We learned that Mission olive trees still flourish in the region and that there are some 40 variety of olive trees in the world. We toured the production area complete with stainless steel equipment as Thom explained the various classic methods of extracting the oil. Later we tasted the various extra virgin oils and learned that the olives when harvested green produced a heavier more tasteful oil while if harvested when ripe and dark a smoother oil well suited for flavoring with herbs is produced.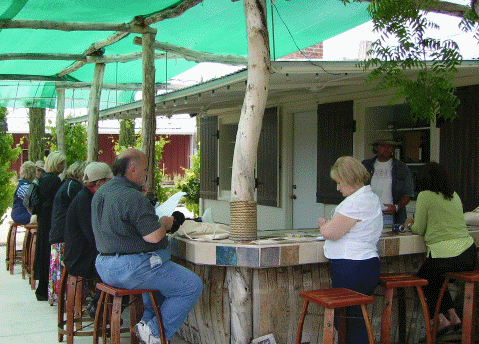 Harvesting the olives starts in October for green olives and continues to February for the ripened fruit. Temecula Olive Oil Company has tasting rooms both in Old Town Temecula at 28653 Old Town Front Street as well as Old Town San Diego at 2754 Calhoun Street. The Ranch is at 46780 Highway 371, Aguanga, Ca.
Back to Table of Contents

Last Update:6/25/10
&copy 2010 Joe Hilbers All Rights Reserved.
Graphic Design by Impact Graphics