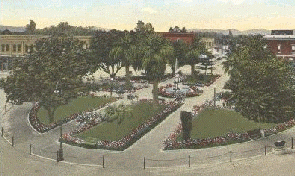 The City of Orange has blended the historic past with its place in the 21th century
.. By Joe Hilbers
An Eastern writer on his first visit to the west was heard to commit that nothing was harder to find in Southern California than the past.
However there are exceptions and one of the most impressive is Old Towne Orange. The City of Orange dates back to 1872 and in the 132 years since it has been completely surrounded by a megalopolis.
But the City has wisely protected and cherished it historic origins and especially its architecture, much of it in the downtown section dating back to the last decade of the 19th century. The Old Town Plaza and some 1,200 homes surrounding it, one square mile, are in the National Register of Historic Places. It is the largest Historic Area in the western United States.
On our recent visit we truly felt we were stepping back in time. When we drove past The Plaza on E. Chapman Avenue it would have been appropriate to be driving my Father's 1925 Buick with the vases on the door posts rather than my 2002 model.
We were in Orange by invitation of the Orange Chamber of Commerce and Visitors Bureau for an evening of progressive dine around. With Penny Elia and Barbara deBoom as our guides and hostesses our group of Southern California Restaurant Writers visited four of the City's showplace dining establishments.
For Appetizers
On this dining occasion we left history behind with our first stop at Allegro Ristorante. Mario Petillo and Judy Masaki were our hosts as we sat down to an array of antipasti like grilled Mozzarella wrapped in prosciutto, topped with olive oil and reill with fresh julienne vegetables or Crostini di Polenta, croutons of polenta with fresh tomatoes, cheese, mushrooms, garlic and basil.
Allegro has an outstanding wine list of over 300 labels and here we tasted the 2000 Cabernet Del Veneto by Toser as well as a 1999 Rallo Spirit of Bianco from Rallo, Sicily. The restaurant is located at 1160 North Tustin. Telephone 714 639-7921.
Soup and Salad
Next stop was P.J's Abbey which certainly fits in with the charm of Old Towne Orange. It was built in 1891 in the Gothic style as the Victorian Baptist Church. When the Church sold the property Gary Mead saw the opportunity to convert the unique building with its beautiful stained glass windows into a fine dining establishment.
After a long and expensive restoration P.J.'s Abbey opened for dining, evening table side entertainment and banquets in 1996. Here Chef Brad Hatch prepared for us a fresh Hawaiian seared Ahi salad with papaya vinaigrette dressing and his own specialty, Butternut Squash soup with herbed sour cream. This was such a hit that several of the Writers requested the recipe from Chef Hatch.
Our two wines were from Chumeia Vineyards of Paso Robles. With the salad the 2001 Chardonnay and with the soup the 2000 Syrah. We were impressed with both of these wines from Winemaker Lee Nesbitt and the Chumeia Winery which until now we knew little about.
P.J. Abbey is located at 182 South Orange St. Telephone 714 771-8556. Website www.pjsabbey.com. We should add right here that while there is the look and nostalgia of a bygone era in Old Towne the cuisine we experienced was in the 21th century.
Our Entree
For our entree we moved on to Citrus City Grille which is just off the Plaza in Old Towne. Here we were greeted by Owners Steve Tsirtsis and Steve Xenos who took over the restaurant two years ago and show a most versatile menu that includes everything from a Thai topped pizza to Greek salads and Gyros to down home favorites like meat loaf or pot roast. Our entree was a filet mignon with sherry base reduction topped with Bernalse sauce and salmon stuffed with spinach and feta cheese in a crusty puff pastry and glazed with lemon caper butter sauce. With sides of potato pancake with vodka cream sauce and fresh baby carrots and yellow squash.
A thoroughly modern dining establishment Citrus City Grille occupies the second brick building erected in the City of Orange in 1886. In its brochure Citrus City Grille lists the seven different businesses that occupied the building in its 116 year history.
Citrus City Grille is open for lunch and dinner Monday through Saturday from 11 a.m. to 10 p.m., closed Sunday, at 122 North Glassel Street, telephone 714 639-9600.
And finally, dessert
Last stop was across the Plaza to belly up at the Counter of Watson Drugs & Soda Fountain which is the oldest business in the City, now in its 103rd year. Here we enjoyed a classic favorite, a variety of ice cream sodas. Watson Drug is located at 116 E Chapman Avenue, on the web at www.watsondrug.com.
The City of Orange has performed a wonderful feat in mixing its past with the present. In the space of a few blocks one moves from its past at Plaza Square to the present at the Mall of Orange or the Town & Country Center. Interestingly Disneyland's make believe Main Street is only a short distance from the real l800s Main Street in Orange with its antique shops and art galleries and rows of beautifully kept bungalows and cottages that line the narrow streets of the Historic Area. And in Orange there is no admission fee.
Old Town Plaza in the City of Orange is easy to reach from the 55 Freeway off on E. Chapman Avenue. From Interstate 5 off at State College then on to W. Chapman Avenue.
Back to Table of Contents..

Last Update:1/1/03
&copy 2003 Joe Hilbers All Rights Reserved.
Graphic Design by Impact Graphics