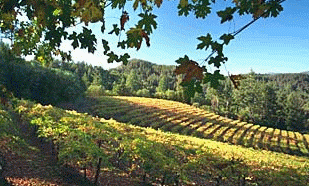 Mendocino--Organic farming gets high marks in its wineries and vineyards
By the Editor
In touring wineries in Mendocino's Redwood Valley one of our immediate impressions was how devoted the winery owners and growers were to maintaining the count's pristine environment. Organic farming and winemaking play a huge role all the way from planting the vines to bottling the finished vintage.
Our tour of Mendocino Wine Co. was conducted personally by Partner-owner Tim Thornhill who owns and operates the winery with brother Tom and Paul Dolan, who played such a major role in development of the Fetzer Vineyards. Mendocino Wine Company is home to the Parducci wines and one of the historic wineries in California. The partners took over in 2004 and promptly moved into new directions by establishing new brands to accompany the Parducci label with names like Sketchbook and Paul Dolan plus Big Yellow, True Grit, Roselle and Zig Zag Zin.
Earth friendly practices play a huge role at this winery and surrounding vineyards. Some 85 acres are certified organic with another 70 acres certified for both organic and biodynamic. The winery itself is moving rapidly to solar power and now recycles all waste water. For visitors there is a handsome, expansive tasting room, one section with cozy fireplace and arm chairs for a club room setting.
Varietal wines include Sauvignon Blanc, Chardonnay, Petit Sirah, Cabernet Sauvignon, Zinfandal and Port. Bob Swain is the winemaker. Proprietary wines include Roselle, a blush wine named for Tim's wife, and a dollar of every purchase of Roselle goes to cancer research. The commitment to the environment is such that all paper products, cartons, labels and such are a recycled product.
Currently four Parducci wines are completely organic. They are Parducci Signature Chardonnay, Sauvignon Blanc, Zinfandel and Pinot Noir, and more to come in the future.
Mendocino Wine Company Visitor Center is located at 501 Parducci Road in Ukiah, it is open daily from 10 a.m. to 5 p.m.
A family affair
Like almost all of Mendocino's wineries Frey Vineyards is locally and family owned. Brothers Matthew and Nathaniel Fey lead a family of 11 siblings in operation of the vineyards and winery. Like other vintners Frey is devoted to organic and biodynamic farming practices and Frey wines have been leaders in lowering the sulfites which occurs naturally in wine.
The winery was first bonded in 1980 by Parents Paul and Bebe Frey. Today three generations of the family are active in the vineyards and winery. In almost three decades Frey has developed a loyal customer base throughout the U.S. and Japan. Some unusual vintages are made here as well including a Alsacan styled Gewurztraminer and a late harvest Sauvignon Blanc. Besides standard varietals Frey produces Sangiovese, Barbara and a late harvest Zinfandel. All the wines are from Redwood Valley vineyards.
Frey Vineyards is located at 14000 Toinki Road, Redwood Valley. Visitors must make an appointment in advance. Call 800 760-3739. On the web at www.freywine.com.
By the sea
Certainly one of the most unique wineries in the U.S. and perhaps world wide is Pacific Star Winery located adjacent to crashing waves of the Pacific Ocean. Situated on a bluff above the sea it offers spectacular vistas for visitors to its tasting room and picnic areas. So much so that it is much in demand for weddings and other special events.
But the true fame of Pacific Star rests with its Owner, Sally Ottoson. Women winemakers and winery owners are not unique but Sally Ottoson certainly is.
She started her 26 years of winemaking in the Napa Valley and her first winery was located there. But in 1989 she became homesick for the North Coast where she spent her early years and so opened Pacific Star. While the winery sits above Pacific surf the grapes come mainly from the inland Redwood Valley where Sally has contracts with some 30 growers.
Her signature wine is Charbono, a varietal that has all but disappeared not only in California but world wide. This is a rich red wine that ages in the bottle not for years but decades.
Another best seller at Pacific Star is Dad's Daily Red which she makes as a tribute to her Father. It is a blend of Carignane, Grenache, Petite Sirah, Charbono and Zinfandel. Modestly priced it enjoys an outstanding reputation. Sally confesses that she prefers the red varietals but also makes a single vineyard Viognier and Chardonnay as well as a Grenache Rose. Reds include Carignane, Zinfandel Coro Mendocino, Petite Sirah, Syrah as well as the Charbono.
Pacific Star Winery is located at 33000 N. Highway One, 12 miles north of Ft. Bragg. The Visitor Center is open daily. Call 707 964-1155 for hours and other information on the web at pacificwinery.com
Tasting room Royale
One of the highlights of our short sojourn in the wine country was our visit with Charles and Martha Barra. Charles Barra is a local, born and raised in the Redwood Valley and proudly points out that this was his 61st harvest. A vineyard grower much of that time, in 1995 Charles and Martha Barra combined with Bill and Janet Pauli to form Redwood Valley Cellars. Included in this purchase is surely the most unique Tasting Room on the planet.
It was built in 1973 for Weibel Champagne Vineyards and is designed to look like an inverted champagne glass. The huge laminated curved beams that dominate the design are a wonder in themselves.
Both partners produce some unusual wines besides classic varietals. Barra offers a Pinot Blanc and Muscat Canelli while Braren Pauli has a White Pinot Noir.
Both offer Pinot Noir, Barra from Redwood Valley, Pauli from the Potter Valley. This is true for other varietals as well with Barra sourcing grapes from Redwood Valley and Pauli from Potter Valley. Veteran Winemaker for Redwood Valley Cellars is David Rosenthal. The winery is a huge facility, in fact the nation's 35th largest, with 2.8 million gallons of wine storage.
Adjacent to the Tasting room, which is spacious enough to host many special events in a spectacular setting, are shaded picnic areas and gardens. Surrounding all are organic vineyards of Cabenet Sauvignon and Zinfandel.. Redwood Valley Cellars is located ate 7051 N. State Street, a few miles north of Ukiah, just off Highway 101. For more information call 707 485-0322. On the web at redwoodvalleycellars.com. The Tasting Room is open daily.
Back to Table of Contents..
Last Update:6/1/07
&copy 2007 Joe Hilbers All Rights Reserved.
Graphic Design by Impact Graphics