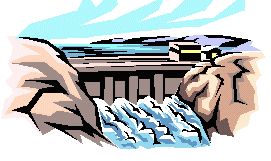 "Lake Powell--It shows the southwest at its best
Gourmet dining and wine tasting.
by Dorothy Hundley
I was invited to Page, Arizona and I had never heard of it so I had to look it up on the map. The city of Page is a young community.
The town began in 1957 as a housing camp for workers building the GlenCanyon Dam. It's now home to 8,000 very friendly people.
Glen Canyon Dam on the Colorado River, which created LakePowell, was erected with almost 10 million tons of concrete and 7 years of extraordinary effort. The dam was completed in 1963. It took Lake Powell 10 years to fill and "full pool" to its shoreline of 1960 miles.
Lake Powell was named for John Wesley Powell, a colorful, one-armed explorerand Civil War veteran who led 9 companions on the first exploration expedition ofthe Colorado River in 1869.
The city of Page and the Glen Canyon National Recreation area host some 3million visitors a year, two thirds of which are from foreign origins. They even have Dutch and French translation cards at all stops. I saw many French tourists while I was there.
I stayed at the Courtyard by Marriott in a beautiful room. We had a wonderful dinner at Peppers, the restaurant in the hotel, with Kathleen Muenzen, the director of catering, who does a superb job.
It included Caesar Salad with homemade garlic croutons, topped with blackened, grilled chicken breast, then herb roasted prime rib, slowly roasted with an herb crust, served in its natural juices with homemade horseradish cream. I had the most wonderful margarita pie that's their version of key lime pie, served over cool berry sauce with whipped cream. The berries were turned into hearts, and I love hearts. They also have a wonderful buffet breakfast every day. Call her at 520-645-5000.
Be sure you see Horseshoe Bend and the Navajo Arts and Crafts kiosk. The scenery is breathtaking. It is very difficult to explain it in words. Make a date and tour Glen Canyon Dam. Call Mary Frederickson at 520-645-3532.
I went to a reception at the John Wesley Powell Museum. It is a small museum but totally charming. Do go by the museum. They will welcome you.
I had dinner one night at the Ramada Inn and it was outstanding. So many great places concentrated in one place.
Do plan to rent or lease a houseboat. It was my first time on a houseboat and it was very special. We had a chef and waiter for lunch and dinner. We had poached eggs for breakfast that were so outstanding we ordered seconds. When we looked out of the houseboat, the magnificent scenery surrounded us. I urge you to try a houseboat.
I went to Monument Valley, 3 hours from Page, and well worth the drive. Again, the scenery and natural beauty is breathtaking. Monument Valley encompases 30,000 acres. So much to see, it's a "must see". Do call for information at 520-645-2741.
We had lunch at Goulding's Lodge in Monument Valley and ate Goulding's World Famous Navajo Taco (made on fry bread, with chili con carne, shredded lettuce,cheese, diced onions and tomatoes). It was so delicious it's a reason to go back. I also had a café latte - not a traditional Navajo drink, but it tasted really good.
On the way back to Page, we stopped at a Burger King, of all places, at Yayenta. They have a mini-museum of artifacts from the Navajo code used during World War II. It was a code used by the United States military which was never broken by the enemy. Do stop by and see this rare piece of history.
The last couple of days, I stayed at Wahweap Lodge. I had lunch and dinner there, again with splendid scenery. It's a "must see". The Wahweap Lodge -520-645-2433.
The natural beauty and culture draws people to this Navajo homeland. I almost felt I would see John Wayne riding his horse through the canyon. After all, they have shot countless Hollywood movies and commercials there.
I flew from Burbank to Phoenix on Southwest Airlines, then was booked on abrand new, smaller plane, seating about 10 passengers, run by Scenic Airlines into Page. The only other way to get there is to drive. It was a great, fun trip. Something very different and wonderful.
Back to Table of Contents..
Last Update:6/10/98
&copy 1998 Joe Hilbers All Rights Reserved.
Graphic Design by Impact Graphics