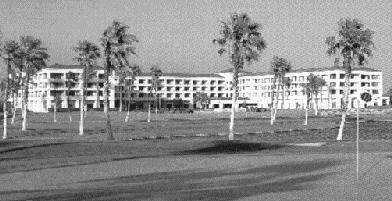 Palm Springs--We had it right staying at Doral Desert Princess Resort
.. By Joe Hilbers
It was admittedly a quick trip, even for us, but a learning experience none the less. We were in Palm Springs for a family reunion and to write about some places to go and things to see in the fast growing Coachella Valley. And we selected just the right place to call headquarters, Doral Desert Princess Resort.
Often location is everything and we found the Desert Princess situated nicely just a few minutes from Interstate 10, downtown Palm Springs, the Airport and Rancho Mirage where our family get-together took place. As Valley development has expanded so have driving times.
We have this fascination with Mount San Jacinto which dominates all of Coachella Valley. On checking into the Desert Princess we found ourselves in a spacious room with balcony and a stunning view of the Mountain with its winter capping of white, the foreground taken up with palm trees scattered around the Resort's 27 hole golf course and the swimming pool lined with sun worshipers.
After settling in we met with David Umanzio, director of sales and marketing for Doral, who kindly offered a tour of the Resort including its 23,000 square feet of meeting space and two ballrooms which were both in use on a busy holiday. Next we explored the Resort's Country Club which has its own clubhouse, pro shop and restaurant. Then on to the 10 tennis courts and the Spa and Therapy Center.
The next day was busy as well. We met with Mark Graves of the Palm Springs Visitors Bureau to find out what was new and exciting in the Valley. On his suggestion we gave a quick look at the newly completed Spa Resort Casino in downtown Palm Springs which is huge and makes one think he is lost and in Las Vegas. The Casino has an interesting restaurant named Poppongi which features an Asian Fusion cuisine.
Back at the Desert Princess we met with Executive Chef Mark Curry who turned out to be a Southern California native. After two years at the Culinary Institute of New York he returned and has enjoyed several stints as chef in fine hotels in Orange, San Diego and for the past two years with Doral.
The restaurant in the Resort is the Fairway Cafe which we noted features a Contemporary California menu. But besides the Cafe Mark is responsible for the banquets which often seat 650 people. Starters at Fairway include spicy Calamari, seared Ahi Tuna and country style Bruschetta.
Entree favorites include stuffed pork chop, spinach Pappardelle, ribbons of pasta tossed with sauteed chicken, gorganzola cream and toasted walnuts as well as a boiled salmon and saffron fettuccine.
Looking ahead Mark plans a lo carb menu and a big variety of seafood. In the kitchen with Mark Curry is Sous Chef Sean McGuire. When not in the kitchen Mark can be found on his Harley Davidson.
With only a few exceptions the Resort shows a wine list dominated with California vintages. And we noted that for the most part the wines are moderately priced. Somewhat refreshing for a resort like Desert Princess.
We will spare the reader an account of our family reunion but will in a future issue of Vittles tell about what we did and what we saw and what day trips we took in the Coachella Valley.
Back to Table of Contents..

Last Update:3/10/04
&copy 2004 Joe Hilbers All Rights Reserved.
Graphic Design by Impact Graphics