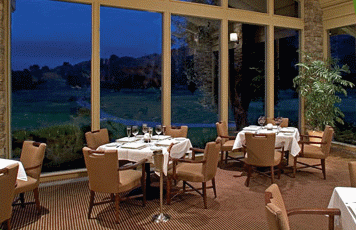 Fallbrook--Fine dining is present at Pala Mesa Resort's Aquaterra Restaurant"
By The Editor

During our stay at Pala Mesa Resort in Fallbrook we had the opportunity of dining at Aquaterra, the dining room and lounge. It proved to be an exciting culinary experience. We chatted at some length with Dorothy Lopreore, restaurant general manager, who briefed us on this restaurant which is open for breakfast, lunch and dinner, seven days a week.
Thanks to her Spanish heritage she is very knowledgeable about wines and this is reflected in the wine list which offers vintages from many countries. And for the Pala Mesa Resort Wine Appreciation Club she has formed as well as new winemaker dinners and wine tasting events.
Executive Chef Shawn Sullivan and Sous Chef Jason Rivas show an extensive menu with a large selection of Continental and Contemporary starters and entrees. Seafood is well represented since the bar and lounge includes an Oyster Bar. We opened with the Dungeness crab cakes with ginger cucumber slaw. These were true crab cakes full of crab flavor with no mixing fillers and herbs to mask the quality and quantity of the crab.
On Dorothy's recommendation we stayed with seafood for our entree as well. It was Parmesan Halibut with basil mashed potato and glazed baby carrots. The presentation was most unusual since at this restaurant some entrees are served in a large bowl which when placed on the table offers a slanted view of the food. We thought it a very positive innovation giving a special prospective to the presentation.
Desserts were tempting, but stuffed, we had to settle on tea and again here tea service is special with a large selection of brews and an oversized tea pot. Our waitress was Alicia Langford and we admired not only her professional competent and courtesy but that of the entire serving staff as well. In this dining room the wait staff keeps service smooth, efficient and unobtrusive.
This kitchen also provides a large menu of Sushi: Nigiri, Sashimi, rolls and chef specialities. With open beam ceiling and large windows overlooking the golf course the ambiance could hardly be better.
It would take an extended stay at Pala Mesa Resort (not at all a bad idea) to work through this menu with tempting selections of Miso salmon with Lo Mein noodles and miso broth or grill venison with sweet potato hash and caramelized onions.
Pala Mesa Resort is located at 2001 Old Highway 395 in Fallbrook, Telephone 760 728-5881 www.palamesa.com.
Back to Table of Contents..
Last Update:6/15/08
&copy 2008 Joe Hilbers All Rights Reserved.
Graphic Design by Impact Graphics