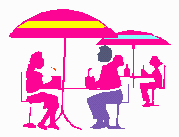 "Hollywood--A new Society looks back to great restaurants of the past"
.. By Joe Hilbers
Famous restaurants take on a life of their own, even long after they close. This was proven at the organizational first meeting of the Southern California Restaurant Historical Society. Some 80 people gathered at the Hollywood Heritage Museum recently to exchange ideas on collecting restaurant memorabilia including menus, match books, ash trays as well as a host of memories. Indeed it was down memory lane when Filomena D'Amore, owner of Patsy D'Amore's Pizza,located in the Farmers Market, and daughter of Patsy D'Amore, proprietor of Hollywood's famed Villa Capri, spoke to the group about her Father's background and the Villa Capri which he co-owned with Frank Sinatra.
Jonathon P. Foerstel, who is one of those spearheading the new Society, invited this Writer as a member of the Southern California Restaurant Writers to attend and report on the proceedings.
Proving that this Writer fit in very well with the historical aspects of the occasion I brought and showed Filomena D'Amore a copy of a review I had written on the Villa Capri. This when I was Editor of the Wine Guide of California and had a column entitled "The Restaurant Beat". The date was April 1, 1979. And at that time the Villa Capri had already been in existence 25 years.
The Villa Capri no longer exists except as a memory, even the building is gone. As is another famous restaurant, close by, Don the Beachcomber.
The Hollywood Heritage Museum was the ideal place for the first meeting of the Restaurant Historical Society. The Museum is housed in the Lasky-DeMille Barn which was actually used by Cecil DeMille in making his first film in 1915. The building dates back to 1895 and is the oldest still existing in Hollywood.
Now located at 2100 N. Highland Avenue, across the street from the Hollywood Bowl, the Museum has displays from the earliest days of the cinema. Movie props, early camera equipment, photos of classic movie sets and more can be seen here. For movie buffs it is a must see. The Hollywood Heritage Museum is open Saturday and Sundays from 11 a.m. to 4 p.m. with free off street parking. Fees are $5 for adults, $3 for senors and children. More can be learned about the museum at www.hollywoodheritage.org.
For those interested in learning more about the new Restaurant Historical Society contact Jonathon Foerstel at his website www.latimemachines.com.
Back to Table of Contents..

Last Update:4/10/06
&copy 2006 Joe Hilbers All Rights Reserved.
Graphic Design by Impact Graphics