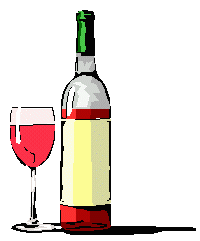 California premium wines-the quality keeps getting better
The Editor's Vineyard

We look forward to each new vintage of Geyser Peak's Reserve Alexandre Meritage. The 1995 vintage, just released, promised another wine that while enjoyable now will reach its true greatness well into the next millennium. This vintage besides cabernet sauvignon has Merlot, Malbec, Petit Verdot and Cabernet Franc in its blend.
A second release from this winery is a 1995 Reserve Alexander Valley Merlot. Merlots are commonplace in today's marketplace with a huge spread in quality as well as price. This vintage from Geyser Peak is more expensive than most California Merlots but is well worth the price. It is a special event wine.
A second label of Geyser Peak is Canyon Road and here are some of those wines, under $10, that everyone is always looking for. After tasting the 1997 Sauvignon Blanc and the 1996 Merlot we immediately E Mailed some friends and relatives who are always asking us for wine buys that won't dent the family budget.
The Sauvignon Blanc is light, fruity and just about perfect with any food. The Merlot is soft and appealing to both the nose and palate and will enhance any meat entree.
Just as rewarding was the 1996 Cabernet Sauvignon which shows its aging in both American oak and redwood. The wine is ready to be enjoyed now.
Since its purchase by Brown-Forman Jekel is creating a whole new reputation for the quality of Monterey County wines. Now veteran winemaker Rick Boyer has the luxury of producing single vineyard wines and two recent releases demonstrate the quality that is the result. The is the second Chardonnay we have tasted from the Gravelstone Estate vineyard and the 1996 vintage offers pure varietal flavors of the grape with just a hint of oak. Sipping this wine gives one a feeling of luxury.
Again from a single vineyard, Jekel's 1995 Merlot was produced from Sanctuary Estate named for the fact that it is well protected from the cool winds that have such an influence on some Monterey vintages.
Boyer added small amounts of malbec, petit verdot and cabernet sauvignon to this Merlot and then let it mature for 14 months in French oak. Soft and mellow, true to the varietal, the wine has real merit. And into today's marketplace both wines are priced very reasonably.
Sangiovese, the classic varietal of Tuscany, is now being featured on more and more California wine labels. Newest release and at a great price is Forest Glen's 1996 vintage. Like Merlot Sangiovese offers wonderful flavors with soft, mellow finishes and this is exactly what winemaker Ed Moody has achieved with this bottling. At its price in the $10 range it is a great way to try this Italian varietal.
Continuing our quest for quality wines under the $10 mark we must point to Fetzer Vineyards 1997 Johannisberg Riesling. Here is just the right wine for picnics and BBQs and we appreciated the touch of sweetness and added flavors by the addition of some Muscat to the blend.
Consistent is the word that best describes Fetzer Sundial chardonnay and the 1997 vintage follows that tradition. Priced below $10 it is a fine everyday wine for either cocktail or dining and while cool and crisp with varietal flavor there is a hint of oak in both aroma and taste.
While Kosher wines are produced in both California and New York attention should be made to Carmel Wines produced in Israel.
Carmel is the largest wine producer in the country and its products include everything from dry varietals to sparkling wines and apertififs. We recently had the opportunity to taste two of the table wines, a 1996 cabernet sauvignon, a 1997 emerald riesling as well as a Private Collection White Muscat dessert wine.
We found the cabernet sauvignon to have excellent varietal character and flavor. The emerald riesling was an excellent food wine and with a hint of sweetness just right for American palates.
The Dessert Muscat is perfect as an aperitif or after dinner. The full power of this grape was present in both aroma and flavors.
Using its Venezia label Geyser Peak has moved into producing some single vineyard wines. A Venezia 1995 Cabernet Sauvignon is from the Meola Vineyards in the Alekxander Valley and shows intense flavors and complexity and should enjoy a long bottle life.
The Venezia 1996 Chardonnay is from the Regusci Vineyards in the Napa Valley in the Stags Leap appellation. This is a very big wine with rich buttery flavors and if you enjoy this varietal then this vintage is for you.
Both these vintages can be placed in the super premium category of California wines, yet both are in the $20 range in pricing, making for excellence when the occasion demands such a wine.
Back to Table of Contents..
Last Update:6/15/98
&copy 1998 Joe Hilbers All Rights Reserved.
Graphic Design by Impact Graphics