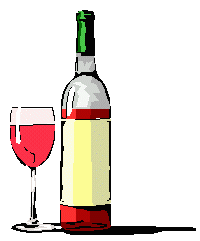 "The Editor's Vineyard--Pepi shows screw cap bottles for folks with clumsy hands"
Some aspects of life appear to move in complete circles. When I was young I drank wine from screw cap bottles because my exchequer was more often than not terminal. Now I have been introduced to Pepi Winery's new screw cap packaging and I greet it with open arms--correction, hands. For decades I have pulled, tugged, wrestled, yanked and cussed over too many corks.
Now for me Pepi's crew cap bottles have arrived with excellent timing. Ah, the ease, the simplicity, spill proof after opening, lay it on its side in the refrig, not worrying abut forgetting the corkscrew on picnics.
The days when people drank wine only for special occasions are long gone. Now wine is an everyday beverage just like orange juice or soft drinks. The pop of the cork on a $70 bottle of wine may be just the thing at a candlelight dinner but for everyday living Pepi's screw cap is just right in this busy world.
Recently this writer was asked to supply the wine for a gathering and did so. However personally pulling the corks was not the ideal way of spending an evening. That night I asked: "Pepi, where are thou?".
With Pepi we are talking about wines of real quality made from grapes grown in regions favored best for the particular varietal. We loved the 2003 Pinot Grigio made from grapes grown in the Willamette Valley in Oregon. And nicely priced at $11.
The convenience of the screw cap came quickly in our kitchen. We tapped the 2002 Merlot, made from Central California grapes, to add a cup to our beef stew. Then placed it nicely on the shelf to enjoy another time. Winemaker Chris Johnson added some body to this vintage by blending in 18 per cent Shiraz. And at $8 a wine to be enjoyed on a everyday basis.
Pepi's 2003 Sauvignon Blanc we are saving for our next picnic. Nothing quite like a screw cap when one is out and about. Chris Johnson made this wine from all North Coast grapes and kept it in stainless steel. Again priced at $8.
Personally we think Pepi is on to a good thing with the screw cap. It certainly has our approval and research says it keeps and ages wines just as well as cork.
Sutter Home has come out with a unique new package for their best selling White Zinfandel. Called the 'Little Pink Box' it contains the equivalent of four standard size bottles in a bag which dispenses the wine by pressing a little pink button. The box fits into the refrig neatly and Sutter Home says the wine after opening will stay fresh for up to six weeks thanks to a proprietary airtight delivery system
We immediately put ours in the refrig, (finding room not an easy task at our house), although it is a small cube for holding 20 five ounce glasses of wine. The wine is 2003 vintage and the same as sold in regular sizes. Also included are some easy white Zin cocktail recipes for casual spring and summer sipping and at $12 the Little Pink Box adds up to a very inexpensive way to entertain guests either at home or at picnics.
Its not too often that one can enjoy good medal winning wines at everyday prices but a trio from Bronco Wine Company recently did just that. The event was the annual San Francisco Chronicle Wine Competition. Best of Class and a Double Gold Medal Winner was the 2000 Napa Ridge Cabernet Sauvignon. Not too many wines with the Napa Valley appellation go for $12 but that is the price tag on this splendid vintage.
nother Gold Medal winner was the 2001 Montpellier Vineyards merlot. And this vintage priced at $6.99. The third of the trio winning wines was 2001 Domaine Laurier Pinot Noir, a Sonoma County Reserve. We thought this vintage truly elegant rich in aroma and an exploding palate of flavors.
A white varietal that is getting more popular daily is Pinot Grigio. This grape, known as Pinot Gris in France, does particularly well in the Sacramento Delta region which is the source for Echelon's 2003 vintage. Winemaker Tom Westberg added 20 per cent Viognier to his blend and also used some French oak aging. The result is a vintage loaded with fruit flavors, gold in color and with a lasting crisp palate. The $11 price tag makes it even more enjoyable.
Montevina is located in Amador County with Sierra Foothill vineyards and is best known for its outstanding zinfandels. However Winemaker Jeff Meyers decided the foothills terrior would be excellent for Syrah that French varietal that does very well in warm climates. The Montevina 2001 Terra d'Oro Syrah shows very well. Jeff Meyers used Bordeaux technique during fermentation and then placed the wine in French and American oak for 16 months. The result is a big wine, hearty but gentle on the palate.
Winemaker Meyers and his assistant, Chris Leamy, can be innovative with Zinfandel. Take the 2000 Montevina Terra d'Oro Zinfandel SHR vyd. Here they used the practice of 'field blending', planting different varietals in the same vineyard and then harvesting them all at once and co-fermenting the varietals. Jeff Meyers claims the practice is as old as wine making but isn't used much in California. The SHR stands for 'School House Road' vineyard which is planted with 80 per cent Zinfandel, 13 per cent Petite Sirah and 7 per cent Barbera.
And that is the exact blend of this vintage. We liked the wine with its somewhat different aroma and full bodied flavors. If you are really enjoy Zinfandels and are always interested in something new and different you might order a bottle or two from the winery. Priced at $21.
The first question people ask every wine writer is: "What's a good wine that is not expensive? Which is why we give a good deal of space to wines that fit this demand. Case to point is Rutherford Vintners which enjoys the Napa Valley appellation. Winemaker Larry Rocha is responsible for the wines here and has recently released two winners. Both retail for $10.
There is the 2000 Rutherford Vintners Merlot and 2000 Cabernet Sauvignon. The Merlot has an exceptionally soft finish which enhances its fruit flavors. The vanilla here hints of American Oak barrel aging.
The Cabernet Sauvignon, also from Napa Valley vineyards, shows its oak aging and is full bodied but goes nicely with almost any food.
Back to Table of Contents..
Last Update:6/10/04