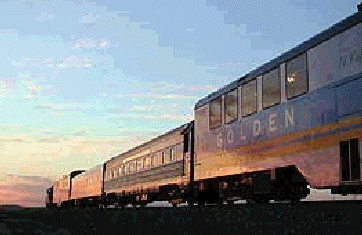 "It was "All Aboard" for showing of California Petite Sirah"
by The Editor's Vineyard
Recently for the second year there was the Blue Tooth Train Tour which is sponsored by Concannon Vineyards and the Petite Sirah Advocacy Organization. In Los Angeles it took place at Union Station aboard a private railroad car.
Wineries taking part included Concannon, Bogle, David Bruce, F. Teldeschi, Foppiano, Guenoc Estate, Judd's Hill, Parducci, Robert Biale, Rosenblum, Trentadue, Vine Robles and Silkwood. California can rightly call Petite Sirah its very own. Like so many immigrants once in California it took on a new character and personality. At U.C. Davis it has been determined that Petite Sirah is the result of cross pollination of two French varietals, Durif and Pelousin, both regional natives of the Rhone Valley.
Durif arrived in California in 1884, imported by Charles McIver of Linda Vista Vineyards in Mission San Jose. He changed the name to Petite Sirah and the varietal prospered in California to the point that at one time some 14,000 acres were planted with it.
As other varietals rose in popularity vineyards of Petite Sirah declined to three thousand acres in 1990 only to rise once again to over five thousand acres in 2003. Thanks to raves by wine critics and writers who compare California Petite Sirah to big, hearty, full bodied cabernets, the varietal is once again increasingly popular with both vintners and consumers.
Two California wineries have long been identified with Petite Sirah. Concannon Vineyards of the Livermore Valley was the first to identify and release a vintage in 1964. Also that year Foppiano Vineyards released its first identified Petite Sirah from the Russian River Valley.
Since then both wineries have continued to release Petite Sirah year after year. Foppiano vintages are from vines over 100 years old.
Now there is a Petite Sirah Advocacy Organization entitled "Petite Sirah, I love you", with its own website. Check it out at www.psiloveyou.org. Other cities on the Blue Tooth Tour included San Francisco, Seattle, Portland, Dallas, St. Louis and Chicago.
The Petite Sirahs this Writer tasted at Union Station all had that traditional hallmark of the varietal, deep purple color, big structure, powerful aroma, concentrated flavors and a pleasingly long finish. It is a hearty wine designed for hearty foods. A true delight for steak lovers.
Fine vintages
The Rutherford region of the Napa Valley does produce superior cabernet sauvignons. Provenance Vineyards 2002 Napa Valley Cabernet Sauvignon proves this. Winemaker Tom Rinaldi selected the grapes from the Georges lll vineyard and the vintage has enjoyed 19 months in French oak, half new oak. Tom blended l6 per cent Merlot with this bottling. The result is a full bodied wine, well structured and long, satisfying finish. Ready to drink now but should enjoy a long cellar life. Priced at $35 and worth it.
Sauvignon Blanc is one of our favorite white wines and we were more than pleased with Dynamite Vineyards 2003 Sauvignon Blanc from the Lake County appellation. Winemaker Malcolm Seibly tells us that the grapes were from bench vineyards high above Clear Lake. Aging was in stainless steel giving the wine wonderful fruit aromas and flavors. There is the proper amount of crisp acidity making it a perfect food wine, especially with seafood and light pastas. A bargain at $11.
Winemaker Seibly just released his first `Zinfandel under the Dynamite Label. From older vines in the Mendocino's Redwood Valley the grapes were picked at full maturity. Aged in American oak this Dynamite 2003 Zinfandel shows the typical hearty flavors of this varietal but with a surprisingly soft finish. Priced at $17.
The Acacia 2003 Pinot Noir is from estate vineyards in Carneros region of the Napa Valley. Winemaker Anthony King used both French and Hungarian oak for aging this wine. Intense in both color and aroma the flavors jump forth on the palate. The Carneros region does produce fine wines from this varietal. Priced at $20.
Classic Wines continues producing wines easy on the pocketbook. Winemaker Larry Rocha calls his 2003 Crane Lake Merlot a wine with marked fruit and pepper flavors with soft tannins. Priced at $4.99.
Winemaker Michael Donich reports his 2003 ForestVille Vineyard Zinfandel offers hints of vanilla with the rich complex flavors of the varietal. A good value at $5.99.
We used some of the 2003 Silver Ridge Chardonnay in our Osso Buco and saved the rest when it arrived at the table. Winemaker Jim Rodrigures' bottling offers a full aroma of fruit with just a hint of oak. Soft on the palate and a smooth finish for its $10 price tag.
Kendall Jackson's Winemaster Randy Ullom used grapes from three North Coast counties, Mendocino, Sonoma and Napa, for his 2002 Vintner's Reserve Merlot. The wine then had 15 months in French and American oak. One hundred per cent of the varietal this vintage is a superior merlot with full flavors but the softness in structure and finish one expects from merlot. Priced at $16.
Seeking a variety of fruit flavors for Kendall Jackson's 20003 Vintner's Reserve Chardonnary Randy used grapes from Monterey, Santa Barbara and Mendocino Counties for the vintage. The wine was barrel fermented in French and American oak and then six months sur lie aging in small barrels. We thought this a fine cocktail wine as well as ready with a wide variety of foods. Priced at $12.
At Canyon Road Winemaker Chris Munsell has the luxury of roaming vineyards from all parts of California for his wines. For the Canyon Road 2004 Sauvignon Blanc Chris used grapes from four Coastal counties. For $8 this is a good bottle of wine. We liked its ripe fruit aromas and the crisp taste on the palate. We used our bottle with some barbecued salmon steaks.
For his Canyon Road 2003 Cabernet Sauvignon Chris used grapes from both North Coast and Central Coast appellations. Held to 13.5 per cent alcohol the wine offers character yet a smooth palate and finish. For more information on Canyon Road check the web at www.canyonroadwinery.com.
Back to Table of Contents..
Last Update:6/15/05
&copy 2005 Joe Hilbers All Rights Reserved.
Graphic Design by Impact Graphics