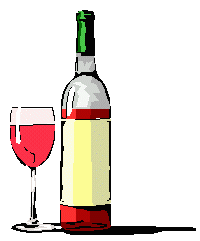 "West Hollywood--Famous Palm Restaurant cusine and Joseph Phelps wines proved perfect match"
by The Editor's Vineyard
When one of West Hollywood's best restaurants combined with a most prestigious Napa winery for an event it was bound to be something to write about.
Which is why we were in attendance when the award winning Palm Restaurant presented a Joseph Phelps wine dinner. Aboard to talk about the wines was Trey Blankenship, regional sales manager for Joseph Phelps. On hand to present the five course dinner was the talented kitchen and serving staff of the Palm headed by Cedric Castro, assistant general manager.
With the first course of Belgium Endive with smoked salmon mousse was Phelps 2005 Sauvignon Blanc. Trey explained that this wine included 90 per cent sauvignon blanc and 10 per cent Semillon. Paired with Phelps 2004 Le Mistral was a peppered Ahi Tuna with micro greens in a champagne vinaigrette. The Mistral proved to be a very hearty vintage showing a blend of bold red varietals from Monterey County including Syrah, Alicente Bouschet, Grenche and Petite Sirah.
With the Lamb Carpaccio that came with sweet Maui onions was a wine that will soon be history at Phelps. It was the 2002 Merlot. Trey Blankenship explained that with a new winery producing Chardonnay and Pinot Noir from coastal Sonoma county, the decision has been made to save the merlot grapes for more classic red blends.
A time out was called here for a special treat. A comparative tasting of Phelps 1997 Cabernet Sauvignon and the 2003 Insignia. This Writer marveled once again on just what bottle aging does for well made California cabernet. Soft tannins and a velvety long finish made the 1997 vintage something to remember. However side by side the 2003 Insignia also showed very well explaining why it is a vintage that sells out almost immediately following release. This prepared us for the huge filet mignon with cabernet Truffle Reduction and spring vegetables that included snap peas, tomatoes and portobello mushrooms. Served with the feast was Phelps 2004 Cabernet Sauvignon which was a preview showing of the vintage which will be released at this writing.
A Palm original was our dessert, Apple Ginger Crisp. Paired with this was Phelps 2005 Eisrebe, a white made from a German varietal in an ice wine style.
Joseph Phelps is one of Napa's oldest wineries opening in 1973.
The Palm, a perennial gold Award winner by the Southern California Restaurant Writers, is located at 9001 Santa Monica Blvd., in West Hollwood. For reservations call 310 550-8811, on the web at www.thepalm.com.
Back to Table of Contents..
Last Update:9/1/07
&copy 2007 Joe Hilbers All Rights Reserved.
Graphic Design by Impact Graphics