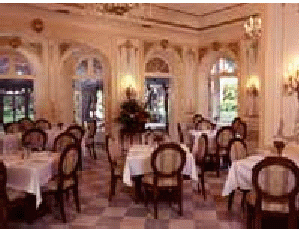 Hollywood--Renaissance Restaurant offers a unique dining experience
To go with an outstanding ambiance the Renaissance Restaurant, located in Hollywood's Manor Hotel, is truly a fine dining house and a perennial award winner with the Southern California Restaurant Writers. While the atmosphere and decor remind one of an earlier era the menu and wine list are as current as today's headlines.
Chef Phil Christodoulou shows a menu that is Continental with exciting appetizers and a carefully chosen selection of fish and meat entrees which explains why the restaurant is so popular with both local folk and hotel guests.
To go with this cuisine the Renaissance offers an outstanding wine selection, undoubtedly the best in Hollywood. Maitre d' Gerard Marini, who is also Wine Steward, shows a list of over 300 labels, some 14 pages of wines listed by both region and country. lemon and 'Beuiree Blanc sauce'. This came nicely presented on a bed of fettuccini flavored with fresh tomato, basil and garlic. I also tasted the venison which was mild flavored and very tender. When Chef Christodoulou later spent some time at our table he explained that the venison was one of the special entrees that appear daily on the menu. We noted that the menu shows many side orders. The Chef explained that many customers like to make substitutions and these side orders which range from roasted or raw onion to a side of Jasmine rice or apple smoked bacon give them a wide selection of choices and at moderate prices.
With Pastry Chef Christian Boinard the dessert cart is always a special treat. We selected the Tarte Tatin a la mode while my dining partner enjoyed the Tango, a mango and pineapple mousse.
As the dining room for the Manor Hotel the Renaissance is open for breakfast, lunch and dinner seven days a week. It is located at 5930 Franklin Avenue. Call 323 960-3222.
Back to Table of Contents..
Last Update:3/15/10
&copy 2010 Joe Hilbers All Rights Reserved.
Graphic Design by Impact Graphics