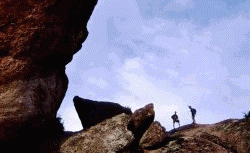 Pinnacle National Monument--Here one sees results of San Andreas' Violent Past
by the Editor
This is another is Vittles series on our National Parks and Monuments
If you wait 35 years to revisit a place mostly likely it will all seem completely new. So it was when we recently returned to the West side of Pinnacles National Monument located in Central California. We turned off Highway 101 at Soledad and took Highway 146 the 12 miles to the Chaparral Ranger Station.
Actually the story of Pinnacles began 23 million years ago when a giant volcano in the San Andreas Rift zone destroyed itself leaving a remarkable region of spires and crags so completely different from the surrounding countryside.
We learned from the Ranger that the West entrance is for day use only with the gate closed each night. There are a number of trails, all of which can be easily hiked in one day and a very inviting picnic area with rest rooms and water. It is open from 8 a.m. to 5 p.m. daily but hours may change between winter and summer visits so it would be best to either call 831 389-4485 or check the web at www.nps.gov/pinn. A good trail map is available at the Ranger Station.
The road into the Monument from Soledad is very picturesque, first winding through vineyards and then into California hill country mostly covered in chaparral and oaks. You will pass a few working ranches en route. In the Spring it is a sea of wild flowers.
There is no road that connects the west and east sides of Pinnacles National Monument. The Bear Gulch Visitor Center on the east side is reached from King City via road G 13, then Highway 25 and then Highway 146 into the Monument.
Or if traveling south on Highway 101 take Hwy 156 to Hollister then south on Highway 25 to Hwy 146 junction. This was the route we took on an earlier visit to the east side of Pinnacles.
It was Spring that year and there were dazzling displays of wild flowers about. At the Bear Gulch Visitor Center we enjoyed a long visit with the Ranger and discussed the many changes that have taken place.
The campground that used to be on the east side was washed out in a flood so now camping is allowed only in a privately operated campground just outside the limits of the park.
None of the trails in the Monument are particularly long but they do provide much enjoyment not only for hikers but bird watchers, rock climbers and caving. Back packing is not allowed since there are no camping facilities anywhere in the Monument. So one day hiking trips are the rule.
Back to Table of Contents..
Last Update:6/15/06
&copy 2006 Joe Hilbers All Rights Reserved.
Graphic Design by Impact Graphics