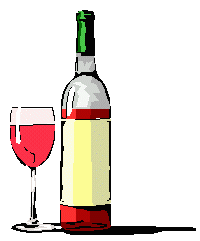 "Mendocino County--In California the saga of Pinot Noir has been a series of ups, downs, and finally up again"
by The Editor's Vineyard
No grape variety in California has suffered the ins and outs, and ups and downs of Pinot Noir. For almost four decades this native of Burgundy has experienced a series of rags to riches to rags and currently back to new found popularity. This saga of Pinot Noir is mirrored in Mendocino County over these four decades. This was presented to us at a luncheon meeting that took place during the recent Wine Affair, an annual event sponsored by the Mendocino Winegrowers Alliance. The Speaker was Glenn McGourty of the University of California Agriculture & National Resources. Outlining a brief history of Pinot Noir in Mendocino he told how two of the region's pioneers, John Parducci and Charlie Barra, first decided that the Redwood and Ukiah valleys would have the right terrior for the varietal and planted the first vines there in the late 1960s. Later other planters decided that the Anderson Valley was much better suited to this grape which prefers cooler weather. The grapes did do well but the market for pinot noir grapes was slim at best. Cabernet Sauvignon was king and not only in Mendocino but state wide no one was selling much pinot noir. Then in 1981 French champagne producer, Louis Roederer, saw the potential of Anderson Valley pinot noir and began purchasing land there for producing sparkling wines. Both Roederer and John Scharffenberger soon were producing sparkling wines that were winning praises everywhere. Roederer is now producing 100,00 cases a year, and Scharffenberger another 30,.000. Then the reasoning was if Anderson Valley pinot noir was so good in the sparklers how about as a classic Burgundian wine. Fame soon followed in a modest way as word was passed that Mendocino Pinot Noir wines were of exceptional quality. This fame has continued and is well earned as we can testify after tasting many of the current vintages at that luncheon. The result is that Mendocino is now among the six top pinot noir growing regions in the state. Some of the wines we tasted included North Star 2001, Navarro 2001, Parducci 2004, Hadley 2003, Claudia Springs 2003, Philo Ridge 2004, Waddle Creek 2004 and Schaffenberger 2003. In the 21 century marketplace Pinot Noir was moving at gains about 13 per cent per year until 2005 when the gain was a whopping 80 per cent. Currently Pinot Noir is in fourth place in the red wine market: Merlot, 1; Cabernot Sauvignon 2; Syrah 3; and Pinot Noir 4. It passed Zinfandel in 2004 for fourth place. For Mendocino growers this is good news indeed plus the fact that another county appellation, Potter Valley, is also proving to have the right terroir for this varietal.
Back to Table of Contents..
Last Update:12/1/06
&copy 2006 Joe Hilbers All Rights Reserved.
Graphic Design by Impact Graphics